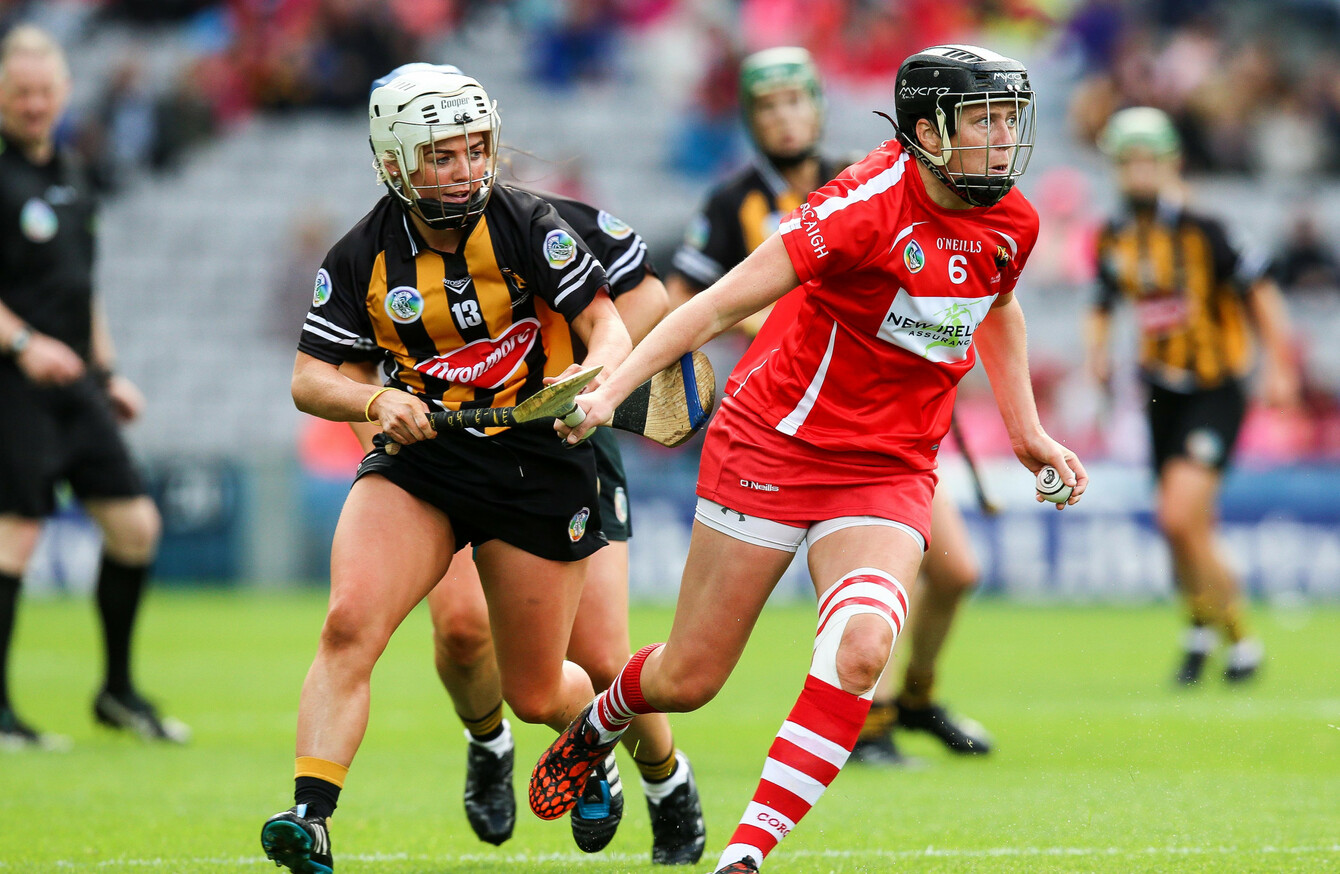 Image: Gary Carr/INPHO
Image: Gary Carr/INPHO
SHE WASN'T SUPPOSED to be here.
We were assured that she had played her last game for Cork in 2017.
After sustaining knee ligament damage in the All-Ireland semi-final, Gemma O'Connor was given no hope of making an appearance at the All-Ireland final.
That was the official party line and we were all left to ponder whether her absence would galvanise the team, or lead Cork to their downfall.
But not everyone was convinced that this was a closed chapter.
Eight-time All-Star, and former teammate Jenny O'Leary told The42 Close Calls show that she 'wouldn't be surprised if we see her in some way, shape or form, even if it was for five or 10 minutes – just knowing Gemma.'
Maybe it was O'Connor's resilience that brought her to this point. Maybe she just would not be beaten by this injury.
Perhaps it was an attempt at deception from Cork camogie.
Manager Paudie Murray was still committing to the story right up until the final moments before the throw-in.
But murmurings of a last-minute change were filtering through on social media. RTÉ's Marty Morrissey braced us for an unexpected guest in Cork's starting team.
And there she was, fully togged, knee strapping in place, and wearing her number six jersey during the warm-up.
Cork's chances of reclaiming the O'Duffy Cup started to soar once again as the teams followed the pre-match parade around Croke Park under the torrential rain.
O'Connor's presence alone was sure to give her teammates a lift, regardless of the percentage of her fitness.
However, the nature of her injury, and the length of time she could play through it, was the main question of the hour.
But from minute one to minute 65, O'Connor didn't play as though she was compromised by any injury. There was no sign of a limp, no sense of labouring in her movements, and the medics were never called upon to treat her on the pitch.
She didn't even need to take a knee and draw breath at any stage.
Suddenly, the biggest discussion point before the throw-in wasn't even an issue anymore.
She played a steady game throughout, with her crowning moment arriving at the end of normal time, when everything was on the line.
Cork were trailing the reigning champions by a point, and were facing the prospect of losing a second consecutive All-Ireland final.
They needed a player to engineer a score, and it was O'Connor who stepped up to take control and nail a long-range effort.
Her point sent the momentum flowing Cork's way again, and substitute Julia White added the decisive point in added time to secure a 27th All-Ireland crown for the county.
Regardless of how she got there, O'Connor was simply determined to play in her 13th All-Ireland final.
That aspect of her character is something we have witnessed in the past.
Following Cork's triumph in the 2015 All-Ireland final, she spoke of how she dedicated the win to her mother Geraldine who was battling cancer at the time, and has sadly passed away since then.
The 2017 All-Ireland final was a game that was supposed to have no place for O'Connor.
Some people just will not be beaten.
Subscribe to The42 podcasts here:
" label="Android" ]