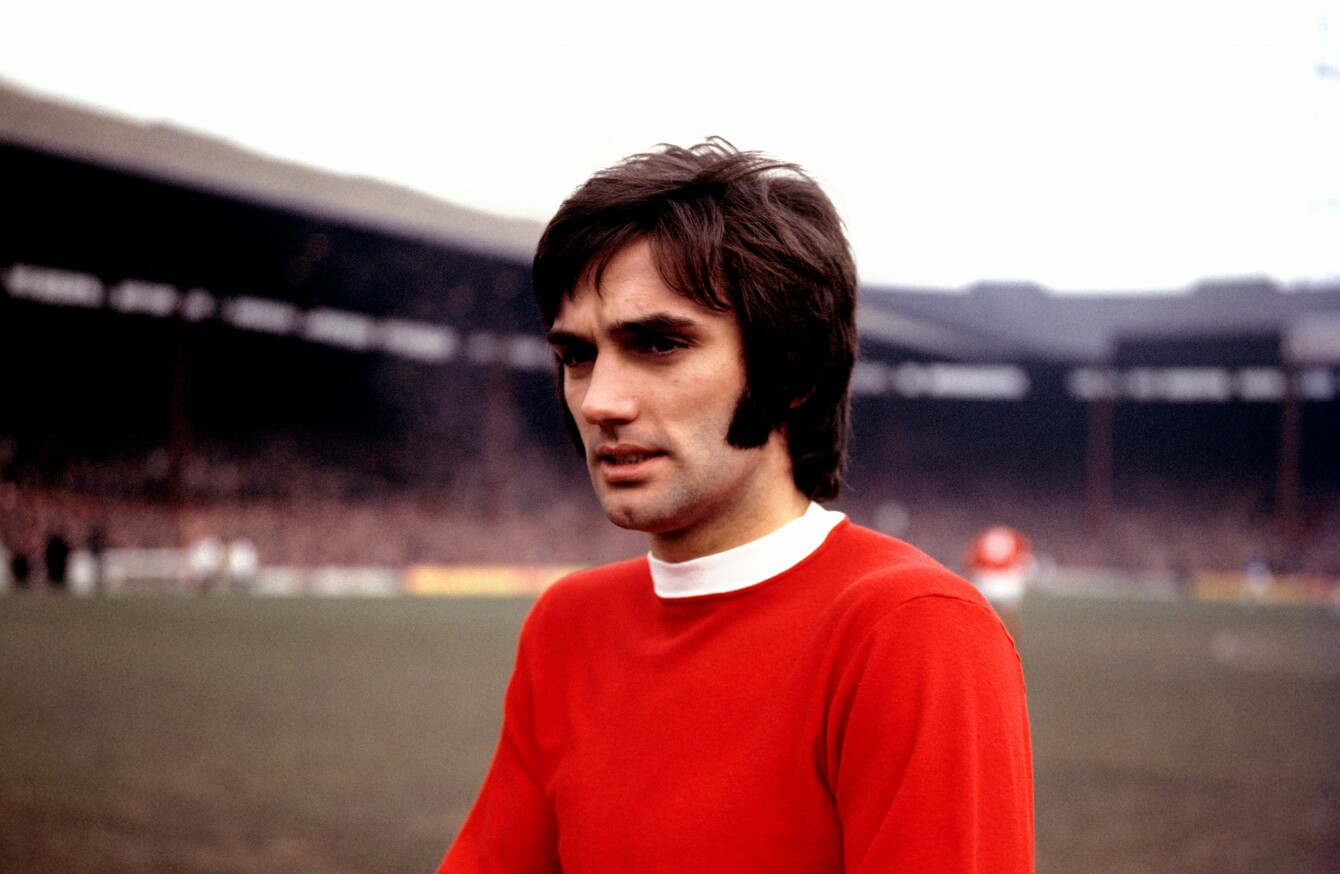 Image: PA/EMPICS
Image: PA/EMPICS
KEN FOGARTY TRIED desperately to stop his former team-mate.
"I was the last defender trying to mark him and he makes me look like a drunken penguin on a skateboard."
The Manchester-born defender had crossed paths with George Best a number of times before their fateful encounter at San Jose's Spartan Stadium in 1981.
Fogarty was a young pro at Stockport in the mid-1970s when someone, who looked a little like the former Manchester United maverick, pulled on the club's number 11 shirt and featured in a handful of Fourth Division games. Best sported a heavy beard and an even heavier waist-line and later that year he'd plummet to new depths during an infamous stint in the League of Ireland with Cork Celtic.
"I think it was more about putting numbers on the gate", Fogarty remembers.
"But he did alright, he was okay. But it was more of a marketing gimmick – it made him a few quid but he wasn't in the best shape of his career at that time.
Memorably, Best had announced his retirement in 1972, juggling a ball next to a swimming pool in the Spanish resort of Marbella. The carefully assembled pack of photographers loved it. So did Best. It was his 26th birthday. Of course, it was all an act. Of course, he was coaxed back by then-manager Frank O'Farrell and his successor Tommy Docherty. But the damage was done and his last appearance in a United shirt proved a deeply scarring episode. On New Year's Day, 1974, the crowd jeered George Best. But this time, he had no mazy dribble to offer in retaliation. There was nothing left.
But America saved him and rejuvenated his sagging and depressing sort-of career.
He moved to Los Angeles and signed for NASL side the Aztecs in 1976 and stayed for two seasons. In between, there was a brilliantly entertaining stint at Fulham alongside Bobby Moore and Rodney Marsh before a switch to Florida and the Fort Lauderdale Strikers.
Soon, he was joined in the Lauderdale dressing-room by a blast from the past. Another player seduced by the wiles of the USA's west coast.
Fogarty, whose parents were both Irish and who had played alongside Liam Brady and Frank Stapleton in the Ireland youth setup, was ready to leave Stockport behind.
"There was a time when soccer was not glamorous – it was very hard physically, very quick and lacking in a lot of skill and creativity", says Fogarty.
"But it was a good grounding for the future. What I found was the higher up I played, the easier it got because there seemed to be more space. I played in Los Angeles in 1976 and the manager of the team moved onto Fort Lauderdale and I got sold to Fort Lauderdale in 1979 from Stockport. And that was like the opposite end of the spectrum. It was like I was living my life in black and white back in England and when I got to Florida and the NASL, everything was in colour."
Fogarty saw a different Best to the one he had played alongside just a few years previously. He was fit, trim, tanned, beard-less and loving his football again.
"He was still wonderful at Lauderdale and he was a great guy. I know he had his own demons and, in a way, he self-destructed, but it's hard being an alcoholic. We're all fragile at times. We're all not as strong as we need to be sometimes. But not only did I think he was a great player, he was a lovely person.
My first day at training in Fort Lauderdale, there's about 25 guys in the locker room and I stand up on the bench and say 'Can someone give us a lift home?', because I didn't have a car and needed to get back to the hotel. No one said a word. And then Bestie stands up and says 'I'll run you back'. Now, he lived 15 miles in the opposite direction but there was the biggest fish in the pond saying that he'd drop me to the hotel. And I thought that was really sweet of him.
We'd go out sometimes, have dinner, drinks and make some stupid jokes. I thought he was lonely, quiet, almost to the point of being withdrawn. Was he looking for a lifeline? I don't know. Not that you can ever really know anybody but I saw a side to him that was just lovely. He was brilliant at training, he could still play.
But I saw two sides to him – there was that gentle side and then I saw the other side of him when he scored that goal against Fort Lauderdale for San Jose."
By 1981, Best had moved clubs and was turning out for the Earthquakes. It was there, in San Jose in July of that year, that he and Fogarty were famously reacquainted.
"He was just so good. He was supposed to be washed up. He was with us shortly before that game but he fell out with the coach – he threw his shirt at him – so he was traded to San Jose. If you look at the goal, initially, some of the defending is very poor – we had guys who weren't goal-side and weren't in a good start position but having said that, it was brilliant.
Source: thecelebratedmisterk/YouTube
He was going through and I was the last defender and I think I've got him. He cuts back…and then he cuts back one more time and puts the ball away. It was a brilliant goal. It was the greatest goal in NASL history but what nobody knows is that before that goal, he had made an even better run and he went past about seven of us and just as he was about to stick the ball in the back of the net, somebody brought him down for a penalty. But if they hadn't brought him down, it would've been a better goal than the one he'd scored."
The goal proved the post-script in Best's career. He was 35 and though he'd make one more high-profile cameo back in the UK with Bournemouth, it wasn't long before his personal problems began to dominate his life again.
He spent the Christmas of 1984 in Pentonville Prison, convicted of drink-driving and assaulting a policeman. There were periods of sobriety but not many. There was an infamous drunken appearance on Terry Wogan's TV chat-show in 1990 and not even a second marriage could stabilise things.
But still, even as he struggled to keep things together, Best never forgot a familiar face.
"Years later, probably about a decade after I finish playing, I'm in a bar in Manchester", remembers Fogarty.
"I'm speaking to a friend and he says to me, 'Who's your favourite player?' And I said, 'It has to be Bestie'. No sooner do I say that that and Bestie walks into the bar. It was a long bar and he was at the other end. My friend said 'Go and say hello' but he was surrounded by so many people.
But about ten minutes later, the crowds part and our eyes meet across the room – it was like a Hollywood movie! And I nodded to Bestie and he nodded to me and he came the whole length of the bar. He hugged me and kissed me on the cheek and said 'Ken, it's great to see you'.
That, for me, is my favourite soccer memory right there. That's the best thing that ever happened to me in the game. He walked down the bar to me, gave me a hug and a kiss on the cheek…I swear, it was the nicest thing. And that summed him up for me. He had his demons but he was a gentle man, a humorous man and, I think, a lonely man at times. A lost soul at times."
Fogarty, who has remained in the United States and currently works as Director of Player Development with the Houston Texans Soccer Club, is in no doubt as to Best's legacy.
Here in America, they say that a player is 'in the zone' – and that means he transcends human effort, that everything comes together – your mind, your emotions, your talent and suddenly you're at a higher level that ever before. I think Bestie was 'in the zone' all the fucking time. He was so good and I saw it up close at the end of his career. At the end of his career, he still had the gift.
I'll watch videos of him now from his heyday and he was just unstoppable. I played against Cruyff, marked Pele, saw Maradona, saw everybody. For me, he was the best. He still is. I speak to Brian Kidd a lot and ask him 'Who was the greatest player?' and he says 'Bestie' and he's worked with a lot of great players."
Ten years ago today, Fogarty was in LA with another former team-mate of Best's when they both heard the news of his death together.
"I turned to my friend and said 'Did you hear the news? George died.' And his reaction was along the lines of 'Serves him right' because he felt Bestie had drank himself to death and I thought it was a very cold, bitter response. For me, I was truly saddened. Firstly, he was a genius of a player and he was a great loss to the soccer community. Secondly, I knew him just a little bit and the person I knew I really liked.
I felt sad for him. I felt sad because looking at my life and others', even though you can appear on the surface to have everything – money, women, whatever you think success is –  you can still be so unhappy, so miserable, so lost. And Bestie was unhappy in his life. He had moments of happiness but I felt sad for him that he couldn't control his condition and that it killed him in the end. Because I thought he was a lovely man, a sweet man and a really nice person. And I was sad to lose him."