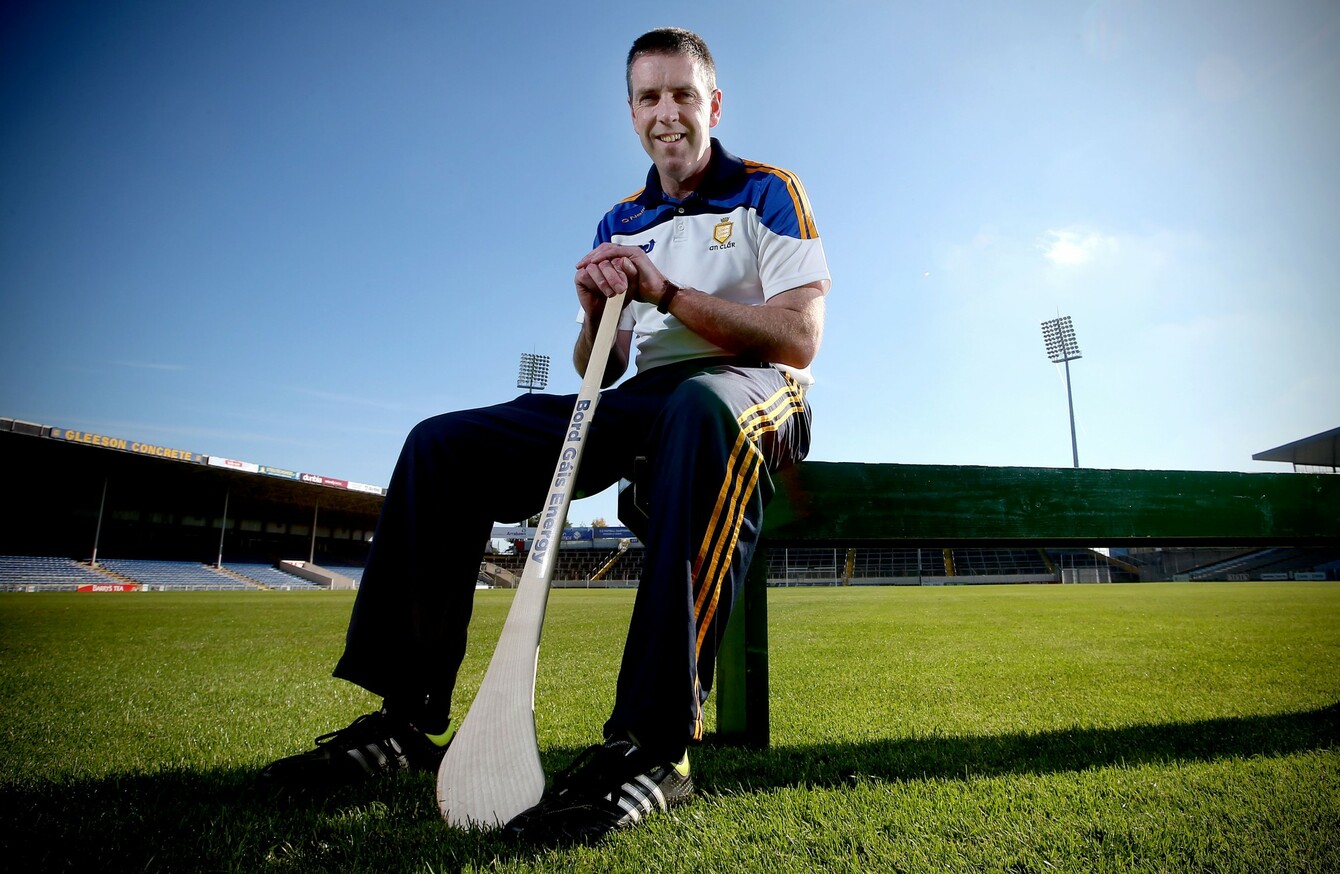 New Clare joint hurling manager Gerry O'Connor.
Image: James Crombie/INPHO
New Clare joint hurling manager Gerry O'Connor.
Image: James Crombie/INPHO
THEY WERE APPOINTED last night as Banner senior hurling supremos and now the task facing the new Clare joint managers of Gerry O'Connor and Donal Moloney is to attempt to replicate their brilliant success with underage teams at senior level.
Having been ratified for a two-year term, O'Connor confirmed to The42 today that Donal Óg Cusack will be their head coach.
Liam Cronin (who has trained Ardscoil Rís Dr Harty Cup teams and Clare senior outift Éire Óg) will also have a coaching role while Kelvin Harold will remain as the strength and conditioning coach.
They are still in discussions with two other individuals about coming on board as selectors.
O'Connor addressed a range of issues about their new position as they take over in the hotseat from Davy Fitzgerald.
*************
How big an honour is it for you to be appointed?
"It's the pinnacle of Donal and myself's management career so far. Starting out at development squad level with a group of players and a management team, not in your wildest dreams do you actually expect to win anything at minor or U21.
"But to get the opportunity to manage the Clare senior hurlers is a huge honour and privilege and carries huge responsibility."
You've worked closely with several of these Clare players at underage level. Did you sound them out before going forward for a nomination?
"We did, we just wanted to get a feel for what regard they held Donal Óg and Kelvin in. That was really what we were trying to ascertain. The feedback was very high and positive.
"From speaking to the players, Donal Óg has brought a huge improvement in certain aspects of the players skill-sets, in particular the speed of their hurling. He's really improved their striking, their positioning, their timing of their runs.
"Liam worked with me in Éire Óg for the past year at senior level. (He's) very popular with the players, (a) strong communicator, very innovative which is what we've been looking for.
"Himself and Donal Óg will complement each other hugely we feel. I think it's hugely important that you have continuity.
"Whilst Donal (Moloney) and myself bring a lot of experience in terms of what we've done with these players in the past, we haven't operated at this level before so it's a big learning curve for everybody. There'll be a bedding in process."
The demands of your job (with Mincon in Shannon) resulted in you leaving the U21′s in 2014, while Donal also has huge work commitments (with DePuy in Cork). How difficult will it be to juggle those roles?
"If you were to ask me a year ago, I wouldn't have been able to commit to the role. When you travel to the degree that we travel and you're committed to work to the degree that we are, you have to have serious support from both your bosses and your team at work.
"That structure wasn't in place two years ago when I stepped away from the U21′s. Mincon as a company was going through an IPO which was a huge commitment from everybody within the company.
"Right now the structures are in place to help me and allow me to do this role. My two bosses Bob Fassl, the sales director, and Joe Purcell, the CEO, the reality is whilst you'd have a very positive discussion and they'd be very supportive, once it doesn't impact on your day to day role with Mincon, they'd have no issue with you conducting a role like this."
Be part
of the team
Access exclusive podcasts, interviews and analysis with a monthly or annual membership.
Become a Member
A lot of people argue that the concept of a joint manager does not work in sport, yet you have always felt it does?
"People are slightly bemused by the joint manager structure within Clare but that's the only way Donal and myself could do this job.
"There's going to be days when Donal won't be there and there's going to be days when I won't be there. We're so used to each other that we probably have a fair idea of how each other thinks in relation to the game of what's required.
"It works with constant email, text, communication prior to training to make sure that when you do arrive at training, everything is planned out in advance."
With 5 Munster and 3 All-Ireland titles to your credit at underage level, how do you manage the expectations of delivering at senior level?
"The difference between U21 and senior, there's a massive step up in physicality and ball winning in the air. They're the two key factors that I see.
"It's the raw physicality of senior that isn't always there at U21. You see the All-Ireland final recently and the two semi-finals, the ball winning ability, the physicality. We know the standard that's required.
"We're confident that given time and given opportunities for players to develop and for the management team to work with the players, we can get to that level."
Why have Clare found it difficult to get back to the heights they scaled in 2013?
"2013 was an incredible year but when you win an All-Ireland with a very young team, it's very difficult to get that group of players back up to a level where you expect them to be.
"And in fairness in 2016, I think Davy (Fitzgerald) and Paul (Kinnerk) and Donal Óg (Cusack) had got the team to very close to where they should have been. Right through the league they played some fantastic hurling, particularly the Kilkenny league semi-final.
"I was at the Galway game and very small fractions, if you take the sloppy goal out of it after half-time, there'd be very little in that game. At senior level there is very little between six to eight of the top teams."
What's the first steps you will take in preparing for 2017?
"We're going to have to sit down with the players, determine who's available, who's injured, who's travelling, who's staying on, who's not.
"That's the first part of the process. We've always done this.
"Way back at minor and U21, we sit down with the group, individually and collectively prior to the season starting, and we thrash out and determine what their goals and ambitions are for the year and the season ahead.
"It's a business type approach to hurling management but it has always worked in the past for us."
The42 is on Snapchat! Tap the button below on your phone to add!