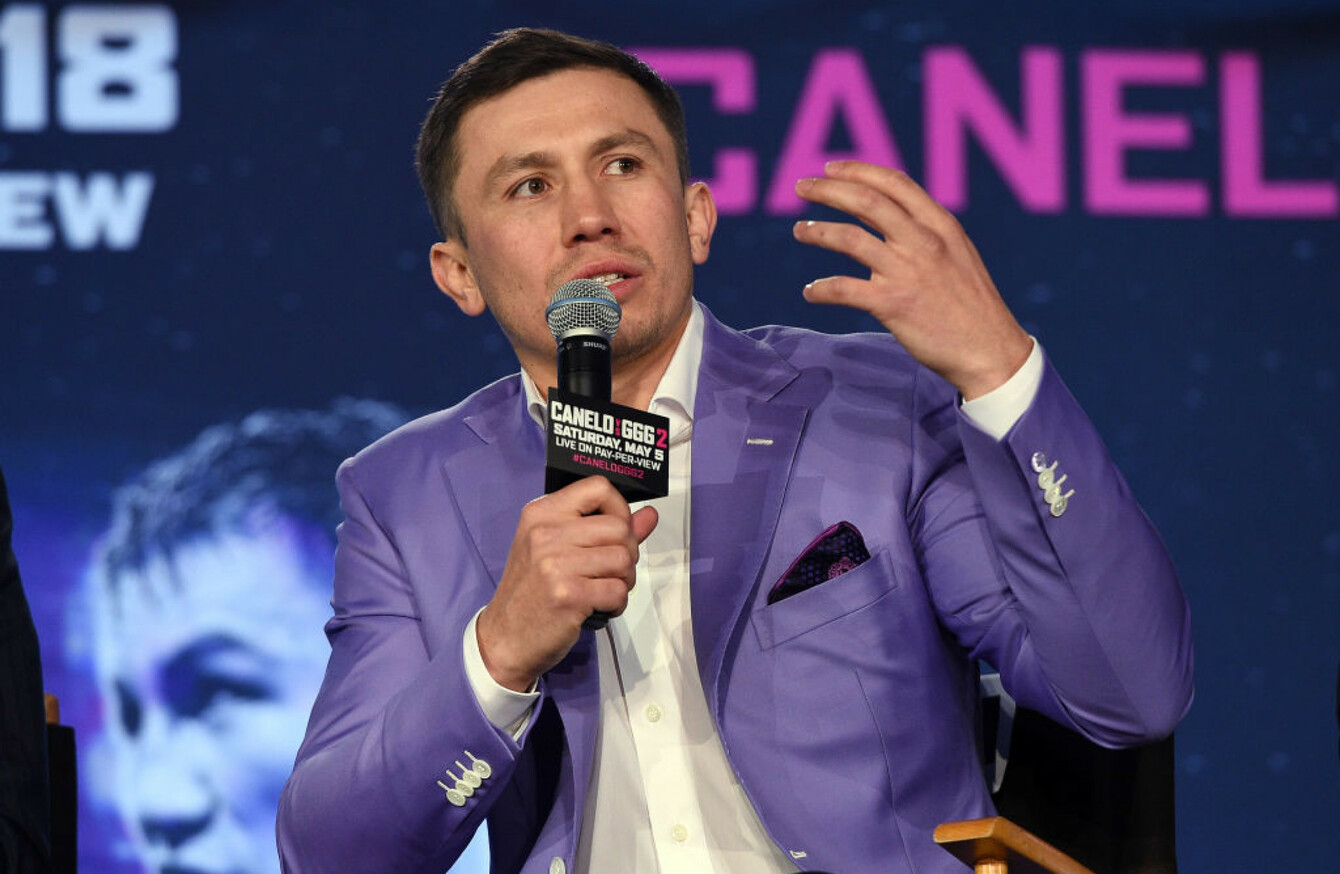 Image: Kevork Djansezian
Image: Kevork Djansezian
IT'S RARE THAT Gennady Golovkin ever speaks ill of his opponents, but the thunderous middleweight puncher from Kazakhstan held nothing back in his assessment of Saul 'Canelo' Alvarez's failed drug tests in the lead-up to their 5 May world championship rematch.
The Mexican superstar's promoters, Golden Boy, confirmed on Monday that the 27-year-old had tested positive for trace levels of Clenbuterol, a beta-2-agonist drug used by sufferers of breathing disorders to increase the volume of oxygen in blood. Thought not a steroid, it is a muscle-building and weight-loss stimulant.
Canelo and his team have attributed February's two positive tests to dodgy meat in his native country: Clenbuterol contamination in Mexican beef has been a widely-reported problem for the bones of a decade, and several athletes, sporting events and organisations in the intervening years have been adversely affected.
Dr Daniel Eichner, director of the WADA-accredited Sports Medicine Research and Testing Laboratory which conducted the tests, says the traces found in the boxer's system are "all within the range of what is expected from meat contamination."
Golovkin is convinced of neither Canelo's guilt or innocence, but in an interview with the Los Angeles Times, labelled his upcoming opponent 'shameful' and 'stupid' for drawing a cloud over both their eagerly anticipated sequel and the sport of boxing itself.
'Triple G' also questioned the the Nevada State Athletic Commission (NSAC) and boxing's sanctioning bodies, after NSAC, the WBC and the WBA all issued their support to Canelo this week.
"We are elite athletes," Golovkin told the LA Times, "and I want to keep boxing on this elite level. There are laws and a commission and [anti-doping procedures], and we have to fulfil them. They have to take action in that case, either disqualify him or [deliver] penalties. But if it's neglected, why do we need a commission? And why talk about tests?
When you get to this level, people should be watching the skills you muster from yourself, not wonder which laboratory you have.
"My first impression is athletes at this level cannot fail or show any positive because it's bad for sport, bad for everything… Failing a test at this level either means he doesn't want to fight, has problems or has problems with his team," Golovkin said. "This is showing your true face.
"They know what [Clenbuterol] is. It's not something new. There's lots of precedents."
Indeed, in recent years, two other elite-level Mexican boxers have tested positive for Clenbuterol: Erik Morales in 2012, and Francisco Vargas in 2016.
Both Morales and Vargas' bouts – versus Danny Garcia and Orlando Salido respectively – went ahead as scheduled. Golovkin expects his run-back with Canelo to proceed, too, but is dismayed by the grey area within which Canelo currently operates, seemingly free of any punitive action despite having consumed a banned substance – accidentally or otherwise.
"I'm a fighter. Let's keep it simple: There's a drug test. It's either 'yes' or 'no'. The rest doesn't matter. That's why the commission exists. That's why there are regulations," Golovkin said.
"If you say it's OK, it's legal, that's bad for the sport… I won't even say it's boxing. Do we say it's now like Cyborgs, Transformers?"