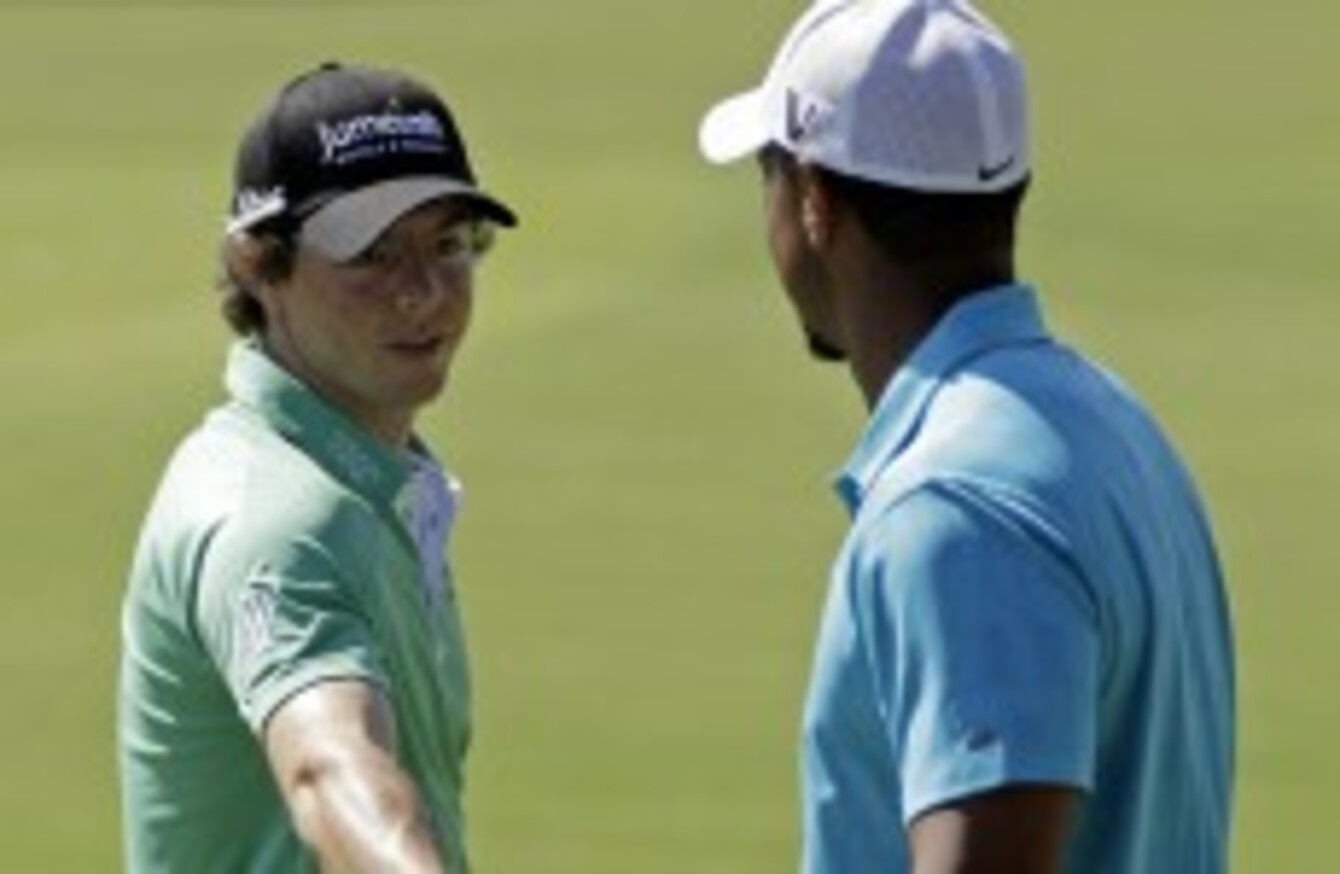 Rory McIlroy and Tiger Woods shake hands on the range at the PGA Championship golf tournament.
Image: David J. Phillip/AP/Press Association Images
Rory McIlroy and Tiger Woods shake hands on the range at the PGA Championship golf tournament.
Image: David J. Phillip/AP/Press Association Images
EVEN AS HE took the high road yesterday  in a nasty split with his longtime caddie, Tiger Woods lowered his standard of success on the eve of the PGA Championship.
It wasn't long ago that Woods said it couldn't be a great year without winning a major.
Now he would consider the year a success because he no longer hurts.
To be clear, he is thinking only about winning when the PGA Championship gets under way today in the stifling heat at Atlanta Athletic Club. That much hasn't changed, and probably never will.
Asked for a realistic expectation in the final major — remember, this is only his third time teeing it up since April and he hasn't won any tournament in 21 months — Woods said a "W."
"Do you want me to elaborate?" he added. "A nice W."
But he sounded as though he were looking at the bigger picture. Success is measured differently these days because of injuries to his left knee and Achilles tendon that have made it difficult to walk, play and even practice as much as he would prefer. At least now he is able to hit balls as long as he wants after his rounds. He no longer has to put ice on his leg.
For Woods, that's a victory in itself.
And that's why when asked if the season could end without a win and still be a success, Woods replied, "Yeah."
"In order to win, I had to be healthy," he said.
"That's what we're trying to get to. Now I can go. Now I can do the work. I can do the practice sessions, and I think that's the only way that my game will get to where I need to get to."
He doesn't seem to be going anywhere at the moment.
Woods remains the central figure at the PGA Championship, as he has been at the majors since his career began, only this time it's for all the wrong reasons. If it's not the longest drought of his career, or a bum leg that kept him out of the last two majors, the latest soap opera involves his ex-caddie.
Steve Williams, whom Woods fired last month, is now working for Adam Scott and took a dig at Woods on Sunday when his new boss won a World Golf Championship at Firestone. Williams, on the bag for 13 of Woods' majors, called it the "best win" of his career.
Woods refused to nibble.
"I was happy to see Stevie and Adam win," Woods said, adding that he sent Williams a "nice text" after the round.
Then there was the photo taken Tuesday of Williams and Mark Steinberg, Woods' agent, having a chat under a tree (next to a fire hydrant, of all things). Woods confirmed they spoke, offering no other details.
He later said any text messages between him and Williams were private, and asked what caused Williams to sound so motivated, Woods said he wasn't going to speculate.
Wee-Mc
None of this matters to the other players at Atlanta Athletic Club, least of all U.S. Open champion Rory McIlroy. The 22-year-old from Northern Ireland is among the favorites as he tries to turn a great year into a stupendous one.
McIlroy, who made it clear at the British Open last month that he prefers to play when it's warm, sunny and 80 degrees, must really love Atlanta. It's hot, sunny and pushing 100. The kid had a four-shot lead going into the final round of the Masters, and shattered the scoring record when he won the U.S. Open at Congressional. As for the PGA?
"I felt as if this and the Masters would probably be the two that suited me most," McIlroy said.
The Highlands course is 7,470 yards, the longest ever for a par 70 in major championship history. Odds are it won't play that long because the hot air will make the ball travel even farther. David Toms, a medium-length hitter, won the PGA the last time it was at this golf course 10 years ago.
Woods is considered long again. He spoke last week — and his pairing with Bubba Watson in the third round at Firestone appeared to confirm this — that he is hitting it farther without swinging very hard. The trouble is his short game.
The 16th hole early yesterday seemed to sum it up.
First came a hearty cheer from the fans gathered around the green to see Woods hit his long approach up the hill to just inside 3 feet. Then came a lone voice of surprise from a fan who couldn't believe Woods' missed the putt.
The pin was still in. It's just a practice round. Still, this is the day that Woods plays his first ball on every shot as a way to get ready for the real competition. The best that can be said of Woods is he has potential.
Caddie Bryon Bell and Tiger Woods on the 14th hole during a practice round  at the Atlanta Athletic Club  (AP Photo/Charlie Riedel)
He at least looked more relaxed facing the largest audience of the week in the press center. He was glib, only it came off as funny instead of condescending. He went into depth with some of his answers. That also might have been related to the state of his leg.
"I was frustrated early in the year because, especially at the Masters … because I just wasn't feeling well," he said. "And it's been frustrating. But now that I'm healthy, it's so much easier to be patient because I feel good. I have way more energy because I'm not trying to block out pain. I can just go out there and play golf."
The question is how long he can play.