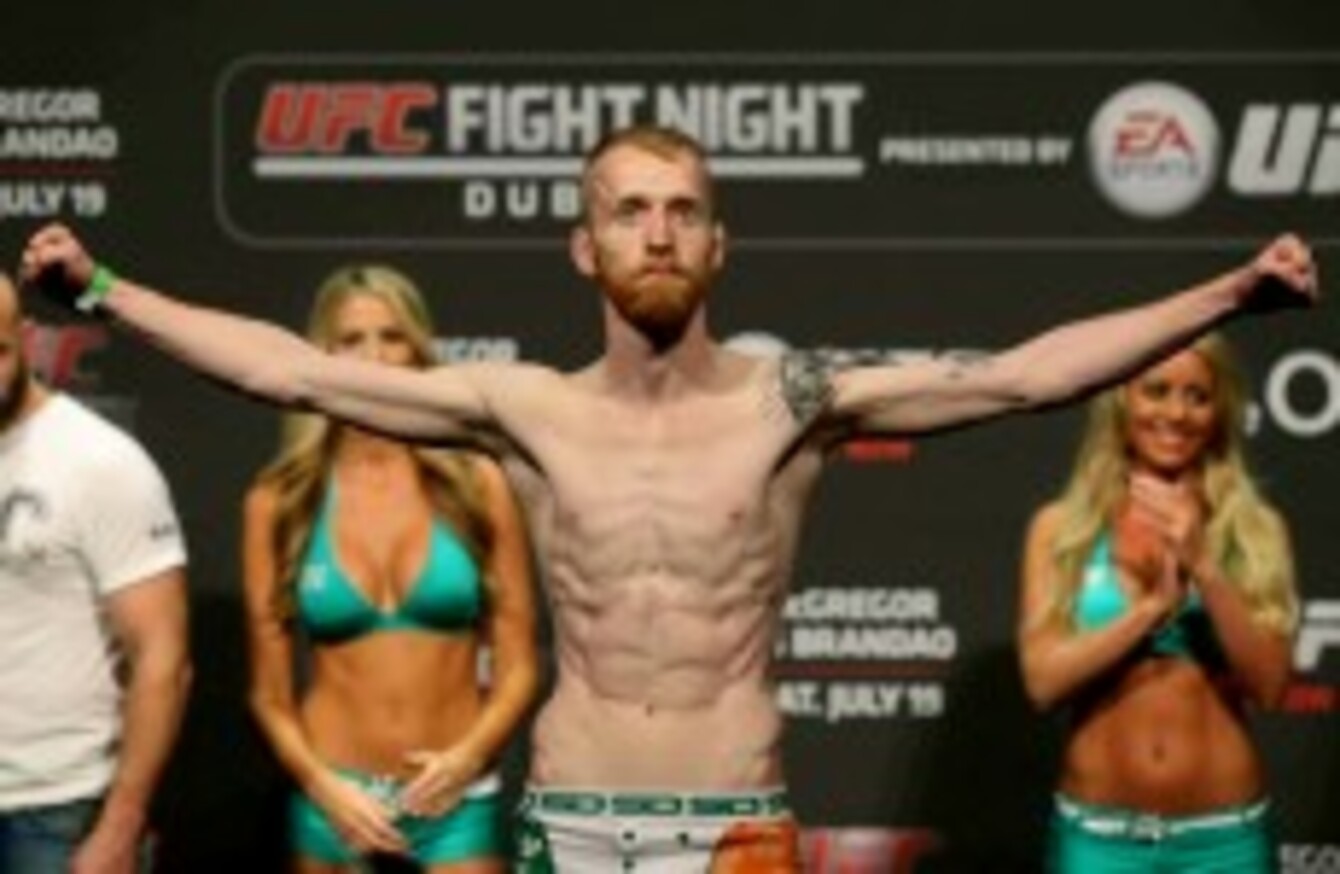 Irish UFC flyweight Paddy Holohan.
Image: James Crombie/INPHO
Irish UFC flyweight Paddy Holohan.
Image: James Crombie/INPHO
PADDY HOLOHAN IS targeting a return to the Octagon when the UFC heads to Glasgow this summer.
Holohan has been on the mend since sustaining a badly sprained ankle during his emphatic decision win against Shane Howell in Boston back in January.
The SBG flyweight was medically cleared to return to training recently, but he told The42 that he suffered a setback last week when he was involved in a minor car accident. Fortunately, nobody involved was seriously hurt, but the collision did have an impact on Holohan's ankle.
"Someone drove into the back of me and it kind of jarred the ankle again, so it brought me back a little bit," said Holohan, who has a 2-1 record in the UFC.
"It's still a bit wobbly so it's about getting the strength back into it. It doesn't make any difference really though because I don't think I would have been on any of the cards recently anyway, but there's a few coming up that it would make sense to put me on and I'll be 100% ready soon."
The UFC will stage an event in Scotland for the first time on Saturday, 18 July, and it's one Holohan is eager to be part of: "I'd love Scotland. That would be a nice one for me.
"They're the kind of places I like to fight; places that have a lot of passion and heritage. The Scottish and the Irish fought together. I'd be like that guy in Braveheart."
Holohan will be aiming to break into the UFC rankings with a third win for the promotion, and while he's not selective when it comes to opponents, the 26-year-old Tallaght native would be interested in a meeting with Louis Smolka, who seemed keen when the pair exchanged views on Twitter last week.
"I'll slap him in the mouth if he wants it," Holohan said. "But I'll fight anyone."