Reproduced with permission from Action81
KERRY OVERCAME CORK at Páirc Uí Chaoimh yesterday in a game high on errors and low on attacking penetration. Emmet Ryan analyses a league encounter that left plenty of questions for both sides.
Long way round
Considering Kerry scored 0-8 in the first half, it may seem harsh to criticise their performance.
There was however an excessive reliance on the Kingdom's effective accuracy from distance, one that would naturally see a slowdown as the game wore on.
With both sets of full backs crowding the middle, attackers were forced out to shoot more from distance. The Kingdom did enjoy one brief flurry of chances from close range, scoring one point from play and 0-2 from frees around the 13m line close to the posts between 14 and 20 minutes.
For the most part they were forced to rely on their success from far out, both from play and place balls. Paul Galvin was proving creator in chief for the visitors, starting attacking moves from inside the Kerry half. This was fine in the opening period when the pressure was off the Kingdom defence but once Cork started penetrating through the middle, this ability to build from the back was stunted.
Chances were far from plentiful and only the distance efforts from Donncha O'Connor and Bryan Sheehan kept the scoreboard ticking over.
Cork's yard abandonment
Against Donegal I criticised Cork for not having a Plan B, on Sunday they seemed intent on forgetting Plan A for the first half hour. Conor Counihan has selected a panel particularly suited to charging through the centre of the park. The Rebels are built to break down defences and open up holes. Cork don't have deploy the same array of shooting talents as other top tier counties but they play a game that creates an awful lot of high percentage chances.  It's rather effective, winning them an All Ireland 18 months ago. Developing tweaks to this approach appear necessary but successful adjustments tend to evolve from a core system.
The complete abandonment of this approach on Sunday did not look like an effort to evolve. Cork's shape and distribution in the first half were a mess. The Rebels looked to play wide but without any coherent plan to move the ball into scoring position. Pace was also a factor. When you pick a team almost exclusively designed to bust up the gut, moving the ball cross field at speed is not a natural evolution. Kerry's defensive task was made easy by Cork effectively enabling the Kingdom's backs to force play out wide.
The Donaghy dilemma
Kerry's lead at the half was only six points despite having by far the better of the attacking play. Much of this was down to significant front line issues. While Kerry adopted a three-man front line, none of the forwards looked comfortable as a possible 14, either traditional or in a spike position between the half forwards and front line.
It was notable that the one time Kerry succeeded with a deep ball into the front line that Kieran Donaghy was up front. Darran O'Sullivan fed in a long high ball, Donaghy claimed turned inside and scored from in front of goal.
The Kingdom did not commit to playing Donaghy so high up for the bulk of the game as he was used more closer to his own goal. Defensively however Donaghy is limited. While his physique allows him a substantial edge in one-on-ones, he was used more as a sweeper which is far from ideal. Positioning is an area where Donaghy has improved considerably in recent years and he was on-hand in defence as an outlet to clear. He however is not the type of player suited to playing the supporting role in crowding out an opponent, he simply lacks the acceleration for such a sideline to sideline role.
Donaghy's ball winning would seem suited to a role closer to the middle but, improved as his passing has got over the last two seasons, again there's an issue here. Against Cork Donaghy tended to telegraph his passes in the middle third. He lacked the time to operate from further back, and defenders were able to limit his effectiveness in moving the ball from here.
All of which would make it seem like he's best suited to playing the target man at 14, where he can pass shorter and faster. A situation ideally suited to his physique. No player is an island however and Jack O'Connor clearly has concerns over his lack of big men in defensive roles. There is no easy answer. Donaghy is the square peg in a round hole further back but Cork showed Kerry's soft centre is a reason for O'Connor to take unorthodox actions.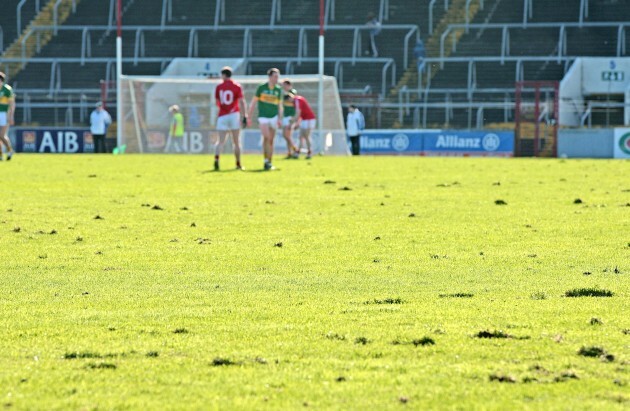 Cork finally get going
Graham Canty's narrowly wide goal effort on the half hour hinted at Cork returning to what they know. Pearse O'Neill didn't know what to do on 35 minutes when he was unleash up the gut and walloped the ball wide from long range. The Rebels switched permanently to charging the middle after the break and came back into the contest. Within a minute O'Neill fed Donncha O'Connor through the middle, he won a free and the fightback was on.
A brilliant passing move up the middle was finished by Mark Collins on 41 minutes and Canty followed that up with a score a minute later. There were plenty of positives from Cork in the second half despite missing more short-range efforts than one might expect. They wholly dominated Kerry through the centre and, even with Donaghy in support, the Kingdom could do little to stop Cork's downhill running approach. Every effective effort used this channel, right up to Noel O'Leary's extraordinary miss with the last kick of the game. Brendan Kealy would probably have been favoured to save an accurate effort but O'Leary prevented this from becoming a question with a shot straight from Jason Lee's catalogue of horrors.
The verdict
There was always going to be an element of a phoney war to this game. Neither side was at optimal strength and both managers were clearly trying to keep some cards close to their chest for the  summer.
That Counihan recognises Cork need to evolve is a positive but the kind of radical shift he tried in the first half can't be implemented overnight. We've seen just how dramatically these types of changes can go wrong in previous columns. If the Rebels are serious about being involved in September, any adjustments they make must build from their core strengths.
For Kerry the problems are more subtle. The return of Colm Cooper to attack will present an outlet but asking him to be both creator and scorer in chief would leave him isolated.
Barry John Keane could play a significant role. He does not look like an alternative at 14 nor is he built as a pure scorer like the rest of Kerry's front men. Keane however offers an industrious alternative that could be important in creating chances come the summer.
Follow Emmet Ryan on Twitter.