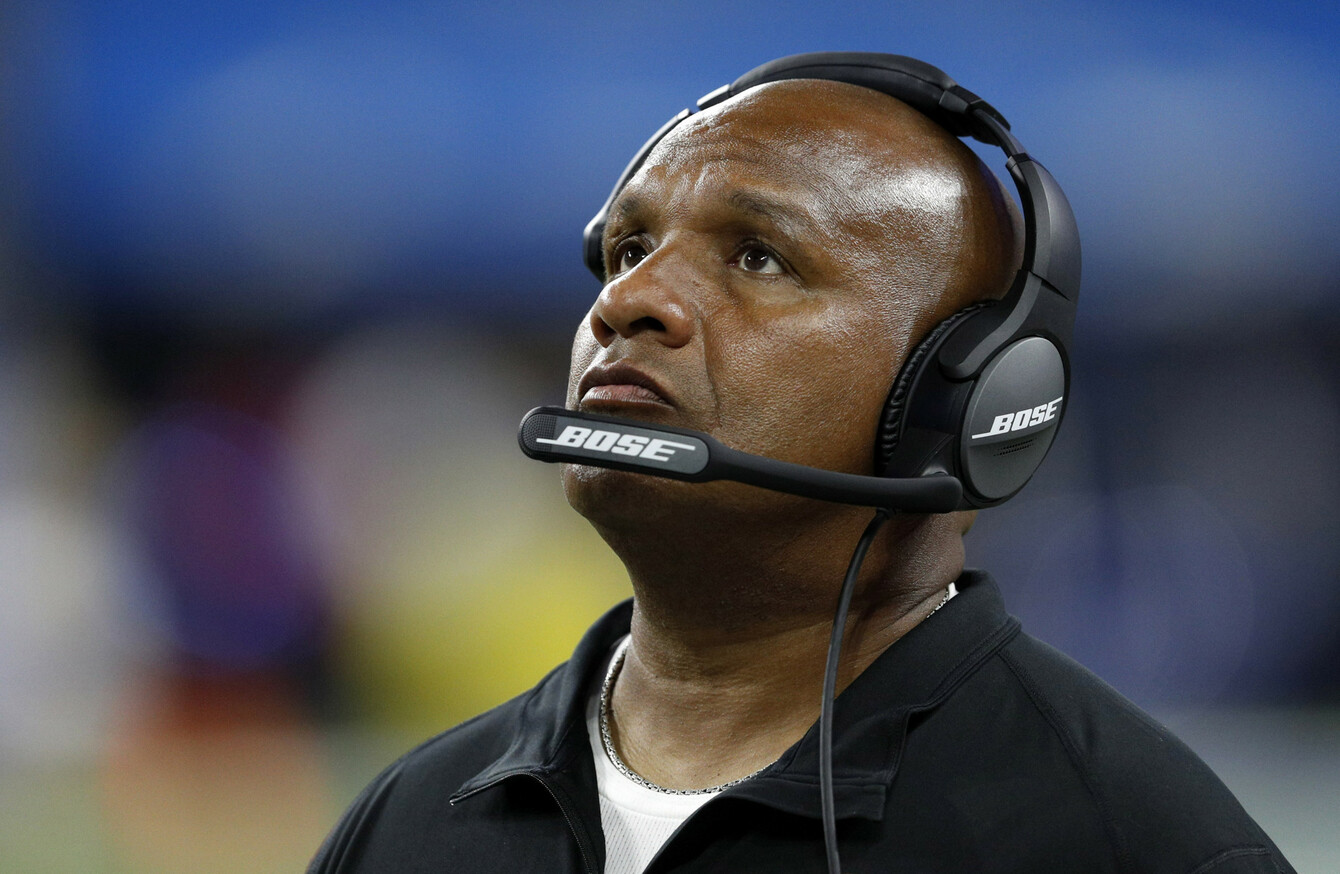 Hue Jackson was fired on Monday by the Cleveland Browns.
Hue Jackson was fired on Monday by the Cleveland Browns.
HUE JACKSON WAS fired on Monday as coach of the NFL's Cleveland Browns, ending a miserable tenure guiding the club that saw them win only three times in 40 games.
ESPN and the NFL Network reported that Jackson was sacked after Cleveland's 33-18 loss Sunday at Pittsburgh, the Browns third consecutive defeat which dropped them to 2-5 with one drawn this season.
After going 1-15 in Jackson's first season and enduring only the second 0-16 campaign in NFL history last season, the Browns began this campaign 2-2-1 with some sense of optimism.
Browns owner Jimmy Haslam made front office changes but gave Jackson one final chance at reviving the team's fortunes.
But after a 12-9 over-time home victory against Baltimore, the Browns fell 38-14 to the Los Angeles Chargers, 26-23 in over-time at Tampa Bay and again to the Steelers, whom they drew 21-21 in the season opener.
That set the stage for Haslam and Browns general manager John Dorsey to dump Jackson and search for a replacement, who would be the Browns' sixth coach over 10 seasons.
The Browns have not reached the playoffs since 2002 and have not had a winning season since 2007. Jackson, 53, also coached the Oakland Raiders in 2011 to an 8-8 record before coming to the Browns.
Jackson's career .205 win percentage is the second-worst in NFL history among all who have coached at least 40 games, only ahead of former Philadelphia Eagles owner bert Bell, who went .176 from 1936 to 1941.
In the past 2 1/2 seasons, the Browns have the NFL's worst record, fewest points and offensive efficiency.
Jackson is the second Cleveland sports coach in as many days to get sacked. Cleveland Cavaliers coach Tyronn Lue, who guided the Cavs to the 2016 NBA crown when LeBron James was still on the team, was fired after an 0-6 start to the season.
Subscribe to our new podcast, Heineken Rugby Weekly on The42, here: