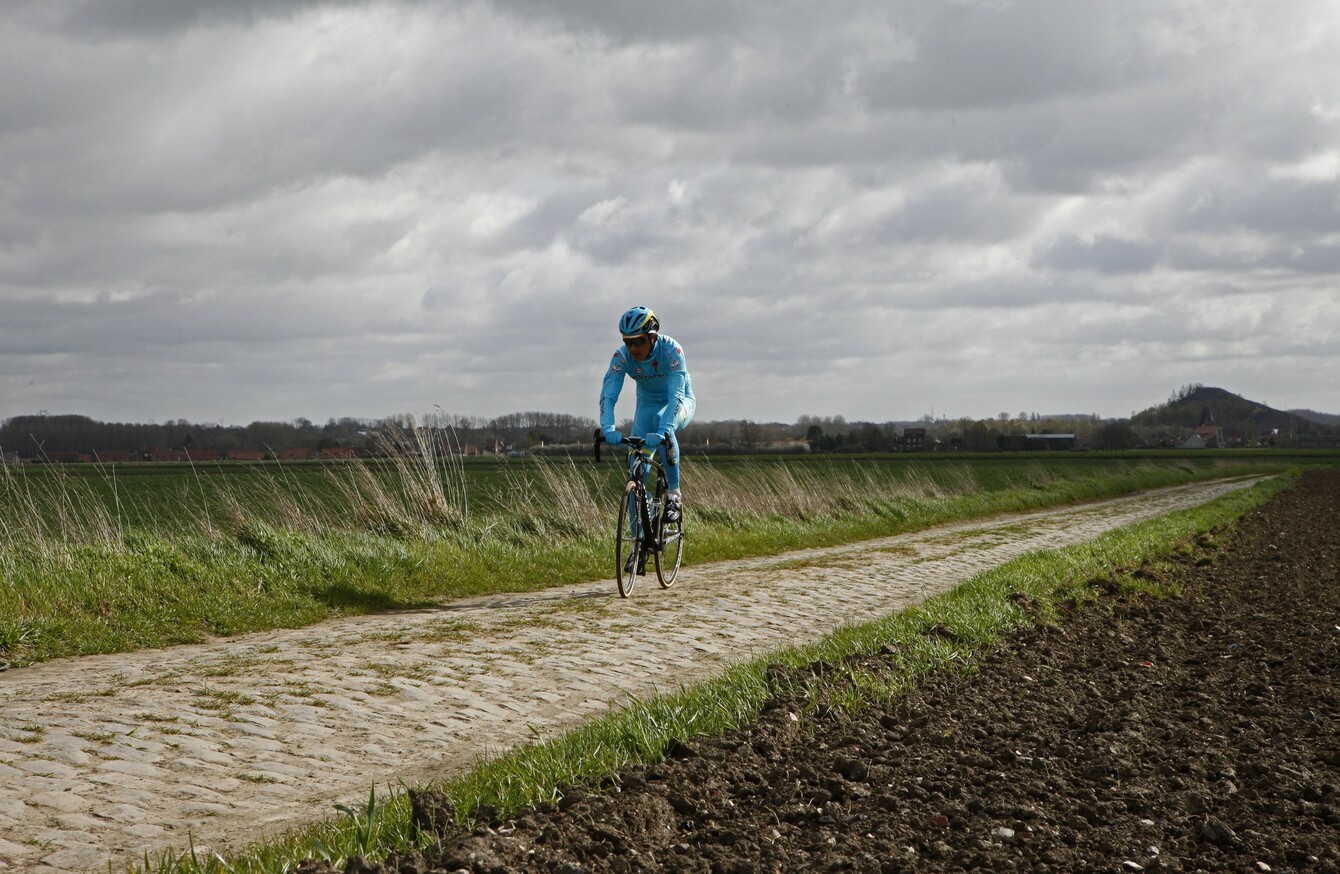 The Paris-Roubaix cycling classic is a 257.5 kilometer (160 mile) one day cycle race, with about 20% of the distance run on cobblestones.
Image: AP/Press Association Images
The Paris-Roubaix cycling classic is a 257.5 kilometer (160 mile) one day cycle race, with about 20% of the distance run on cobblestones.
Image: AP/Press Association Images
SOMETIMES THE FEAR of doing something is far worse than actually doing it. That's the lesson Iain MacGregor took from his attempt to ride Paris-Roubaix, also known as 'the Hell of the North' and frequently described as the 'toughest race in cycling'.
The race poses a formidable challenge. Over 250km long, Paris-Roubaix, which starts north of Paris and finishes on the Belgian frontier, is a one-day professional bicycle road race.
It is a challenge in which Belgians have traditionally thrived, with 55 winning it since the event's inception. The next closest country, France, have just over half that tally (28 winners), while Sean Kelly is the only Irish rider to have ever prevailed, triumphing in both 1984 and 1986.
Part of what makes the event so unforgiving is that it comprises of 28 cobblestone sections. Even some top professional cyclists have expressed wariness with regards to the challenge, so for an amateur to attempt it takes particular mental fortitude.
Moreover, it's loved and respected by many as well as being loathed by some. Bradley Wiggins has described it as "the best race in the world," adding that it "knocks spots off the Tour de France". On the other hand, even after winning it, Bernard Hinault described Paris-Roubaix as "bulls**t".
And now, one amateur cyclist, has documented his attempts to undertake the arduous challenge of completing Paris-Roubaix.
A huge cycling fan, Iain MacGregor also happens to work in publishing, so when he told his friends he was cycling the Hell of the North, they persuaded him to keep track of his progress and turn it into a book.
I'd just wanted to do the race more than anything else," he tells The42. "Everyone likes the Tour de France, but I've always loved the classics, particularly in northern France and Belgium. To me, they're pure proper cycling.
"It doesn't get harder than riding on the cobbles for endless miles. I remember watching it as a teenager on Channel 4 and other programmes and you think: 'Oh god, what are they doing?'
The more I thought about it, the more I thought: 'Yeah, why not give it a go?' I hadn't seen many books written on this subject, so I mentioned it to a few people and I was lucky that someone picked it up and said: 'We want to publish it.'"
A keen cyclist since the age of three, MacGregor's passion for the sport developed from there and he was serious enough about it to compete in time trialing during his teens. However, as he entered his 20s, MacGregor's hobby became far more sporadic, with college, work and raising children having to be prioritised. Nevertheless, with his kids now older and his work life stable, the British author explains that "father time" ultimately persuaded him to get back on the bike.
I just didn't get a chance to get back into it. It was only when I was hitting my 40s, you think I want to do something while I've still got the fitness to get something done. That's when I decided: 'I'm going to do a Tour de France étape.' And if you're going to finish it, you have to train properly. Otherwise, you're not going to do it.
"And I'm one of those people where, if I do something, I really throw myself into it, whether it's my job or something else. So I thought, if I'm going to do it, I'm going to do it properly. I'm going to lose weight because I need to lose weight, and I'm really going to train properly, because I want to enjoy it, I don't want to struggle."
And while he did ultimately enjoy it, the challenge got off to a somewhat disastrous start, as MacGregor crashed his bike early on.
"Everything's going really well when you're riding on tarmac," he recalls. "So you're going along for 20-30km before you even hit the first section of cobbles. I was in this lovely echelon of riders, it was like a club riding out, there were about 24 or 25 of us. You're flying along, no traffic, and you think, this is living the dream, this is fantastic.
We just turned left onto the first stretch of cobbles. Everyone disappeared, everyone was trying to handle it in their own way and it was sod's law, I crashed on the first set of cobbles.
"I just kind of panicked as we were going down the hill, I was picking up speed. If you haven't done before, anyone would (panic). For one reason or another, I just lost my balance, my wheels were going underneath me, I tried to put my foot out underneath the pedal, which made it even worse. Then next thing I know, I'm all over the floor. So obviously, with the embarrassment and the frustration, I started to think: 'What the heck am I doing?' Everyone's just speeding past you because it's every man for himself, but as you gradually get on with it, it's fine."
Yet notwithstanding the race's physically demanding nature, for MacGregor, the psychological barriers prompted by thoughts of competing in it beforehand proved much tougher to overcome. Before undertaking the challenge, as well as abiding by an intensive training regime, MacGregor interviewed a few of his cycling heroes — Sean Yates, Roger Hammond and Barry Hoban — among others. These former greats described in daunting detail the potential pitfalls of competing in Paris-Roubaix, and in the process, did little to alleviate the author's apprehension about riding the event.
The human imagination can be scary sometimes," he says. "Before we did it, I was just imagining what could happen. Obviously, you start talking to all these ex-professionals that I was interviewing for the book, and they were giving you all these scary stories — whether they were doing it on purpose just to scare me I don't know — 'you have to do this, you have to do that, and you still have to keep the speed up.' You just think: 'Oh god, what have I let myself in for?'
"In my mind, I was building it into something bigger than it was. But obviously, on the first stretch of cobbles, I take the wipe out thinking: 'What the hell am I doing?'"
The book is especially effective at evoking the nervousness and doubt that MacGregor increasingly felt in the lead up to his big moment.
"There's the part where you get up really early, four o'clock in the morning and it's pitch dark, you have to make your way down to the velodrome. There are a fleet of buses waiting for you and there are a couple of hundred guys there.
You wait in line, get your bike on and then you're an hour and 15 minutes drive south from where you're going to start the race. So you're just sitting watching the countryside on a bus thinking: 'It's real now.' There was lots of nervous chatter on the coach that I was on anyway.
"But it was quite quiet; everyone was lost in their thoughts. Like me, they'd all been training, they'd all probably been reading up on it. It was like: 'Today's the day.'"
Yet to MacGregor's surprise, the early fall notwithstanding, participating in the race was a far less painstaking experience than he initially anticipated. Ultimately, all his hard work and training paid off, and while he at one point suspected the experiment may turn out to be a one-off, he has kept up his rigorous cycling routines ever since, and at the time of our interview, the author is preparing to compete in the Liege-Bastogne-Liege.
I was surprised at how my confidence grew pretty quickly. Rather than tentatively approach the cobbles, I was starting to do it properly and really hit the speed. Even when I went through the Arenberg (widely considered the toughest section of the race), I was thinking 'let's give this a really good go'.
"My fitness was fine, I'd done lots of training, I was physically good. And I enjoyed it to the point where next year, I'm probably going to go back and do it again. I enjoyed the whole thing and I bet I'll be glad when it's just over and I'll think 'never again'. But it was nice to discover I thought: 'I'm really suited to this.'"
The book is nicely written and well structured. MacGregor seamlessly interweaves his personal thoughts on the matter at hand with fascinating historical insights. It depicts the rise of cycling as a sport to the establishment of the Paris-Roubaix, recounting its various controversies and memorable moments throughout the years right up to the present day.
The descriptions of MacGregor's exploits are also impressively vivid, so it's no surprise to learn he made a point of documenting his thoughts in the immediate aftermath of the event.
A friend of mine who's a writer said 'you should do (the book) because it'll work,' and he recommended that I buy a dictaphone. So I bought that and I was sitting in a bar, pouring out all my anecdotes and thoughts for the day straight off the bat. The memories are obviously a lot sharper (at that stage).
"I left it for about a week when I got home and then I had to start writing up some notes, and a lot of what came out on the dictaphone I'd forgotten already. Lots of instances of meeting people, bumping into people, what had been said, they were a lot hazier. So I was glad I did it that way, otherwise it wouldn't have been as colourful as it turned out to be."
And finally, does he have any advice for people who are — as he once was — in their 40s, slightly overweight and open to a significant challenge?
First and foremost, I would say do a

sportive

near you, just to see if you like actually being in the saddle that length of time. Otherwise, I would just say do it, it's an adventure.
"What I really liked about it is there's a complete difference to doing something like that, which is a huge global event, almost like a tourist event, because it's in the summer, it's glorious, you can take loads of lovely photos and you'll feel proud of yourself when you finish.
But when you do something like Paris-Roubaix, you're in the depths of late winter or early spring in a not-very-pretty place. To me, that's pure cycling. That's the way it should be, that's the way it was 100 years ago. It's a really tough terrain, you have to be mentally tough to do it and physically fit.
"Just like any sporting challenge, whether it's a marathon or rowing, you think: 'Can I do this?' And that's why I wanted to do it. And you surprise yourself. I was surprised that I thought I could do it and I enjoyed it, that's the main thing. From all the people I talked to, I thought this is going to be a struggle, let's get it over with. But by the end, I was going round the velodrome and thinking: 'I've loved this, what a great day it's been.'"
To Hell on a Bike: Riding Paris-Roubaix: The Toughest Race in Cycling by Iain MacGregor is published by Bantam Press. More info here.
The42 is on Snapchat! Tap the button below on your phone to add!