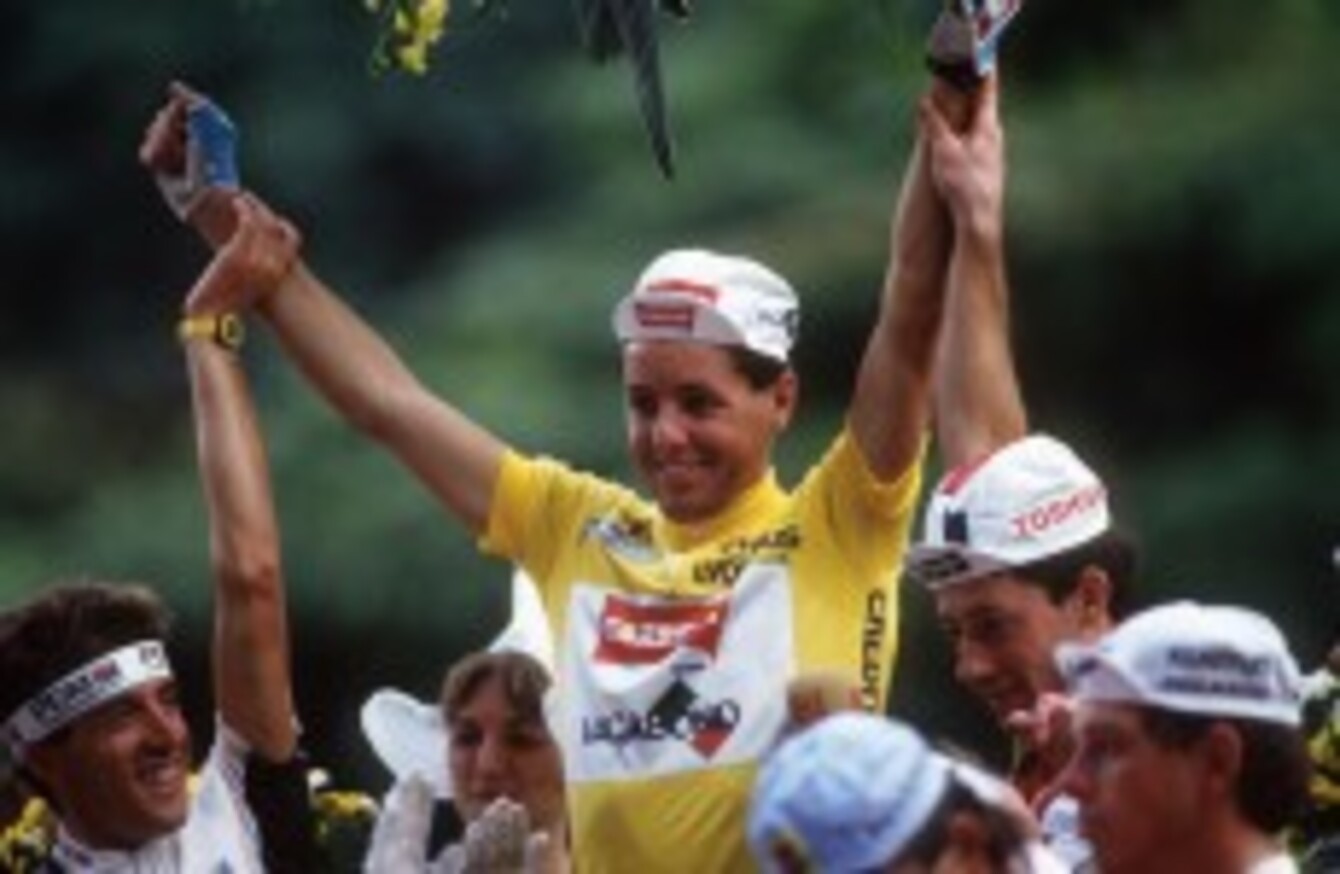 Stephen Roche after winning the Tour de France in 1987.
Image: ©INPHO/Billy Stickland
Stephen Roche after winning the Tour de France in 1987.
Image: ©INPHO/Billy Stickland
IRISH CYCLING LEGEND Stephen Roche today recalled the finest year of his sporting career.
The Dundrum sportsman spoke to Newstalk's Chris Donoghue about his rise to the top of the cycling world in 1987 and how his achievement briefly gave the Irish public a chance to reflect on something other than violence in Northern Ireland and economic woe.
Roche went from working as an apprentice in a dairy factory to Tour de France winner in eight years and captured the public's imagination with a stunning series of cycling results.
Now living in France, Roche recalled that he had to order in a cycling magazine at his local newsagents each week as there was no proper coverage of the sport in 1970s Ireland.
He first came to the attention of sportswriters in 1979 when he won the Rás Tailteann as a 19-year-old.
Roche says he is amazed when he looks back at an RTÉ interview with his younger self in 1979 as he lay back on his bed in the winner's yellow jersey and declared, very coolly, that he wanted 'to leave a mark when I'm gone'.
The golden year
One of Roche's early heroes in the cycling world was fellow Irishman Sean Kelly, a man Roche believed 'grew up eating nails for breakfast'.
While Kelly was ranked number won in the world from as early as 1984, it was Roche that captured three of the sports greatest prizes in one year.
By the end of 1987, he had the Tour de France, World Road Race Championship and the Giro d'Italia in his possession.
Roche said, "It is unfair to say that I woke up on the first of January and said 'I'm going to have a fantastic year'."
The 52-year-old credits his school, former employers, parents and trainers for helping him to scale such lofty heights. Roche added:
I never set limits. I don't ever say that the sky is the limit because even when you say the sky it is a limit.
The win in France, and the national interest it sparked, let to a famous scene of then Taoiseach, Charlie Haughey joining the cyclist for a victory ceremont on the Champs Elysees.
"I didn't know a thing about it," Roche said. "To be honest, I hardly knew the man. I'd been away for seven years, didn't know about politics and was a bit out of touch with everything."
Proudest moment
Roche revealed that his biggest achievement was not any of the titles he won but the impact it had back in Ireland.
He said, "I was on a plane (after the Tour de France) and picked up an Irish Times and it was the first time they had a colour picture on the front page." Roche added:
Back in the 80s there was still a lot of trouble going on in Northern Ireland; still horrific things going on. But (on this day) you had to go six pages back to find the first bit of bad news. It brought a bit of peace for people only if it lasted a few days.
A knee injury and botched surgery slowly derailed Roche's career and he eventually retired from the sport in 1994.
His son, Nicolas Roche, has followed in his father's footsteps and is a professional cyclist.
To mark the 25-year anniversary of Roche's winning year, the Dubliner is releasing an autobiography, in June, called Born to Ride.