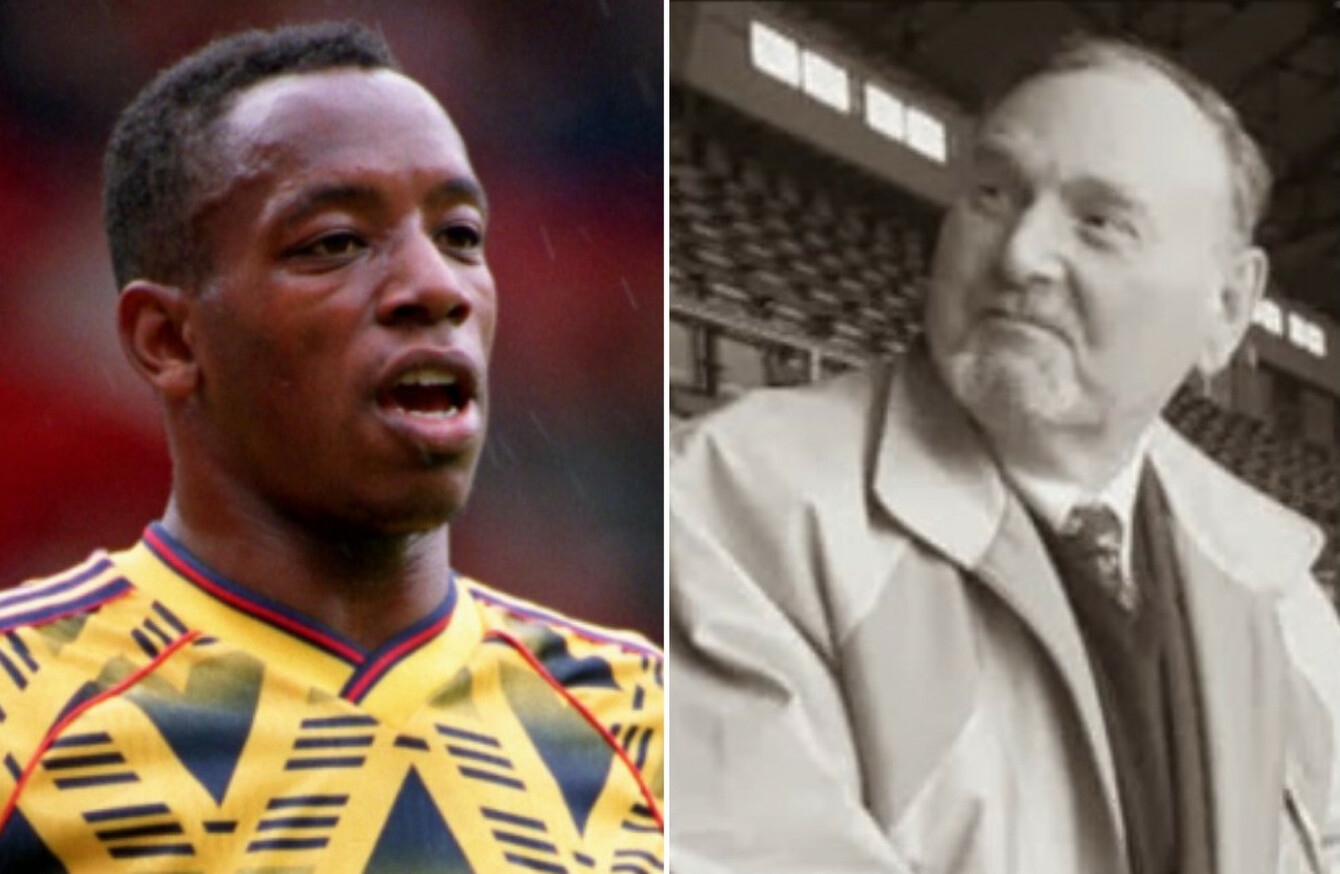 Ian Wright and his former school teacher and RAF pilot Sydney Pigden.
Ian Wright and his former school teacher and RAF pilot Sydney Pigden.
ONE CLICK INTO Ian Wright's Instagram Stories and a video pops up of the former Arsenal, Crystal Palace and England striker thoroughly engaged with a game of foosball in a function room tucked away inside the bowels of the Aviva Stadium. 
He's been flown into Dublin for the day as an ambassador for Cadbury's, meeting supporters and recalling stories of his 15-year career where he won it all — a Premier League title, two FA Cups, one League Cup, one European Cup Winners' Cup, a Uefa Intertoto Cup and the old First Division Golden Boot in 1992.
When we walk in there's a box of Celebrations in the middle of the table. Wright doesn't indulge in the complimentary chocolates and is keen to press on through the next round of media obligations.
The conversation flows easily as the various talking points are boxed off — his ITV colleague Martin O'Neill's tenure in charge of Ireland, Unai Emery's incredibly immediate impact at Arsenal, the Declan Rice saga.
He speaks broadly and thoughtfully with each question put to him and a few hours after we leave his Instagram has been updated with a new picture, showing a happy Wright with a pint of Guinness in hand and a jovial smile spread across his face — "when in Dublin," reads the caption, accompanied with a smiley emoji and a tricolour.
Wright enjoys social media, but admits it can be a serious ill faced by today's footballers, like Declan Rice. "What you find, especially with social media, you find that you're going to get a lot of stick whatever happens," Wright says. "That's the way it is. Criticism and stuff like that will come whatever happens. Whoever he [Rice] chooses, he's going to get stick."
Like many former pros, including Gary Lineker, Neville Southall and Gary Neville, the England and Arsenal legend is very active online — tweeting and Instagraming regularly with 1.4 million followers on the former and almost half a million on the latter. 
One recent post sticks out though. It's an old, grainy video uploaded two weeks ago from the early 2000s of Wright being reunited with a man who had a thoroughly profound impact on his life growing up in south London during the late 1960s and early 1970s.
The caption on the post reads: "A man I am nothing without and someone that I think of every day. So many of us would not be who or where we are today without the many teachers that we have come across in our lives. We are grateful to you. RIP Mr Pigden you were always so proud of your profession and I can't help but think of you today as the world celebrates #InternationalTeachersDay." 
The video is incredibly emotional and there's an uplifting, inspiring story behind it — a  story which shows just how important role models are in a young child's life and the long-lasting impact that encouragement and belief can have in building a kid's confidence and self-worth.
Source: MITOGEN/YouTube
Ian Wright dedicated his 2016 autobiography "A Life in Football" to Sydney Pigden, a primary school teacher of his in Brockley, south-east London who — before attending teaching college — flew Spitfires, Hurricanes and Typhoons in the RAF during World War II.
The more you learn about Mr. Pigden the more you understand why he had such an impact on Wright's life. Sitting in the Aviva Stadium, he admits that he still thinks about him every single day, that he was one of the first positive role models in his life and that he misses his old teacher dearly since he passed away last December at the age of 92.
"He had a massive impact on me," Wright sighs speaking to The42.
When I was a child he was a massive male role model in my life who came along at the right time for me. I was struggling at school with respects to the reading and writing side of things. He helped me with that, he helped me with my football too.
"He was a guiding light all the way through my career, as people saw in the video when I was reunited with him. I dedicated my book to him and I think that was the least I could do for somebody that literally turned my life around, in respect to teaching me how to be a decent human being."
Wright has spoken honestly about his early life growing up. His father was an absent figure during his childhood, while his mother Nesta struggled with alcoholism and was abusive towards him. Life at home was difficult and football was an escape.
He didn't take the usual route into the game and, aged 19, was working a manual labour job, playing non-league football and sending hand-written letters to all the clubs around London, looking for someone — anyone — to take a chance and give him his break.
At this time Wright would spend two weeks in prison for driving without tax or insurance, admitting that he burst into tears after being locked into his cell in Chelmsford Prison, vowing to God that he would do everything in his power to make it as a footballer.
In 1985 he would agree a semi-professional contract with Greenwich Borough, signing for Crystal Palace later that year. The rest, as they say, is history — 239 goals in 501 appearances in his club career, 33 appearances for England from 1991 to 1998, winning almost every single honour there was up for grabs and earning a reputation as one of the Premier League's greatest ever strikers.
His role model Mr. Pigden, aside from teaching Wright how to read and write, had just as big an impact on the football pitch as his life lessons had off it.
In the old video clip shared a fortnight ago (which has over 1.4 million views on YouTube), Wright is reunited with his former teacher more than two decades after they had last spoken to one another. The striker is filming a documentary about his career at Highbury when a chirpy, familiar voice from the past grabs his attention.
Hello Ian," smiles Mr. Pigden. "Long time no see." Wright immediately removes his hat, a sincere and unconscious mark of respect, before admitting that he had been told his teacher had passed away years beforehand. "I can't believe this, someone said you were dead," the footballer says.
"As you can see I'm very much alive," replies his teacher stretching out his hand. "And I'm so glad you've done so well with yourself." Wright covers his face with his hat and begins to sob, reunited with the father-figure who had believed in him when others overlooked Wright as nothing more than a troubled and angry child.
"He's somebody that is very special to me," he recalls speaking today. "But I think what was more important to me than anything was how much he actually loved being a teacher. It's amazing what a teacher can do to somebody in their life."
On #InternationalTeachersDay I wanted to share this clip of Ian Wright talking about an inspiring teacher.

It's incredibly moving - you'll want to watch it until the end. pic.twitter.com/0HnTeuiZpP

— Jeremy Corbyn (@jeremycorbyn) October 5, 2018
Mr. Pigden's own life had been quite remarkable. A PE teacher following his time spent as a pilot during the Second World War, Sydney Pigden lost his only child during infancy, his own parents passed away when he was just 15-years-old, and would also later lose his wife at a young age too.
The teacher believed in the ability of sport to change lives and taught Ian Wright how to channel all his energy into being a cool-headed and composed striker in front of goal. A competitive footballer himself up until his 40s, Mr. Pigden became a mentor to Wright on and off the pitch — teaching him to read and write in his own spare time and how to play football as well. 
"He was the first person that taught me that when you get close to goal, you don't have to blast it into the back of the net," recalls Wright. "He taught me that you can pass it into the back of the net and it was from him that I first learned about Jimmy Greaves. This was probably around 1972.
"I always remember that and any time throughout my career when I went through on goal and scored, I always thought of him running back to the halfway line. That's the one thing he used to always say to me 'just finish with a little touch, the goalkeeper's got no chance'.
Anyone can get close to the goalkeeper and blast it past him, but it's a more difficult skill to pass it around him — to have that composure to look up and steady yourself and calmly slot it in. So I was quite pleased that, in the end, I scored a few goals that he was very, very proud of."
Mr. Pigden was not even in his 20s when he fought for Britain during the Second World War. The young man was even chosen to fly his plane over Buckingham Palace following the war's conclusion as a mark of victory for the Allies.
Be part
of the team
Access exclusive podcasts, interviews and analysis with a monthly or annual membership.
Become a Member
The pair never lost touch again after being reunited at Highbury, with Mr. Pigden later informing Wright that taking part in the flypast demonstration as a pilot in 1945 had been the second proudest moment of his life.
The first being his student's international debut for England against Cameroon in February 1991 — a 27-year-old Wright scoring on his first appearance for his country during a 2-0 win at Wembley.
"He was a fighter-pilot in World War II and a young one as well. He was one of the pilots that was chosen to do the fly-by over Buckingham Palace. He said he was prouder of the fact that I played for Arsenal and for England than he was flying over Buckingham Palace. You can't top that sort of thing and that's what teaching meant to him, because he was just trying to reach people.
As a teacher, of course you want to be able to reach everybody, teach everybody and make everybody better. But he knew that if you could make one person better, then you've done something with your life — and he did that with me."
Wright says that a day does not pass when he does not think about his old teacher. The football skills, composure, cool-headedness, how to strike the ball properly — they all served him incredibly well during his playing career.
But the life lessons Sydney Pigden passed on, how to behave, how to treat others, to always try and show kindness and empathy and understanding, have remained long after he hung up his boots.
It's all about encouragement, Wright says. The carrot, not the stick, the pat on the back instead of the slap, the gentle words of encouragement and not the hoarse screams of frustration and belittlement.
That's all it is," he says, as our time begins to run out. "The fact is: he never, ever lost patience with me — of course, I made him angry sometimes. But the fact is, he never, ever, ever lost patience with me even when I went through a bad stage from 16 to 20, 21. At that time I was still in an around the area where he was working with the school. It was really hard at that time to see him.
"But then when I broke into the team at Crystal Palace, he came to watch me. When he met me on the street, he'd say, 'I'm so proud.' Even when I hadn't done hardly anything at Crystal Palace. The imprint that he's had on my life will be there forever. He's somebody that I love deeply and truly for life."
Wright says that fans coming up to him, as much as recalling the title win with Arsenal in 1998, the FA Cup finals or any goal for England, still bring up the video clip of him being reunited with Mr. Pigden. Having that authority figure, that one teacher or mentor or coach who sees the inner worth of you, is relatable to almost everybody no matter what walk of life they come from.
He says that he still struggles to watch the video clip in full, especially since Mr. Pigden's passing late last year. But he is adamant that he is honoured not only to have shared so many happy memories with the man, but that his story — of how one teacher can have such a profound impact on the course of a person's entire life — is known to so many millions around the world.
Just like Ian Wright's contribution to football, it seems Mr. Pigden's own legacy will not be soon forgotten. His student has made sure of it.
–
Former Premier League player Ian Wright was in Dublin to attend an exclusive event hosted by Cadbury, 'Official Snack Partner' to the Premier League. Hosted in the Aviva Stadium in Dublin, Ian was joined by Tesco competition winners from all over the country as they enjoyed a meet and greet with the football legend. The 2018/19 season marks the second year of Cadbury's three-year partnership.
Subscribe to our new podcast, Heineken Rugby Weekly on The42, here: