THE FARCICAL SCENES in Paris last Saturday were a source of massive frustration for Irish and French supporters alike.
Many column inches have been afforded to the unfortunate situation in the interim, looking at everything from who should take responsibility to compensation to under soil heating in modern stadia.
We now know that the rescheduled encounter will take place on the 4 March, which is a relief given some of the dates that were being bandied about.
Let's get back to the rugby.
The unintentional break offers an opportunity to look an area of Irish rugby that has gripped the nation, particularly over the past 10 years: Leinster v Munster. The rivalry is a source of huge debate and conversation in rugby circles and beyond but, can it be a hindrance from an Irish perspective?
I was talking to someone about the Irish team last week and how they needed to evolve and find a particular identity. His response was very interesting, citing the partisan nature of Irish rugby as a core problem for the national side. Does he have a point?
When I read articles or blog posts about the Irish team, it always staggers me the amount of Leinster v Munster prejudice that exists. Yes, it could be conceived as 'banter' but the reality is that it goes way beyond that. Sadly, it can also be evident at games between the sides on occasion, albeit within a minority.
Partisan
The ROG v Sexton debate is a prime example. It almost feels that if you are of a Munster persuasion, you think ROG should start and if you hail from Leinster, Sexton is the only man for the job. It is that black and white or red and blue, if you will. There are of course plenty of rational rugby fans out there too but they seem to be drowned out by the noise more often than not.
If you are brave enough to go online during an Irish international, it is not long before the shouts for 'bring on ROG' or 'bring on Sexton' start surfacing. The media obviously do nothing to defuse the situation by casting the camera on O'Gara every time Sexton misses a kick.
Loyalty will play a part in a fan's opinion, of that I am aware. People are passionate about their local club, province and community. There is a sense of belonging here that perhaps does not exist for the national team. Yet, there is particular venom on occasion between Leinster and Munster fans that can be quite poisonous.
These are two hugely successful club sides so a competitive edge is bound to exist. Of course, it is beneficial to Ireland to have two of their provinces performing at such a high level, but are there other ways where the relationship between the two provinces can be harmful?
Declan Kidney will forever be synonymous with Munster, given his history and success with the province but has come under fire recently for 'employing Munster tactics', when there is so much talent at his disposal.
I often see fans speaking about bringing in an Irish coach with no ties to a province and no 'agenda'.  Is this valid? On one side, Declan Kidney may not be getting his tactics right or may not even be the right man for the job but are his links to Munster a relevant argument to make here? Should he be judged on a past role?
Personality
Alternatively, maybe it would be beneficial to bring in a top-class foreign coach to take a completely objective viewpoint and create a real sense of identity for this Irish team. So often we hear that Ireland should simply play like Leinster or play like Munster.
Opposition defences are at a different standard at international level and there is a broad mix of players in the squad. I have been guilty of it myself in the past but is it too simplistic to say 'Ireland should play like Leinster'?
Yes, it would be great if Ireland could adapt the off-loading game so brilliantly executed at Leinster or the outstanding retention skills at the breakdown displayed by Munster or indeed the intense physicality which Ulster have demonstrated in the Heineken Cup to date. But it needs to make sense for Ireland.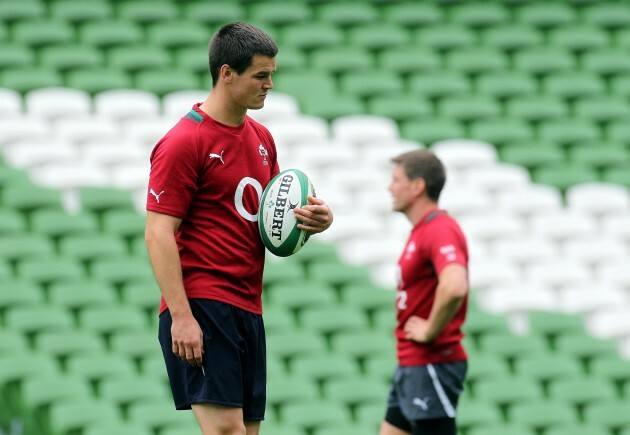 Jonathan Sexton and Ronan O'Gara during Ireland squad training. Pic: INPHO/Lorraine O'Sullivan
Fans are more than entitled to display a strong loyalty to their local team. Sport would be nothing without the passion of the fans but when Ireland play, that loyalty should be directed towards the national side and not still residing in Thomond Park or the RDS.
This team needs a personality of its own, seperate from the provinces. The fans in turn then need to embrace this team fully, without red or blue specs in place.
Contact Tom at Twitter: @TomFoxy