THERE ARE LOTS of positives for Tiger Woods to take from the Australian Open in which he finished in third place.
Tiger's play was summed up nicely by Robert Allenby after the first two rounds when he said "probably in the last six months, that's the best I've seen him play. I've seen him at his absolute best … that was a different human being. He's on his way back, that's for sure."
We've heard a lot of similar sentiments expressed before, and I suppose it's easy for players to say things like that – the consequences are hardly that dramatic either way – but we have now seen significant evidence of progress on the golf course and that is a very positive sign for Woods.
It's not as if everything is suddenly all rosy, however. Sport's Illustated's Alan Shipnuck is a man who has been following Tiger's career closely since he came on the radar and after the final round of the Australian Open he made some interesting observations via twitter:
"Also note that the course didn't require Tiger to hit many drivers. On the occasions that he did over the weekned he often found trouble."
"Tiger is going to win in '12. I mean, look at some of the jabronis who win Tour events. But to be a force he needs better driver/putter/head "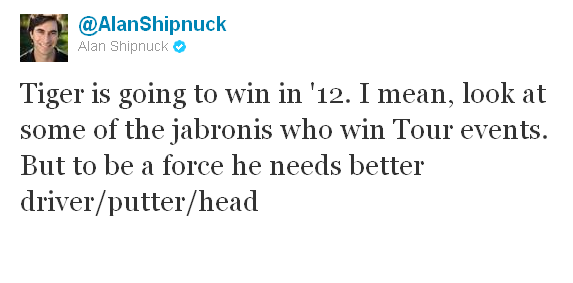 I can't imagine many of the guys who won on tour this year would rank themselves as "jabronis", but the fact is that players with half the ability of Woods, even in his current form, manage to get the job done on occasion, so it would be no surprise to see him win next year.
Robert Allenby would certainly seem to agree: "I think where he is right now is good enough to win."
Another man making headlines in Australia was John Daly. He stormed off the course after hitting seven balls into a water hazard, some argue deliberately so. It was a reaction to recieving a penalty for playing the wrong ball.
John Daly has always been a headline grabber, for reasons both good and bad, and that's probably why he still gets invited by sponsors to take part in tour events. The invites have gradually dwindled over the years though, and with the sort of behaviour he displayed at the weekend, I'm sure he's not endearing himself to people who might want him to appear at events in the future.
It's sad to see such a talented golfer showing such disregard, although the man himself argued that he simply ran out of balls.
"when u run out of balls u run out of balls. yes, I shook my player's partners hands & signed my card w/rules official," he wrote on Twitter.

His playing partner on the day, Craig Parry, believes Daly had his very own Tin Cup moment "In hindsight, it probably wasn't the right thing to do (quitting) but he had the right club and was trying to do what he thought right," Parry said.
You have to admire the solidarity from Parry, but after hitting two in the water, did he still believe he "had the right club"? What about after the fourth ball went in the water? What if he'd had 20 balls in his bag, would he have have kept going in the belief that he "had the right club"?
Either way, his behaviour is likely to have consequences with regard to future invites. Does he deserve to be banned from future events or does he still appeal to a particular type of fan that the game needs?
Final word about the President's Cup which takes place next weekend. Wouldn't it be great if Tiger Woods was drawn against Adam Scott and faced his old caddy Steve Williams?
I'd certainly be tuning into that pre-match press conference.
Exclusive Six
Nations Analysis
Get Murray Kinsella's exclusive analysis of Ireland's Six Nations campaign this spring
Become a Member