THE HENRI DELAUNAY trophy was back in Spanish hands during a rare visit to Irish soil yesterday.
On Sunday July 1, one of the 16 finalists will be crowned Euro 2012 champions and presented with the 8kg piece of silverware, which was remodeled four years ago, at Kiev's Olympic Stadium.
It spent Wednesday afternoon in a Dublin bar accompanied by former midfield general Gaizka Mendieta, however.
The ex-Valencia, Lazio, Barcelona and Middlesbrough player, who has 40 senior caps for his country and scored the winning penalty to send Ireland home from the 2002 World Cup, was in the capital as part of a Carlsberg event and had plenty to say about this summer's tournament.
Polite, articulate, and possessing a better command of the English language than many native speakers, Mendieta is clearly still passionate about the sport he retired from four years ago after enjoying a distinguished career.
At the height of his powers, he captained a golden Los Che team to two Champions League finals before departing the club for Serie A as the most expensive Spanish player ever at the time in a deal worth £29m.
He had one ill-fated season in Italy's top division at the same time that Giovanni Trapattoni was in charge of the Azzurri and Mendieta is aware of the threat his Irish team will pose in June.
Ireland will be very physical and will allow Spain to have the majority of possession," he said yesterday. "They will look to get chances from counter attacks and set-pieces."
With a squad that would make any manager in the world envious, Spain travel to Poland as current holders and tournament favourites. Since Mendieta's time, they have been transformed from perennial underachievers to an all-conquering side with their tiki-taka style of play, which Barcelona pair Messrs Xavi and Iniesta play pivotal roles in, but opponents are regularly attempting to counteract it.
However, Mendieta, who mentioned Robbie Keane, Damien Duff, Aiden McGeady and Richard Dunne as players who can cause Spain problems, says that while teams like Ireland may look to sit back and soak up the pressure in the hope of nicking a result, Spanish boss Vincente Del Bosque has enough options to break their opposition down.
Of course you have to have a Plan B as you can't just rely on playing one way. We are lucky as we have options like (Fernando) Llorente – a tough, strong centre forward.
"Players who can play as non strikers like David Silva, Juan Mata, Cesc Fabregas and Pedro all offer you different approaches to the game. The manager will know what is best and will change it when he feels the need to.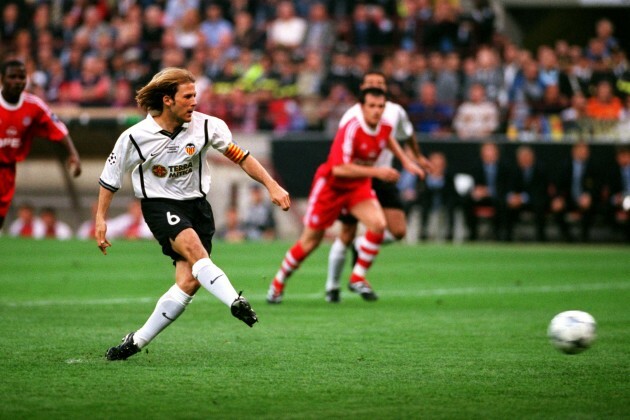 Mendieta slots home a penalty in the 2001 Champions League final against Bayern Munich. Credit: Jon Buckle/EMPICS Sport
Spain are currently without two of their biggest names in David Villa and Fernando Torres, a strike pair who are missing for very different reasons. Villa broke his leg playing for Barcelona in December's World Club Cup and is currently on the road to recovery.
Torres, on the other hand, is going through the longest drought of his career and despite putting a decent performance in during Chelsea's Champions League win over Napoli last night, still hasn't rediscovered his form in front of goal.
Valencia's Roberto Soldado filled in against Venezuala last month and bagged himself a hat-trick so can Spain manage without David Villa and Fernando Torres if they need to?
The more options you have the better and hopefully the two players can make the finals but we have others. We still think we can get Villa back fit and Torres at his best by the summer," stated an optimistic Mendieta.
The 37-year-old enjoyed a short spell at Barcelona on loan from Lazio in 2002 and although he made the switch to the Premier League with Middlesbrough the following summer, still holds a soft spot for the Catalan giants.
"(Louis) Van Gaal was there and wanted me to be a part of the team. I would have liked to stayed but I don't think it was the right time as it was a transitional period in which the chairman and the manager changed but I loved being a part of Barcelona for that season."
On the current team, he added: "I admire them and love watching their players, and not just because I played with them.
"This generation and the way they win is incredible. Sometimes you play with a team of great players but don't necessarily win. How they are all capable of delivering at that level is just delightful to watch."
Gaizka Mendieta was in Dublin with the Euro 2012 trophy at an event hosted by Carslberg, the official beer to the Irish football team and UEFA Euro 2012. Visit the Carslberg football Facebook page.