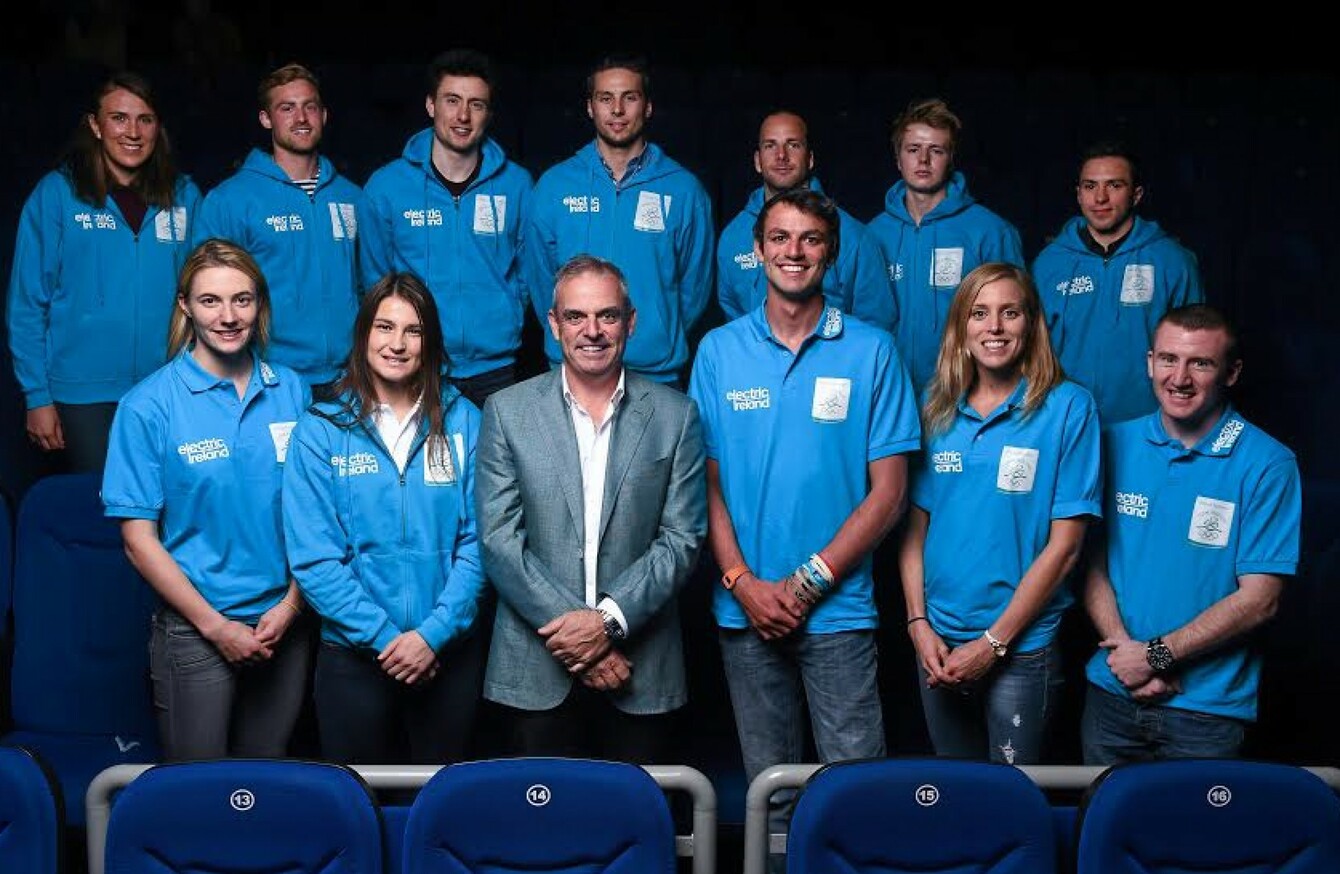 Selected members of Team Ireland pose ahead of the 2016 Rio Olympics.
Image: Ramsey Cardy/SPORTSFILE
Selected members of Team Ireland pose ahead of the 2016 Rio Olympics.
Image: Ramsey Cardy/SPORTSFILE
Updated at 11.35
"IS IT POSSIBLE for us all to do what athletes do? Yes, it is. And that's a definite 'yes'."
Niamh Fitzpatrick certainly won't be accused of negativity anytime soon — and that's certainly a good thing, given that part of the UCD graduate's job requires her to help Irish athletes achieve their potential.
Fitzpatrick has been working as a psychologist since 1991 and specialises in the areas of optimum mental health and peak performance.
One of her most notable earliest successes was working with the 1996 Wexford Senior Hurling team as they won their first All-Ireland title in 28 years.
Since then, Fitzpatrick has worked with several other GAA teams at senior, minor and club level as well as helping athletes in various other sports including hockey, rowing and tennis, while she has also been a regular contributor to Today FM as the go-to psychologist for both the Ray D'Arcy and Anton Savage shows.
Yet perhaps Fitzpatrick is most renowned in the sports world as the Headquarters Psychologist for Team Ireland — a role she performed for three successive Olympic Games between Athens 2004 and London 2012, before stepping down from the position due to a health issue ahead of Rio 2016.
Nevertheless, while Fitzpatrick won't be travelling to Rio, she will certainly have a big interest in this summer's biggest sporting event, particularly as she's the current team psychologist for the Irish Olympic Eventing Team.
Consequently, given her vast experience in dealing with the issue, Fitzpatrick has an intimate knowledge of the psychological perils of being an athlete.
Moreover, she had a big interest in sports growing up, particularly equestrianism, regularly competing in eventing and showjumping during her teens, while struggling to fulfill her potential due to nerves. As her official website notes: "Niamh just assumed that these nerves were simply part of sport and that there was nothing she could do to prevent them from having a negative effect on her performance."
But since her early days studying sports psychology, Fitzpatrick has learned to apply her knowledge in order to help other athletes achieve their potential, including the elite 0.001% of people who compete at the Olympic Games.
Unsurprisingly, she feels the importance of psychology in sport is "huge" and with roughly 11,000 athletes (the official Olympics site lists 11,414 as the exact figure) of similar ability (relatively speaking) set to participate in Rio over the coming weeks, it can ultimately be the difference between success and failure.
"So what's become the deciding factor there is who can continue to do what they've done up to the Olympic Games in the Olympic Games," Fitzpatrick tells The42.
Who can relax? Who can focus? Who can stay confident? Who can take out distractions? Who can handle the world's media looking at them? Who can handle their parents and their families travelling to the Olympics and thinking 'oh my gosh, you're my child and you're competing here and I'll never get another chance to do this'.
"You can be really talented and be in great shape physically, and your tactics may be really good, but if you have not practiced the focus, if you have not practiced the emotional control of being able to handle nerves; that may well undo you for sure."
Accordingly, supremely talented athletes can struggle badly under the pressure, while those with less natural ability are able to thrive because "they see the Olympic Games for what it is — something brilliant, but there's a circus around it, and (they know) 'I just need to focus on my performance'".
On a similar note, a classic question that has been debated at length is whether athletes are innately more mentally tough than the average person, thus enabling them to achieve such extraordinary feats. Fitzpatrick's theory is that it is not necessarily the case, and that conceivably, everyone has the capability of fulfilling their ambitions and doing extraordinary things.
"We all have the power to find the resilience, to be able to focus, to be able to build our confidence and believe that we could move to that job or we could secure that degree, or we could go and ask them out and they might say 'yes'.
We all have that power, but what happens when you're an athlete, you're surrounded by a team of coaches, physios, doctors, physiologists. Their tutoring and guidance nearly brings you down that pathway to give you a chance to bring out that power within. But most of us don't have a psychologist or a coach or a manager beside us every step of the way.
"For some people in life, we all have the capacity to get that power within and bring out the best in ourselves, but some people in life simply never find that out because life hasn't presented an opportunity for them to do it."
Some athletes are arguably more reliant on sports psychology than others. For instance, in hockey, a mistake leading to a goal can be rectified over the course of the match, whereas in diving — as Team Ireland's Oliver Dingley has explained — one error can be fatal.
Yet team sports present a shared sense of responsibility that can also work both ways, while in the case of the event Fitzpatrick is currently working — three-day eventing — success requires a flawless performance not only from the athlete and his or her teammates, but also from their horses.
Yet the basic pressure of performing to the best is not the only concern Fitzpatrick has had to deal with as Team Ireland psychologist over the years.
It may be an obvious point, but it is still one that many people tend to forget or overlook — despite their superhero-esque tendencies, all Olympic athletes are human like the rest of us, with the same potential frailties and worries as others. They can be intimidated by the circus of the Olympics and many also get excited and a little nervous when they meet a figure of the stature of Usain Bolt or Michael Phelps in the Olympic Village.
When you get to the Olympic Games, you land in at the airport, you have to be accredited at the airport, you are taken on particular transport, you drive on roads that have the Olympic rings on them and other traffic is not allowed (there). You get into the Olympic Village.
"You have to go through security the way you would do it in an airport, everything's different… (For athletes) one of their big worries is 'how do I handle that?'
And 'how do I handle walking into the Olympic Village and seeing my heroes. Watching people that I like, that I admire, that I've looked up to in my sport or in other sports, how do I handle that?'  They would be the big worries (for athletes).
"Coming on the tail end of that is: 'Am I good enough?' Am I, little me, which is what we all think of ourselves — that's how the individuals worry, especially first-time Olympians.
And then they get worries around expectations. After somebody is selected at the Olympic Games, their family, their community, their sport, they get behind them, and an athlete can often say 'oh my god, what if I let them down, what if I don't deliver?'
"And then you get auxiliary worries. So if an athlete is going to an Olympics somewhere more long haul like Rio or Beijing, there can be worries about their families, so if there is a wife or a husband or a parent there and they're not in the Village with them, sometimes an athlete can worry about: 'Is my parent okay?' 'Is my loved one okay?' 'Is everything alright with them?'"
And while coping with the pressure during the Olympics can be challenging for athletes, the aftermath is often even more difficult.
Having competed at the highest level with the world watching on, a return to normality and the relative anonymity that the majority experience after the Games can be taxing.
Particularly when athletes retire, there can be a void that's difficult to fill after they lose what is, in many cases, their primary identity. It's not just the case with Olympians, but is also particularly prominent in soccer. As The Secret Footballer noted in an interview with The42 last year: "Remember the stats for former footballers — one in three will get divorced, one in three will suffer a mental illness and one in three will be declared bankrupt."
Fitzpatrick is acutely aware of the problem and it is an issue that herself and her colleagues always strive to combat.
If you see an athlete going into the Olympic Games where it's going to be their last one and you notice that they don't have relationships, they have given up their jobs to prepare for this, they don't have a college course to go back to, that would be a red flag as a sports psychologist and we would go after them.
"You look to see that a support system is put in place — the Irish Sports Council are fantastic at putting post-Olympic Games programmes in place.
For some athletes, it would be years and years (of working towards the Olympics), for others it's just a four-year cycle before they get there. But in either case, the focus would be the Olympics and we have to get them to consider before they go: 'What about after? What life will you have? What are you going back to? What do you want to do?'
"It helps them get that sense of the need for balance, so they're less likely to hit the deck after, because we've already made sure of the need for something in their life (outside of sport)."
Yet while there can be a dark side to high-level sport, there are also invariably moments of unabashed euphoria, many of which Fitzpatrick has watched from a unique vantage point.
I have in my head pictures of different athletes playing different games, who we have done some work with before the Games and during the Games, and they have come away with a sense of 'I have done my absolute best. I stood up to the line and delivered what was asked of me, when life threw this challenge at me.
"The pride that they have in themselves and the look of joy on their face, when they have beaten down that little voice in their head that says 'you can't do it,' 'you're not good enough,' or 'what are you doing here?' In that moment, when they have achieved their best, whatever that best moment is, for me, that's the moment I love.
That moment is not just about their sport. That moment, on a cold November day, in the rest of their life, that moment will keep them warm. That moment helps them as a parent to encourage their child to be the happiest and the best they can be. It allows them to realise that they don't have to listen to the horrible little voice in their head. To tell them that you can't do it. You can get on and do it regardless and it's something that is — it's a funny word to use but I'm going to be honest about it — quite emotional for me.
"When you work as a psychologist, you are privileged when athletes and coaches tell you their secrets, and they open their minds to you and their fears and their worries. You have to be very mindful of it, and when you see that person and you know what they've worried about, how hard a mental journey it has been for them, and they get it, wow, that's it. It's nothing to do with medals, although they're great. You know that this person has been changed forever through some of the work that you've done, and that's incredible."
Source: Electric Ireland/YouTube
The42 is on Snapchat! Tap the button below on your phone to add!