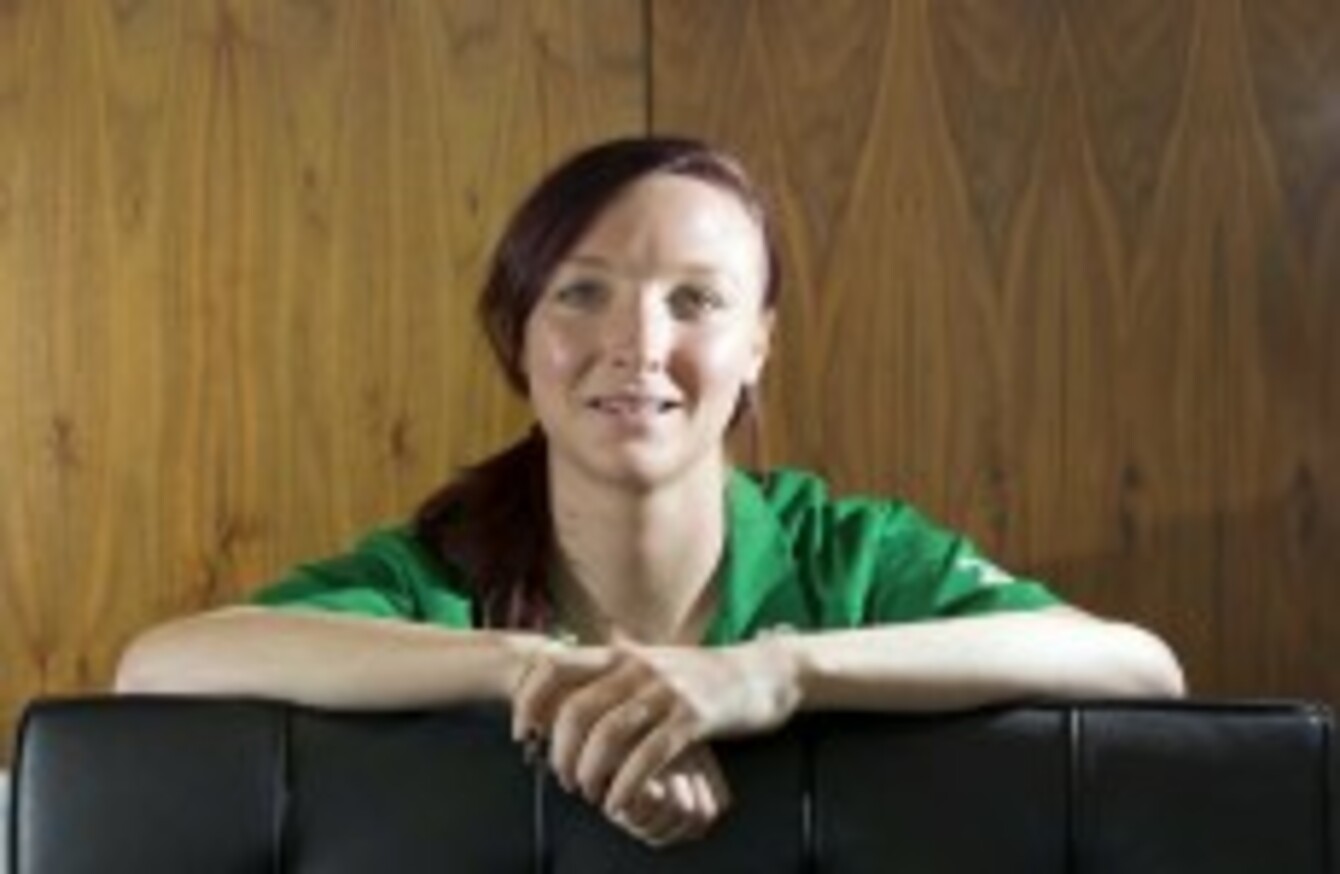 Louise Quinn.
Image: INPHO/Morgan Treacy
Louise Quinn.
Image: INPHO/Morgan Treacy
AFTER NINE SUCCESSFUL years with Peamount United, Ireland international Louise Quinn has said her goodbyes and made the switch to Swedish club Eskilstuna United.
The 22-year-old Wicklow native, who captained the club to the Women's National League title as well as during their maiden voyage in the Champions League knock-out stages in 2011, has departed Irish football in a bid to fulfill her potential in the game.
We caught up with Louise for a chat earlier this week.
First of all, congratulations on the move to Eskilstuna. How did it come about initially? Did they have scouts out watching you? How were you first contacted about it?
It was my idea that I would like to play abroad so I signed up to a football agency called CW Football which some of the other national team girls are on and someone else did the searching around for a team for me.
I just set up a profile and highlights tape and my agent contacted me about teams that were interested.
What were your first thoughts about moving to a new country with a different culture to Ireland?
I was a bit nervous about going because I haven't lived away from Ireland for a long time but football is universal and I knew it was what I wanted to do so it was fine.
Playing abroad was something I have always wanted to experience and I just felt like that now was the right time for me as I feel like I have been playing my best football in the past year/year and a half.
What sort of deal have you joined Eskilstuna on? How long is it for? How will semi-professional football differ from playing with Peamount?
I have just signed a contract for one season, which I think is right for me at the moment. So training 5-6 times a week including a preseason game every weekend is only going to improve me as a player and my fitness.
There is such huge potential in Peamount and Irish football in general but because there isn't the money or having players on contracts you can't really control what players do but if Ireland can get to the professionalism that Sweden is at right now women's football could be huge in Ireland.
What is your favourite memory from playing with Peamount?
There are so many things I remember about being at Peamount but it has got  to be when we found out we got to the knock out phase of Champions League in 2011 and we all went mental in the changing room!
Many of us would have played together from when we were younger so it was just a huge achievement for all us players that had been with the club for a while and that as team-mates and friends we had progressed to the CL knock out stage. So special and something that will be hard to beat!
How did your family, friends and team-mates take the news that you would be leaving?
My friends and family were so excited for me and knew that I had wanted to play football all my life (I'm sure my primary school teachers would be pleasantly surprised if they heard I was actually a footballer after saying it was what I wanted to be when I grew up!).
Obviously my team-mates were so happy for me as well while being disappointed to see me go but they couldn't have been more supportive. I miss Peamount a lot but I know I am always welcome back to the club.
Have any family members moved to Sweden with you to help with settling in?
No, I've travelled over on my own.
Be part
of the team
Access exclusive podcasts, interviews and analysis with a monthly or annual membership.
Become a Member
Has it been difficult?
I have known this was happening for awhile so the only thing that I have left behind is my family and friends who I miss a lot but they can always visit.
Quinn leading Peamount out against Paris Saint-Germain in the Champions League. Credit: INPHO/Morgan Treacy
You're only in Sweden a short time but what are your first thoughts on the club, the city, the people and the standard of football?
So far I am very impressed with the club, it's very professional and organised and the facilities are top class. The team is a young so there is plenty of potential but everything about their lifestyle and even their technique on the pitch is at a different level so it really is a great team.
We have only had one friendly game so far which we won 1-0 and the other team we played were very good so to get a win in our first game will hopefully lead to good things for the season which starts in mid April.
The city is great but we haven't seen much of it yet just because there is snow everywhere!
Who is your new manager and what has he/she said to you since arriving?
The manager is Viktor Eriksson. He has taken in myself and another central defender Vaila Barsley (also from Peamount), who is English. We played in this year's Champions League together and he is happy to have our height, strength and experience in there.
Our aim is obviously to get promoted (Eskilstuna are in the second tier) this season.
Are there any other players from Ireland or Britain in the league?
As far as I know there are some other international players in the league but I think they are American, I don't really know to be honest.
Have you talked to (Ireland manager) Sue Ronan about the move? Did she have any advice for you? Have you spoke to any Irish players based abroad?
Yes, Sue was very supportive about the move and knew it would help improve me as a player. And I got some very helpful advice off the girls that are playing abroad already so everyone was really very helpful.
How do you think it will benefit your international career?
Training almost everyday is only going to lead to good things for my international career, it will just take me up to that next level that I've been wanting to get too.
You're 22 now and should have a long career ahead of you. What ambitions or goals have you set yourself to achieve if any?
The goals I have set are to reach my full potential as a player in terms of my fitness and playing ability. There is more I can give as a player and that's what i want to show.
And hopefully at some stage to reach the top tier of women's football in either this country or another.
Finally, what's your favourite thing about Sweden so far?
I am just loving the independence of living away from home and training everyday. And learning the language is always a nice thing to do as well.