First published 26 April 2014
18 JUNE 1994 should have been a day of unequivocal joy for Ireland as a nation.
Having consistently grown as a team during the tenure of Jack Charlton, the Irish football side had achieved arguably the greatest result in its history — beating Italy 1-0 at the World Cup in front of a packed Giants Stadium in New York.
However, despite the ecstasy that their victory initially prompted, the day will forever be tinged with great sadness. During the game, a massacre had taken place in a barely-known pub, the Heights Bar, in Loughinisland County Down.
The killings were politically motivated. Those who carried out the murders of six innocent people, while injuring five others, were identified as UVF members. Yet the reason for targeting this particular pub wasn't clear then and it still isn't now. It was a bar frequented by both Catholics and Protestants well away from the core areas where violence had frequently been erupting during the Troubles.
This unexpected attack consequently sent shockwaves across the country and significantly dampened the excitement and feel-good factor apparent in the immediate aftermath of the Italy win. Ultimately, it proved to be a major turning point in the Troubles, and one which undoubtedly contributed to the paramilitaries on both sides calling ceasefires only weeks later. However, for those caught up in the tragedy, it remains a deeply painful and traumatic memory, despite the country having since moved on from those dark times.
Ceasefire Massacre, an ESPN '30 for 30′ documentary released earlier this year, which is a Fine Points Films production directed by American documentarian Alex Gibney and produced by Irish filmmaker Trevor Birney, explores the impact of this tragedy and interviews family members of the victims 20 years on.
Airing this Tuesday to millions of viewers in the United States, the programme provides a poignant reminder of the Troubles and the irrevocable damage that the violence of the time caused to many.
"I was a reporter in local radio and though I wasn't working on the night itself, I was working as a news journalist commenting on that period of the Troubles," Birney tells TheScore.ie, recalling the evening in question.
He explains that a sense of ominousness was palpable prior to the game. "Myself and my brother — we had to think very hard where we'd go to watch the match on that night. I remember the very tense feeling there was in Belfast at the time. There were a number of shootings and attacks. We chose to go to somewhere very quiet that was tucked away in the middle of nowhere. We didn't want to go to one of the main bars in one of the main rows. We felt that it was a very difficult time and we knew that bars were very easily chosen by those who wanted to commit atrocities."
ESPN / YouTube
The documentary explores not only the Ireland-Italy game and the tragedy of 18 June, but also the events leading up to it. Ireland's qualification for the competition following a 1-1 draw with Northern Ireland amid an intensely hostile Windsor Park crowd (also known as the 'Night in November'), and the ill-feeling stirred up by the fact that Gerry Adams, one of the most prominent faces of the Republican movement, was granted a visa to travel to the US to meet with influential Irish-Americans. The said individuals were consequently regarded by many unionist leaders as "nothing more than Americans meddling in the affairs of Northern Ireland," as Birney puts it.
One of the most prominent Irish-Americans in this saga was Bill Flynn — a highly successful businessman who had talked publicly about his links to Loughinisland. Hence, one of the ideas explored in the film is that the area had been attacked as a warning to Flynn. Therefore, does Birney himself personally subscribe to this theory?
"We've met and spoken with Bill Flynn many times and we spoke in New York again just recently," he says. "It's something that he's thought about and considered. The answer is that we just don't know, but we do know that for months, Bill had been in secret communications with senior loyalists, members of the UVF.
"We know that he was a very proud grandson of Loughinisland. He opened and closed meetings in Belfast telling people of his associations with Loughinisland. Did somebody somewhere pick up on this at the time? There was a huge amount of anger directed from the unionists towards Irish-Americans and what was known as the 'pan-nationalist'.
"At that time, did somebody somewhere put two and two together and vent their anger with these Americans coming into Northern Ireland? They were very much seen as friends of the IRA, friends of Sinn Féin and not seen to be working in the interests of Unionism, or of Northern Ireland remaining part of Britain."
"But the simple fact is that six men died and five others were injured and there's still an awful lot of people in Loughinisland who are suffering no matter how and why their village was chosen on that night."
The documentary features interviews with three of the Irish players involved in the World Cup campaign — Niall Quinn, Ray Houghton and Packie Bonner. The trio's shock from both the infamous 'Night in November' and the Loughinisland Massacre is still evident even as they recall these events years after their occurrence. They thus vividly describe their own personal shock as well as these incidents' impact on the team at large.
"Niall Quinn particularly remembered that night of going to Windsor Park in the bus and the [Northern Irish] kids standing up and pointing pretend weapons at his colleagues as they entered the stadium," Birney says. "They all remember very well boarding the plane coming back to Florida, leaving Giants Stadium and heading back. They all remember the news coming through and the very sombre plane ride.
"For all the players and the FAI officials, they all very much remember Loughinisland and the fact that it was Irish supporters that were attacked on that night. They had only gone to the bar to support the Irish team, yet they died for their love of the sport."
EMPICS Sport EMPICS Sport
(Ray Houghton celebrates after scoring against Italy — the Irish team's joy would be cut short upon learning of events at Loughinisland later that evening)
Birney himself was stunned by the news on the night of 18 June, not only because of the incredibly ruthless nature of the killings, but also owing to the ostensible randomness of their location. If a low-key pub in the middle of nowhere could be the site of such extreme violence, then seemingly nowhere in the North was safe.
"I remember exactly when the news came through that an attack had happened, one of my colleagues called me from the newsroom," he explains. "I remember even then that we had never heard of Loughinisland. If terrorists were going out with murder in mind, there were plenty of bars in Belfast that night which were packed to the rafters with football fans watching the match. For people to choose this particular village and this particular pub was confusing. For days afterwards, no one could understand why they had gone right out of their way in the middle of this countryside to choose this bar. I still remember the feelings coming through and getting the news in the little place we were watching the match."
And indeed, this question of 'why Loughinisland?' is one of the documentary's central themes. Police have spent years ascertaining various details relating to the case, openly vowing to 'leave no stone unturned'. Yet despite the emergence of seemingly critical evidence, such as the apparent masks and hair follicles of the attackers, still no one has been brought to justice for these crimes 20 years on, and the reason the Down-based bar was targeted remains inconclusive.
"I don't think any of the authorities have ever been able to work out why that bar was chosen. There were no links to terrorists in that bar, unlike other bars where there had been some sort of incident before or some sort of knowledge. The police could find nothing that would link the terrorists to that bar and yet, it was the most humble of bars in County Down — [they were] very simple, very proud, but very humble people.
"It's something that the relatives and the victims are still coming to terms with and it's something that can't be forgotten. It's those people who are left behind. Those people who are still struggling to come to terms with what happened. And they've never been provided with an answer to that very fundamental question: 'why us?'"
Birney sees some paralells with another tragedy that has also recently been the subject of an ESPN '30 for 30′ documentary — the Hillsborough disaster. As with that similaely awful event, those who have been left suffering from its consequences continue to fight on determinedly in search of the truth, seeking justice for what happened.
"You've got to take your hats off to these people," he says. "How they can be so stoic yet so dedicated to finding answers to bring to justice those responsible for the deaths of their loved ones and those behind the killings. It's very humbling to spend any amount of time with them.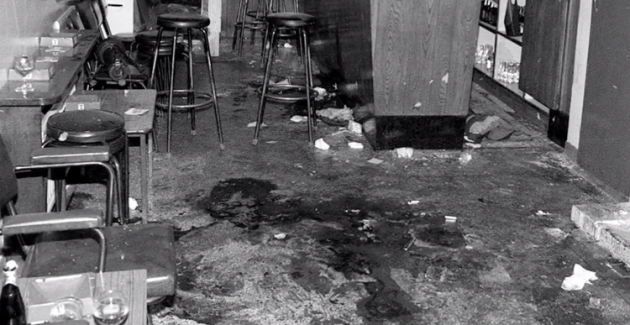 (An image of the bar shortly after the tragedy occurred — credit: Ceasefire Massacre screengrab)
"I don't know 20 years on whether I could do what they've done — it's just incredible, I'm in awe of them. They meet every month, they plan every month, they talk every month about what they'd like to do. For them, the horror of Loughinisland is very much alive in the lives of all those who suffered and lost loved ones or were injured. And it's incredible seeing them all in a room just sitting around. There's always plenty of tea and sandwiches and biscuits whenever you go down to meet with them. It's a real mark and testimony to their dedication and determination."
Yet having initially trusted the authorities in their search for justice, the victims' relatives have grown increasingly frustrated at the lack of definitive findings over the years, despite countless clues being uncovered.
"Every day saw another chance gone for justice for the people who had died," he says. "So we approached them and told them what we wanted to do and about Alex [Gibney], who he was and why he wanted this story told, what ESPN's interest was and why they wanted to do this story and their particular expertise and background in doing very difficult subjects and stories connected to sport.
"The families were very supportive, so last October, Alex flew into Belfast and he spent two days in Loughinisland and interviewed all the families. All the families were interviewed in the bars, so all the interviews you see were in the bar in which the attack took place. We did that because the families and the owners of the bar were very comfortable in those surroundings and they were very happy to be interviewed there.
"But also, it was to give Alex a real sense of just how small this village was, how tight-knit this village was and how much all of this means to the families. He was giving up his time to actually do this story and make this documentary — they were very appreciative that Alex was wanting to take this on and bring the story to as wide an audience as possible."
Exclusive Six
Nations Analysis
Get Murray Kinsella's exclusive analysis of Ireland's Six Nations campaign this spring
Become a Member
AP / Press Association Images AP / Press Association Images / Press Association Images
(American documentarian Alex Gibney directed the film in conjunction with Birney)
Moreover, once the filmmakers actually sat down the with the victims' relatives, they discovered that despite experiencing many years of frustration, they were still hopeful that irrefutable evidence would eventually identify those responsible for the murders of 18  June.
"The car in which the killers used to get away has gone, but every day, we're hearing of arrests in relation to the Jean McConville case, which was back in 1972. These arrests were many years later. For the families of those who died and those who were injured, they're still determined that [the murderers] be brought to justice."
In addition, Birney believes the British government — who many suspect to be in possession of information that could potentially serve to reinvigorate the case — should be more transparent on the issue.
"The British government should tell the truth about what it knew prior to the attack, after the attack and what its relationship was — if there was one at all — with the killers. We know that loyalist paramilitaries in 1994 had been infiltrated to the very highest levels by British intelligence, whether it be the local RUC Special Branch, MI5, or military intelligence.
"We know that from lots of the investigative journalism that's been done, by the reports of the Northern Ireland police ombudsman, and all the other evidence that's come out around

the Pat Finucane case

— if you put all those pieces of evidence and reports together, you build up a picture of what actually was the relationship between loyalist paramilitaries and the British intelligence forces. It shows that they had informers at the highest level, they had agents within the paramilitaries. And that's what the families want to know. Did the police know anything about this attack? Could they have prevented it? That's a fundamental question."
The Belfast-based Fermanagh native Birney, who is currently the managing director of the television production company Below the Radar, is particularly grateful for the role that Gibney played in getting the film made.
Furthermore, while the version of Ceasefire Massacre set to air on Tuesday is just under half an hour in length, Birney says that they eventually hope to release a feature-length 90-minute version of the story.
Having met the Yale-educated American documentarian at the Galway Film Festival in 2008, the pair promptly struck up a friendship and also worked together on the 2012 documentary Mea Maxima Culpa.
Gibney has gradually established himself as one of America's preeminent documentary filmmakers, directing a series of acclaimed features including We Steal Secrets: The Story of Wikileaks and The Armstrong Lie, with Esquire going so far as to call him "the most important documentarian of our time".
The Academy Award-winning American director's significant clout undoubtedly helped persuade ESPN to get behind this project, and Birney says that his colleague's considerable reputation is utterly deserved.
"Speaking to him in a restaurant in New York last week, the names of those who died, the names of those that he'd met, the organisations, they were all rolling off his tongue. He just has an incredible capacity to take in and hold information and somehow makes sense of it all in a way that in 22 minutes, this story going out to millions of Americans will make sense to them. It'll actually touch a raw nerve and create an emotional relationship. I think it is something which shows the way that Alex really does care about what he's doing and the subjects that he takes on in these films. It's what makes these films so moving and impactful.
"I believe he is a master storyteller of our time. You only have to look at the work that he has produced in the last few years alone… With this film, from January or February of last year, when Alex had never heard about Loughinisland, had never heard about what happened there through to what we were talking about [in the restaurant]. The level and the depth of knowledge that he's now gone to in this story is incredible.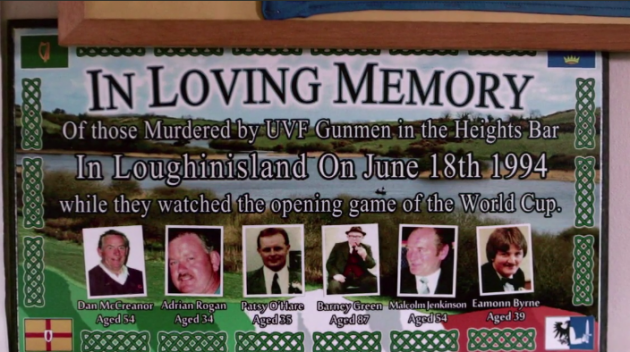 (A banner commemorating those who lost their lives in the Loughinisland Massacre – credit: Ceasefire Massacre screengrab)
"It just makes me marvel how he balances everything else he has on in his life. He's really devoured the research. He's built up a forensic knowledge of the case. He understands all the nuances of the story and who's who. He's built that up and having worked so closely with him over the last few months,  I'm even more in awe than I was before. He's done a fantastic job on this and I know the relatives of those who died in Loughinisland are going to be very proud of it."