WHAT DOES IT mean to defend?
The dictionary might tell us that defence is the act of resisting attack, but that definition doesn't really apply to rugby anymore. The best defences in the game have an attacking mindset.
Defending with the intention of winning the ball back is how Les Kiss and Joe Schmidt have pushed Ireland to operate in recent seasons. For the Ireland coaches, defending is about attacking when their team don't actually have the ball.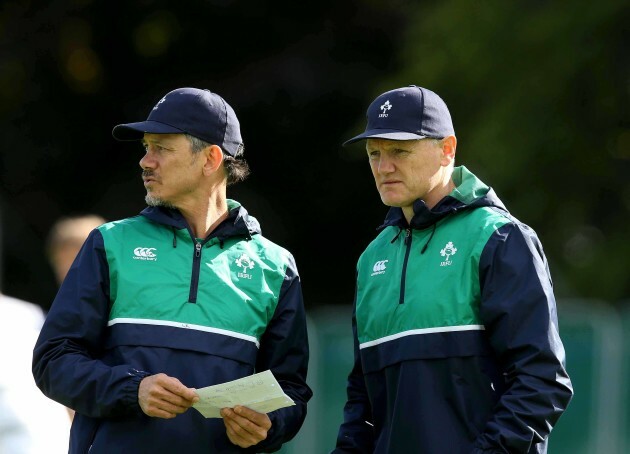 Billy Stickland / INPHO This pair will have been deeply upset with Ireland's defensive display. Billy Stickland / INPHO / INPHO
That simply did not happen as Ireland failed at the World Cup again, crashing out at the quarter-final stages against Argentina.
Ireland's defence in the Millennium Stadium yesterday could be read from the pages of the Oxford dictionary. They attempted to resist. They looked to protect themselves from harm, rather that do harm unto the Argentinians.
A passive mindset and lack of aggression saw Ireland fail to fire any hits of note, fail to act with decisiveness in key moments and come up short in their aims of doing damage to a dangerous Pumas attack.
Conceding 43 points in a quarter-final was disastrous for Ireland, and the fact that Schmidt will review many of the scores as preventable is what might hurt most.
Ireland have been a strong defensive side over the last two years under the Kiwi and Kiss, but up against the kind of high-tempo, ambitious and skillful attack that they haven't faced too often before, Ireland floundered.
Schmidt's Ireland have been all about the game plan, the detail, the ingenious set-piece strikes, but their very best performances have also been founded on the sort of emotional passion and hint of desperation that makes them so effective.
That attitude is most obviously evident in defence when Ireland bring it, but it appeared to be sorely lacking yesterday in Cardiff. The fact that five of their best players were missing meant that edge was needed more than ever. It simple wasn't there.
Cordero creates
With 2:55 on the match clock, Ireland had already conceded a try, one that was a clear marker of what was to come for the remainder of the game.
Matias Moroni was the man to finish the score, but it began with a big aerial victory from Argentina fullback Joaquín Tuculet after Juan Martín Hernández's bomb.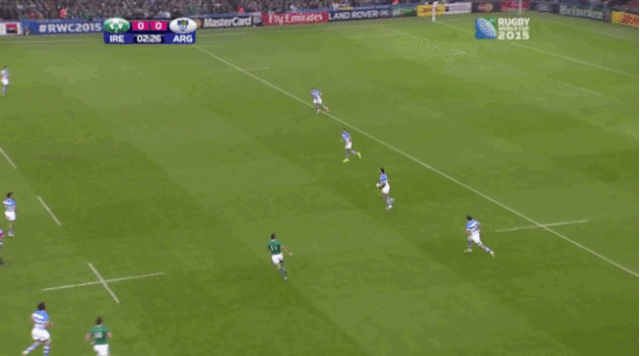 It's the kind of contest that Ireland so often win, but Ian Madigan is well beaten on this occasion. The out-half appears to slightly misjudge the flight of the ball, arriving in just ahead of where it drops, leaving Tuculet to gather on the run and barrel forward.
Having lost that initial battle, Ireland need to react well and make a good tackle on the next phase, perhaps even slow the ball and allow their defence to reorganise.
Instead, Pablo Matera – who was once again freakish throughout – gets on the ball and smashes through two tackle attempts.
Devin Toner will have been hugely disappointed with his first-up effort to halt the Pumas back row. It's an example of Ireland's passive approach to the tackle zone, as the Ireland lock falls into his attempt, rather than fighting in close to Matera and driving into the hit.
Matera's clever burst of pace is, of course, massively important here, but Toner might feel he could have brought a more aggressive edge. It leaves the Pumas back row rampaging through the line and easily winning the collision with Madigan, who turns back in.
This bust of the Irish line only compounds the initial aerial loss, with the Pumas now right over the gainline and Schmidt's men struggling to regather their shape.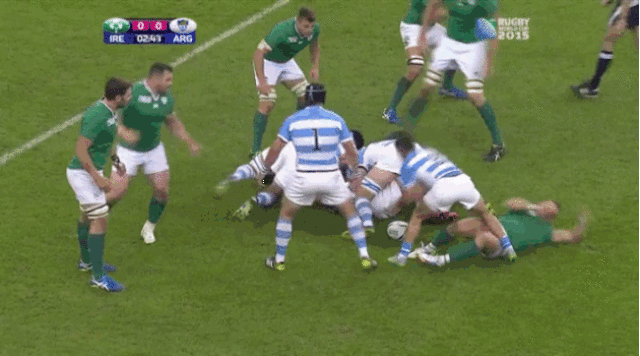 Ireland do actually respond reasonably well here, and while the width of their defensive line as Argentina attack out to the right might not be ideal, they have sufficient bodies on their feet to cover this attack.
Robbie Henshaw – one of the few Ireland players to bring obvious aggression – decides to shoot up slightly from the line and pressure Nico Sánchez into a poor pass.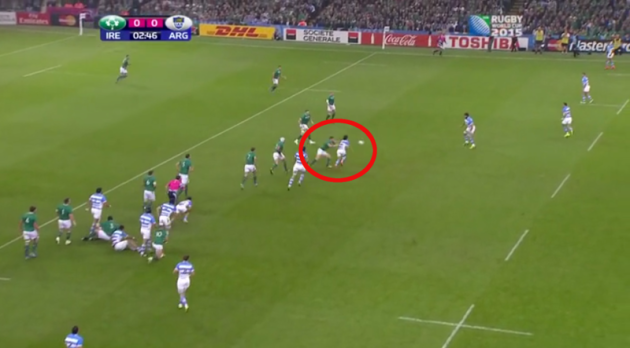 One of the main issues with Ireland's defence in this game is that it was not a cohesive force. When one player shot up, others sat back, and there was a real lack of unity in the thinking of the individuals within the system.
Henshaw hammers up here and forces an error, perhaps presenting the opportunity for Jamie Heaslip, Keith Earls and Dave Kearney outside him to attack the Pumas, even if there is risk involved.
In truth, the presence of Hernández hovering in a deep position makes it a very difficult situation for all of those players to rush up, and their decision to sit off is strongly justifiable.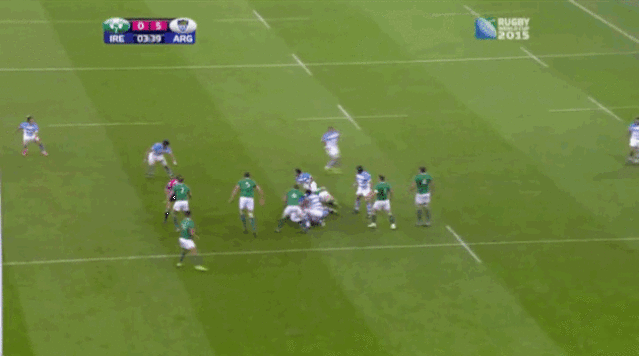 It leaves Ireland with enough men on their feet to defend a 10-metre channel on the outside edge when the ball arrives into Cordero's hands, with fullback Rob Kearney coming forward to cover the last man, in this case Morini.
Hernández makes a dart to the inside of Cordero and that appears to be why Dave Kearney just briefly sits down, slightly resting back on his heels.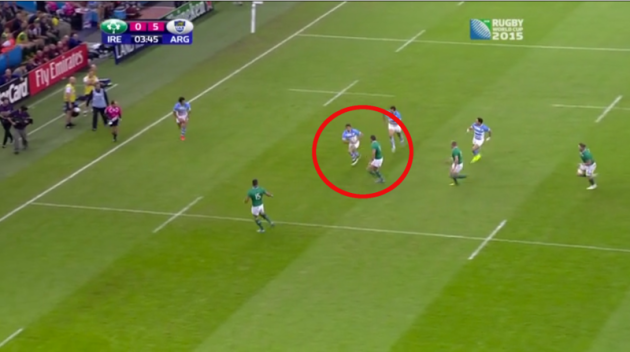 The reactive nature of Kearney's defence here – as with that of Toner on Matera earlier – is typical of how Ireland defended in this game. It's unlike Kearney not to act decisively in a situation like this.
Instead of looking to proactively initiate the tackle on his own terms by driving towards Cordero – as is Kearney's wont – he sits off just enough to allow the Pumas genius to use his superb acceleration to get outside him.
Once that happens, Rob Kearney is in a no-win situation and must commit to Cordero. Less than three minutes gone and Ireland have already been shredded in a manner that was to prove frequent.
Imhoff inspires
For their second score, Argentina attack through four testing phases from a lineout platform on the halfway line, managing to make up five metres of gains, but leaving themselves with a wide ruck.
A ruck close to the touchline is the opportunity for a defence to turn up the linespeed, and this situation is one where Ireland should be eating back up at least a couple of those five metres.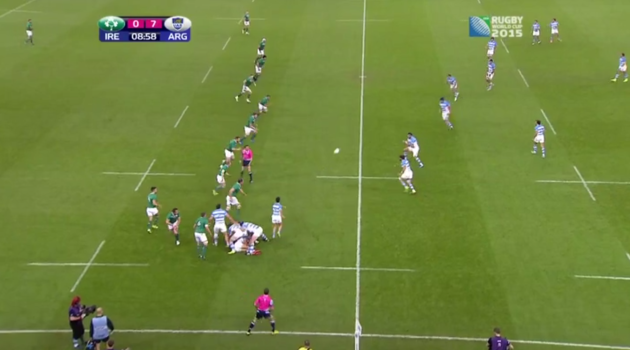 Ireland do actually get good linespeed going, but the dominant hit that needs to follow doesn't arrive.
Cian Healy and Iain Henderson – two of Ireland's main impact players – are involved in the tackle on Ramiro Herrera, but it's the Pumas prop who wins the collision.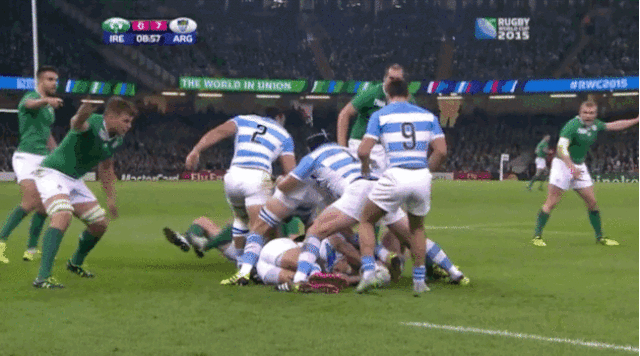 This happened far too often for Ireland to emerge with victory in this game. Indeed, it's difficult to recall any major moments of massive physical impact from the Irish defence, even in favourable situations like this one.
The result is that Argentina provide another clean platform for scrum-half Martín Landajo to launch the attack from.
The nature of Argentina's width over the phases that preceded the Herrera carry did so much of the damage here, dragging Ireland's defence across the pitch at high speed and leaving them ragged.
The winning of the collisions and the speed of the ruck means Ireland don't have time to reorganise their defence as ideally as possible, leaving them with tighthead Mike Ross and hooker Rory Best exactly where you don't want them to be.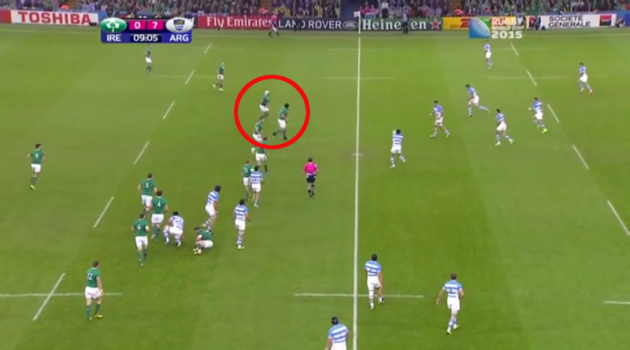 The Pumas are swift to recognise the effectiveness of their attack in leaving Ireland with immobile defenders in this position near the outside edge of the Ireland frontline and use one of their simple, clever screen plays to go out the back door and send Tuculet bursting outside Best.
What accentuates the intelligent play of the Pumas is Madigan's decision to stand right off, rather than coming up with Ross and Best in the line.
It means Tuculet has metres of space to run into before drawing Madigan in, and this once again points to the disjointedness of Ireland's defence. They were making decisions as individuals rather than as a collective force.
The net result is that the Pumas have a three-on-two on the outside edge.
The quick hands from Sánchez are wonderful, although there is a hint of a forward pass here. The fact that the Argentina out-half slows up his run as Dave Kearney comes in to hit him makes it look worse, and it's borderline either way.
Positive attacking rugby reaps the rewards here.
Cordero gets the ball with a little space again and the timing of his kick ahead is brilliant, just as Conor Murray arrives across as the sweeper and with Rob Kearney advancing from the deep position.
It's superb attacking play from the Pumas once again, their width and passing accuracy dragging Ireland into all sorts of disarray. The disappointment for Ireland is that they didn't have the discipline to recover their shape.
Tuculet tremors
With Ireland back at 26-20, they rather uncharacteristically attempted to run the ball out from just outside their 22, rather than pursuing the kicking game that they generally use from that area of the pitch.
Jordi Murphy's short pass to Jack McGrath flew through the prop's hands, bounced off his head and forward, providing Argentina with another excellent attacking platform after Jérôme Garcès awarded the scrum.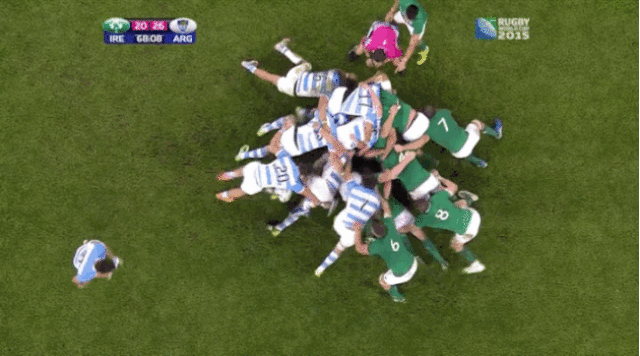 Again, Cordero causes damage to Ireland's defence as he dummies and steps inside Luke Fitzgerald to break the gainline on first phase, before a clever little offload from Juan Martín Fernández Lobbe allows Lucas Noguera Paz to create another quick ruck.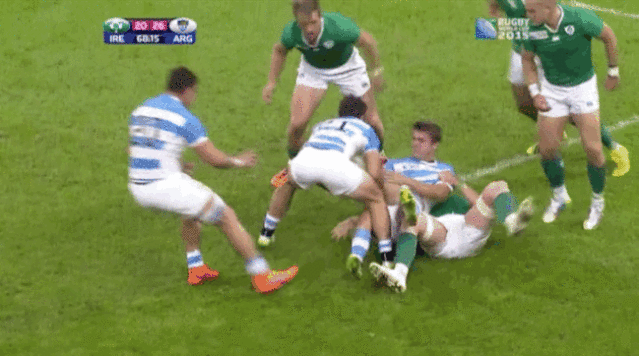 Phase three, and already Ireland are narrow in defence. One simple screen pass from Sánchez to Jeronimo de la Fuente take four Irish defenders out of the game.
Argentina were ruthless in transferring the ball accurately to the space in those outside channels after winning the gainline in the tight against Ireland's unaggressive tackles close to the rucks.
This is one such example.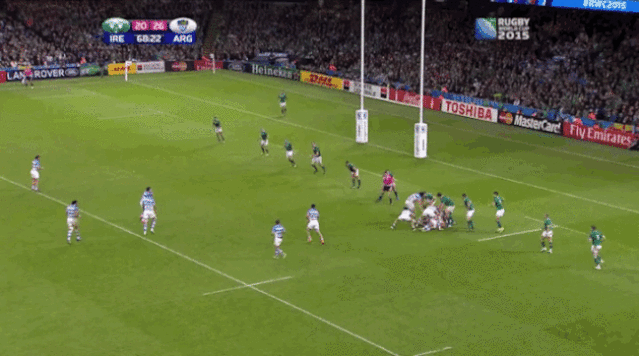 The narrow positions Earls and Dave Kearney start from here mean they are always struggling to make up the ground, but the huge frustration once again is that they will feel they recovered enough to rescue the situation.
The ball moves from de la Fuente to Hernández, and it would be fascinating to hear how much chat was coming from Earls at the moment below.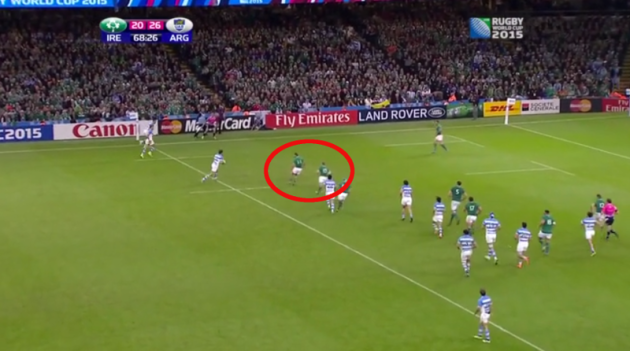 With Rob Kearney hovering just behind, it's a three-on-three for Ireland. Not a straight-up three-on-three, but one that Ireland will have trained for and practised repeatedly.
Is Earls in Dave Kearney's ear here, letting him know to drift on past Hernández? Is the outside centre giving his wing the confidence to shift out to Tuculet earlier? Is he demanding that the tackle on Hernández is going to be his?
We can't say for sure whether the chat was there, but Kearney opts to sit down briefly again, being drawn to Hernández as the Pumas midfielders passes.
It means that when the ball is shifted on, Kearney is in a poor position to get to Tuculet, with too much ground to make up. Rob Kearney advances to take the last man (Imhoff), his presumption being that Dave will get to Tuculet.
Unfortunately Kearney can't make up the couple of steps he has initially lost by sitting down on Hernández and the Pumas cross for their third try.
Ireland's outside backs were repeatedly left in these situations by their teammates giving up yards and ruck speed further in the line, dragging Ireland's defence into a narrow shape.
They recovered on the outside edge at times, but for all of the above scores, the Pumas' excellence had them beyond breaking point.
Final flourish
Argentina finished their try-scoring with a superb second from Imhoff and the deep frustration for Ireland is that this one didn't even come from particularly quick ball at the ruck.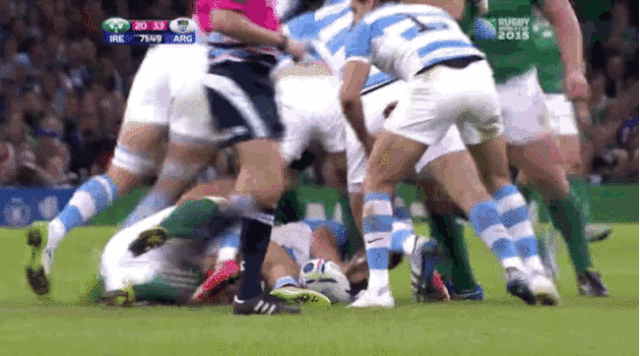 Argentina just about retain a scrappy lineout and find themselves some distance behind the gainline at the resulting ruck. Ireland's failure to number up on the right side of the ruck presents a genuine opportunity, however.
Imhoff passes from the base with four attackers outside him, and immediately Fernández Lobbe identifies the opportunity in front of him, three Irish defenders.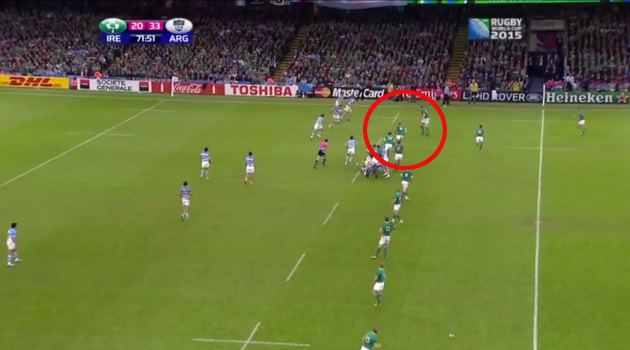 Again, the Pumas intelligently exploit slow-moving forwards in the Ireland line, with Fernández Lobbe sending Toner towards the touchline with a dummy and then easily bursting past replacement prop Nathan White.
What accentuates that mismatch is the over-sweeping by Eoin Reddan in behind the line.
The angle above provides a good view of Reddan's movement. His duty here is to track the ball as it moves through the Pumas' hands, but is ahead of it by the time Fernández Lobbe bursts through. The security net is missing.
Rhys Ruddock hunts across to get a hold of Fernández Lobbe, but the back row's wonderful offload finds Imhoff, who has continued from the initial ruck on a positive support line.
Imhoff has the benefit of huge space before his contest with Rob Kearney, but the fullback allows the Pumas wing to dictate the terms with his footwork.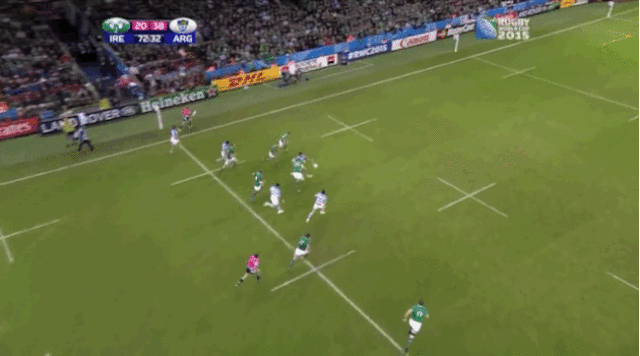 Kearney can't come in at full pace here, but he might be disappointed not to even get a hand on Imhoff, any sort of scrag that might have allowed his teammates to track back and haul the sublime wing down.
Imhoff's second score was a fitting end to the worst defensive performance Ireland have delivered during Schmidt's tenure.
The brilliance of the Pumas cannot be underestimated here, but Ireland's passive approach, lack of cohesion in thinking and inability to rescue some of these situations will cause great regret in the coming days.
Defensive success is the biggest indicator that a team is mentally in the right place, focused, aggressive, hungry. Ireland didn't show those elements often enough in their defensive effort, leaving the Argentinian attack to run riot.