IRELAND COACH JOE Schmidt will look to the many positives in Ireland's 49-7 win over Georgia in Dublin, underlining that his player's first-half efforts laid the foundation for six tries after the interval.
While the Kiwi was disappointed with Ireland's relative lack of ruthlessness after creating scoring chances in the opening 40 minutes, he pointed out that his side's ability to pressure Georgia at the rucks ultimately led to the visitors' two yellow cards and, in turn, opened the game up in the closing stages.
"I think you can take bits out of it, for sure," said Schmidt. "You saw a guy making his Test debut [Dave Foley] running a line-out very effectively. You saw that leadership can come from within the group across the board.
Not seamlessly, but the guys can fit into a system and work hard. I think that was present in the first half, probably that's where we reaped the second-half rewards I think. It allowed us to keep the pressure on them throughout most of the first 40 minutes and that valve burst or we certainly hoped it would."
Ireland spent more than 70% of the opening period camped in the Georgia half and did create openings to score on several occasions, but quesionable decisions and some poor skills stymied the points from flowing.
However, Schmidt was satisfied with a 9-0 lead at the break.
"I was pretty pleased with the first-half performance. It would have been nice to finish off a couple of those efforts close to the line. Whenever you're playing big teams, if you miss those opportunites – I think we saw that last weekend – it can come back and haunt you a bit at the end of the game.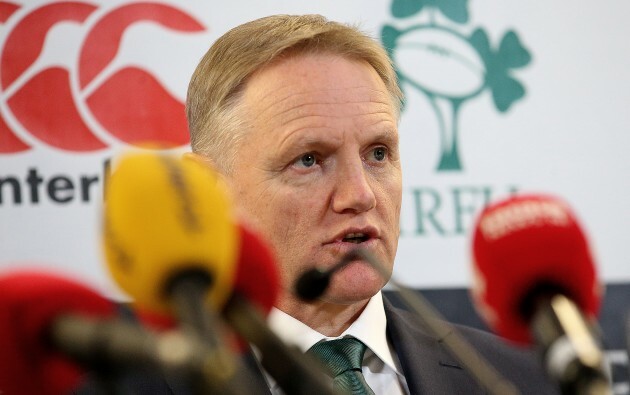 James Crombie / INPHO Schmidt speaks after Ireland's six-try win. James Crombie / INPHO / INPHO
"We manufactured the opportunities, we kept the pressure on them and that forced them sometimes to make a number of errors around the ruck," continued Schmidt.
"I think there were probably seven or eight ruck penalties, so that starts to accumulate in the sense that they will pick up a more serious sanction and that will allow us to pick up more opportunities."