STILL JUST 21, Robbie Henshaw is in Ireland's midfield for the long-term.
Strong performances against South Africa and then Australia this evening have justified Joe Schmidt's faith in the Connacht centre as a starter for Ireland, with Henshaw's muscular displays being backed up by several touches of class.
Gordon D'Arcy, Jared Payne, Stuart Olding, Luke Marshall, Luke Fitzgerland and a host of other names will be in contention for places in Ireland's midfield over the next year, but Henshaw already looks comfortable after just five caps.
He is, after all, learning from the master of Irish centre play, Brian O'Driscoll.
"He gives me some things to work on, he studies my games and he's really helping me at the moment as well. I have a lot of respect for Brian.
"He hasn't been in camp, but he's been on the phone. He's been reviewing the matches himself and giving me things to work on, and telling me things I'm doing well."
James Crombie / INPHO Henshaw collides with Matt Toomua. James Crombie / INPHO / INPHO
Even after retirement, O'Driscoll's influence is still there in Ireland's performance, albeit in a far more subtle way. Henshaw had to sit behind the great one last season, watching and learning, although he jokes that he never wanted O'Driscoll to move on.
"Exactly, I made sure I said to him 'don't leave me now, and give me a dig out when you go so you can help me improve'."
Having started at 12 against the Boks two weekends ago, Henshaw was back in the more familiar 13 shirt this evening in Dublin, thundering into tackles and impressing with his pre-contact footwork and one intelligent sweeping kick.
On his inside shoulder much of the time was a man who has seen it all at international level, 34-year-old Gordon D'Arcy. Again, Henshaw appreciates the influence.
I felt quite comfortable, I was happy enough. Obviously I'm still striving to improve and being in the 13 shirt was a bit different, being one out.
"But it was good to have Gordon D'Arcy inside me; he has a lot of experience. He stayed in my ear all night and gave me some confidence to get off the line and make some tackles."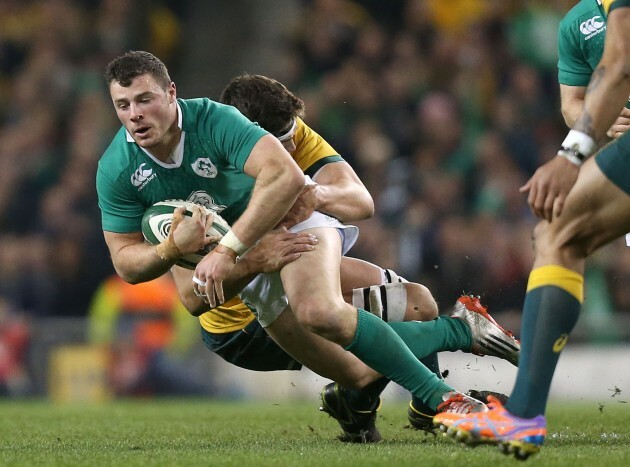 Colm O'Neill / INPHO Henshaw showed excellent footwork against the Wallabies. Colm O'Neill / INPHO / INPHO
The exciting thing is that Henshaw took matters into his own hands for Ireland this month, whatever about the influence of others around him. There were naturally some minor flaws in his two November outings, but it was overridingly a positive month.
Henshaw is buying into the Schmidt mindset totally, focusing on his each and every action and always striving to get better.
Stay calm, stay focused on winning the next ball, and winning every moment we can," says Henshaw of how Ireland were thinking during that whirlwind game against the Wallabies tonight.
"Joe is an amazing coach and his attention to detail, as mentioned before, is unbelievable. He gets you in the frame of mind where you have to know everything inside out.
"It's paying off, his work."