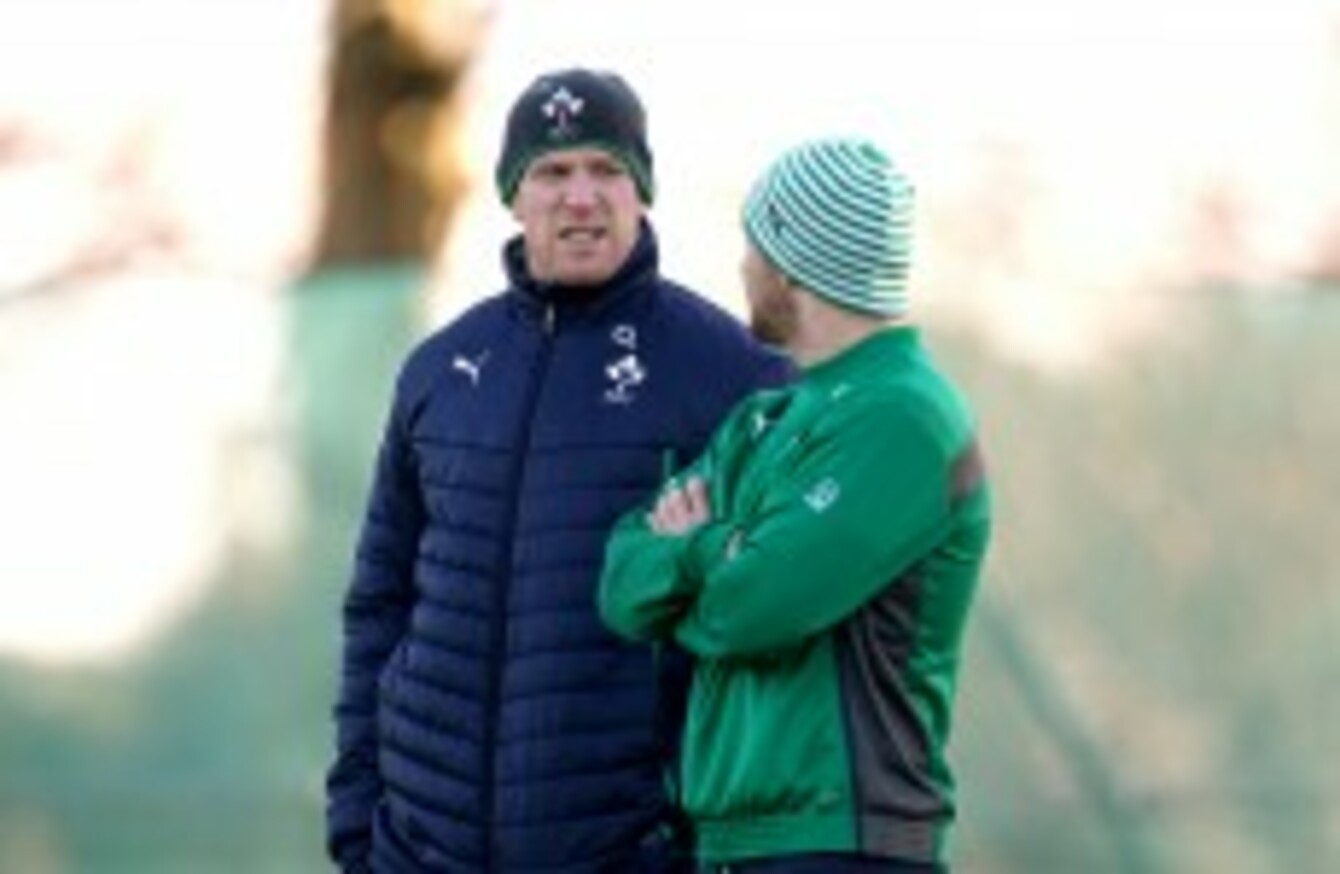 Paul O'Connell and Rob Kearney watch training this morning.
Image: ©INPHO/Dan Sheridan
Paul O'Connell and Rob Kearney watch training this morning.
Image: ©INPHO/Dan Sheridan
PAUL O'CONNELL AND Rob Kearney sat out Ireland training this morning, while Cian Healy took only a limited part in the session at Carton House.
Team manager Mick Kearney also revealed that Luke Fitzgerald and Eoin Reddan will not be available for selection this weekend against Wales as their recoveries from abdominal muscle and calf injuries, respectively, continue. Both players are expected to be released back to Leinster next week in order to play.
Neither Tommy Bowe nor Donnacha Ryan will line out for their provinces this weekend, but it is hoped that they will get some game time the week after. The Ulster wing and Munster lock are recovering from groin and knee injuries respectively.
Healy stood out of the running section of this morning's session, but did take part in the scrummaging portion. The loosehead prop had been feeling the fatigue after a "heavy shift against Scotland." Rob Kearney took a knock to his calf on Sunday, but is expected to train fully on Thursday.
O'Connell missed the win over Scotland with a chest infection, from which the Ireland camp remain confident he will recover from in time to start against the Welsh on Saturday. He did not participate in training this morning, but is gradually recovering from his "heavy" chest infection and is expected back on the field on Thursday.
He's up and about since yesterday," said Mick Kearney this afternoon. "He was up all day yesterday, he's been up all day today. He was out in the fresh air. He was quite vocal at last night's review meeting and again out on the pitch before they started to train. I'd be pretty confident that he will make a good recovery and be available for Saturday."
The Ireland manager underlined that Healy's limited involvement this morning was mainly down to "a bit of wear and tear. It's nothing significant. The fact that he did take part in the scrummaging session obviously would be a very positive sign."
Rob Kearney "took a fairly hefty blow in the lead-up to Andrew Trimble's try, which was on his shoulder, but that's fine. His calf  just tightened up post-game. He didn't remember a particular incident, but it appears he took a kick at some stage. He stepped out more as a precautionary measure."
Ireland's training session this morning consisted of a light run out, with a major focus on organization and positioning as the physically demanding six-day turnaround between matches is intelligently managed. No additional players have been added to the squad this week.