- Ben Blake reports from Versailles
ITALY'S DANIELE DE Rossi has warned that they will not be taking Wednesday's final Euro 2016 Group E match with Ireland lightly despite already qualifying for the knockout stages.
The Azzurri can not be knocked off top spot after Eder's late striker sealed a second victory at the tournament against Sweden on Sunday evening.
Ireland must win the game in Lille to have any chance of making the last-16, but tough-tackling Roma midfielder De Rossi insists they are out to pick up maximum points.
"It's not a pointless game," De Rossi said at a press conference in Montpellier today. "We've already come first, but it's a big game. We'll turn a blind eye to the other games in the group, it's important to finish with nine points.
"That's also the case for those who haven't played so far. We players are also a little bit selfish, those who haven't played so far will hope to be protagonists in the coming games."
Manager Antonio Conte will take the opportunity to rotate his squad in order to rest some of the regulars and ensure those on yellow cards don't pick up suspensions heading into the knockout rounds.
"Resting players?" added the 32-year-old. "In the second halves we've run a lot. The second game (against Sweden) was more difficult, it was very hot. We maintained a high-level of aggression in the second half.
The coach's decisions are the coach's decisions, it doesn't matter whether they're technical or tactical, I haven't asked about either.
"We understand there are good players on the bench who can make their contribution, we'll respect the choices."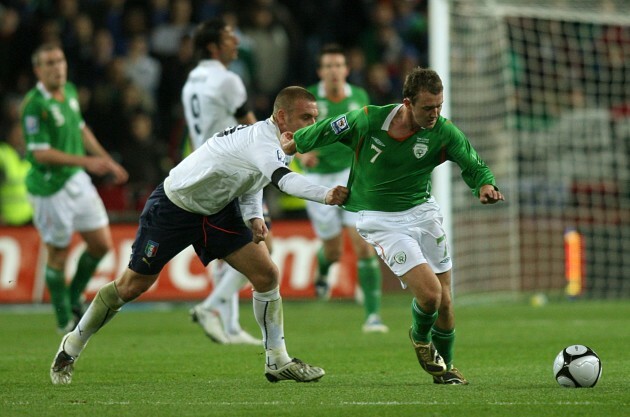 PA Archive / Press Association Images De Rossi and Aiden McGeady back in 2009. PA Archive / Press Association Images / Press Association Images
Italy, whose only triumph at the European championships came in 1968, were not backed as heavily as the likes of Germany, France, Spain and Belgium heading into the tournament, but they are quietly confident of making an impact this month.
They may not have a team filled with household names like Italian sides of yesteryear, but De Rossi believes their main strength is their unity and squad depth.
We don't have individuals who catch the eye like (Eden) Hazard or (Zlatan) Ibrahimovic, but we have other features which many other teams don't," he said.
"We have great togetherness, and a good squad both emotionally and in terms of depth. A lot of teams have stars, but there's a big gulf in quality between them and the reserves.
"We have balance between those who play and the substitutes. It was good that the spotlight wasn't on us when we started."
Listen to The42′s Ben Blake on the 98FM Euro 2016 Daily podcast throughout the tournament