THE 'BAJADITA' TECHNIQUE made the Argentinian scrum a feared weapon in the 1980s and '90s, and recent signs suggest that Los Pumas are rediscovering the power they historically enjoyed at the eight-man set-piece.
The introduction of the 'hit' on engaging at the scrum was a blow for Argentina, as their superior technique suddenly became less of an advantage against heavier opposition packs.
The coordinated 'bajadita' shove – which involves the power of the back five being transferred through the hooker in an arrowhead fashion, with the locks binding their external arm on the outside hips of their props, rather than up between their legs – was soon simply an idealised memory.
When the scrum evolved to the whole hit and chase, they probably weren't really into that," explains Ireland scrum coach Greg Feek. "They wanted to just get set and scrum, that's what they were good at.
"Now that hit and chase is gone again and they've gone back to what they're best at; they had the best scrum in the Rugby Championship last year. They really showed other teams not just about the new laws, but about basic scrummaging and how to do it."
While a neck injury means the sublime tighthead Juan Figallo will not be fit to face Ireland in the two-Test series next month, Argentina have a host of excellent scrummagers in their front row ranks, as well as further back in the pack.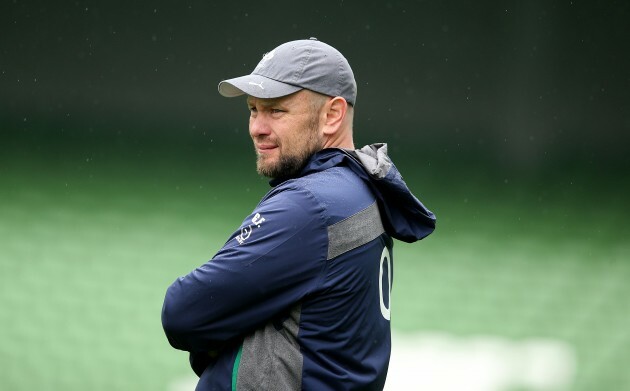 Dan Sheridan / INPHO Feek is now full-time in his role as Ireland Scrum Coach. Dan Sheridan / INPHO / INPHO
Feek is excited to be making plans for dismantling one of the finest scrums in world rugby.
"Not only is it individuals, it's the whole pack. It's a great challenge and we'll learn a hell of a lot being in the cauldron of Argentina and learning from what they do and how they do it.
"I see it as a massive challenge, massive learning, but also a measure of where we're at at the moment."
The proof of Ireland's scrummaging strength will be evident on the pitches in Resistencia and Tucumán, but the most recent barometer came in the 2014 Six Nations. Having emerged as champions, with what was arguably the most efficient scrum in the championship, Feek had cause to be content.
We were about 89/90% on our own ball,  and played about 74/75% off it. We were the best disciplined scrum, which was a goal of ours. Those things are part and parcel of it; being disciplined is about good technique and applying ourselves the best we can in that.
"I think that's a strength of the Irish players, being able to soak up that detail and be disciplined enough to keep it there. Winning our own ball was a result of staying legal and not being pinged. "
Feek has moved into a full-time role with the Ireland backroom staff, leaving behind his duties with Leinster. The former All Black speaks of the thrill of helping "to grow a legacy" in Irish scrummaging culture, and the enjoyment of "seeing players being able to grow."
Dan Sheridan / INPHO Martin Moore and Mike Ross provide strong options at tighthead prop. Dan Sheridan / INPHO / INPHO
In terms of senior personnel, Feek admits that he doesn't want to become "overly confident, but there are some good signs that we're going to be in a good place in 18 months time."
He mentions Marty Moore's emergence, before hinting that the 23-year-old may need further work on his ever-improving fitness away from the scrum.
Dave Kilcoyne and James Cronin are showing positive signs at loosehead behind the now-established pair of Cian Healy and Jack McGrath, while there are "a few other guys knocking on the door."
Similarly to Argentina, Irish scrummaging effectiveness is often reliant on technical prowess, rather than pure physical power. Feek admits Ireland have benefited from the reduction of the hit, while pointing out that there is no one 'right' way of scrummaging.
Believe it or not, there are a number of ways of doing it. Different teams have different methods, but I think if your technique is done well and you keep the scrum up for a start, play within the law, you can get a good contest out of it.
"I think the strength since I've been here is the technical smarts of the scrum and the details. The forwards love that here, and sometimes that can be just as good as being big and strong.
"There is the odd guy that comes along – like Dev Toner, he's a big man. We've got a few guys there that can add the weight, but we have to be technically even better than others. We have to have the smarts, the brains and the passion to be able to work on that.
"That's why a priority is to look at developing more scrum coaches around the country as well."