Updated: 510pm
THE GAA LOOK set to cash in on the success of last year's Emerald Isle Classic by hosting up to three NCAA college football games between now and 2018.
TheScore.ie understands that talks are underway to host games in 2014, 2016 and 2018 with high-profile teams such as Penn State, Notre Dame and even reigning national champions Alabama thought to be amongst those interested in playing here.
Reports in the US today suggest a Penn State-UCF game will be announced on Sunday.
Sources close to the negotiations have told TheScore.ie that a "five-year deal" was being put in place to host other games.
Tight-lipped
Speaking in February, Penn State's associate athletics director Greg Myford told TheScore.ie that they were "very interested" in a game in Ireland, if they could find an opponent.
That issue now appears to be resolved though UCF remain tight-lipped with a spokesperson for the college responding to request for comment on Monday by saying:
"With nothing being official yet, unfortunately we will not be able to conduct interviews at this time."
With regards the other games, while last weekend's Sunday Times reported that Notre Dame – who played Navy in 2012′s Emerald Isle Classic – were being lined up for a return in 2016, TheScore.ie understands that no team has been officially approached for either the 2016 or 2018 dates.
However, given their links with this country, the Fighting Irish, as well as the likes of Alabama and Boston College, are all being considered.
Additionally, while some outlets have speculated that Croke Park could even host a prestigious NCAA Bowl Game, it is thought that the venue is more likely to attract regular season games than end-of-season showcases.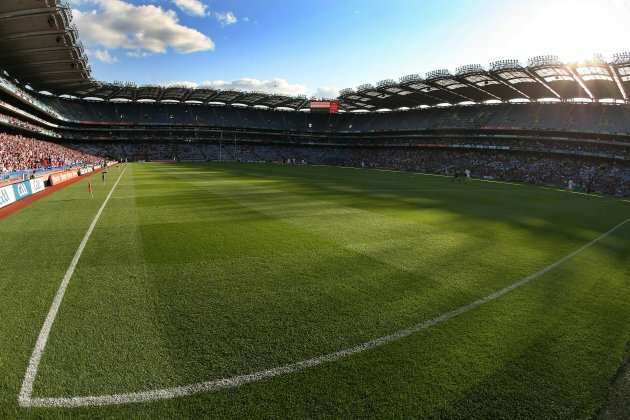 Croke Park could be set for a financial windfall if their bid to host multiple college football games is successful.
Image: INPHO/Cathal Noonan
Croke Park has some history of hosting American football games with Notre Dame defeating Navy 54-27 at the venue in 1996 while the Pittsburgh Steelers and Chicago Bears contested a pre-season friendly there the following year.
Financial Impact
Though it was widely reported that last year's Emerald Isle Classic raised €100 million for the local economy – thanks in large part to 35,000 fans travelling from the US for the game – documentation from the Department of Transport, Tourism and Sport seen by TheScore.ie indicates that figure was actually closer to €25 million.
However, with three potential games in the pipeline, these events would still have a positive financial impact on both the GAA and the local economy.
Despite numerous efforts to contact them over the last week, nobody from Croke Park was available to comment.
Additional reporting by Niall Kelly and Ben Blake.