Ireland travelled to Cardiff to take on Wales this evening
After some early withdrawals from the squad, the game marked a chance to see what the likes of Coleman and Brady could do without the pressure of World Cup qualifying points.
As always, we'd love to hear your comments. Send them to sport@thescore.ie, tweet them @football_ie, find us on Facebook, or leave a comment below.
You can also join TheScore.ie's Premier League Fantasy Football League using this code: 800052-191374; http://fantasy.premierleague.com
Ireland 0-0 Wales
The Ireland team is as named by manager Giovanni Trapattoni yesterday:
Ireland team: Westwood, Coleman, Clark, O'Shea, Wilson, Walters, McCarthy, Whelan, Brady, Hoolahan, Long
And the Welsh line-up:
Wales: Myhill, Gunter, Davies, Ledley, Ricketts, A Williams (C), Allen, Bellamy, Collinson, J Williams and Robson-Kanu
10 minutes to kick off in Cardiff and the stadium is far, far from full.
You're here though – at least in spirit - so it'd be great to get your opinion on the game.
It's currently 7-1 for a 0-0 draw. Anyone tempted?
The teams will be lining up for the anthems shortly.
In the mean time, it would be remiss of me not to give you another opportunity to laugh at Sky Sports News presenter Nick Collins who did this live on air today:
YouTube Credit: ledbetter95123
Lots of empty seats in Cardiff as the anthems are played, in Ireland's case, twice.
Glenn Whelan doesn't look overly pleased about winning his 50th cap.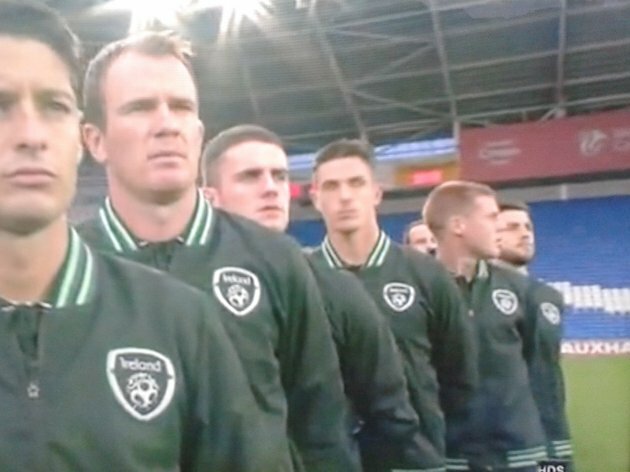 And Ireland get the game under way.
Their first attack comes to nothing though as a John O'Shea long ball is picked up by the Welsh keeper.
Ireland have dominated possession in the opening three minutes but neither side have created anything resembling a chance so far.
Another long ball, this time from goalkeeper Keiren Westwood, comes to nothing.
An extended period of Irish possession results in Wes Hoolahan escaping down the Welsh left flank.
However, even with two attempts at a cross he can't pick out a team mate and the move comes to nothing.
In fairness to Ireland, they look the keener to keep the ball on the ground and Wales are doing a lot of chasing in the opening eight minutes.
Ireland's next serious opponents, Sweden, are playing tonight too.
After going 2-0 up through two Zlatan goals, Norway have come back into the game and the sides are level, 2-2, at half-time.
Anyone know the Spanish for tiki-taka?
Wales win the game's first corner after Craig Bellamy makes a run into the Irish box, Westwood flaps at the corner and John O'Shea nearly puts the ball in his own net.
Corner to Wales on the other side is eventually cleared but, with a place between the sticks up for grabs, Westwood won't be happy with how he dealt with that cross.
Long adjudged to have fouled Myhill in the Wales goal there and, after bossing the game earlier Wales have had the better of the last five minutes.
Robbie Brady with Ireland's third shot off target and, after showing a decent touch around the area, his effort sailed just over.
Moments later Shane Long has a clear shot on goal from 12 yards and totally miss hits and it floats over the bar when it looked easier to find the target.
So little has happened in the last few minutes, here's a picture of the Ireland kit man with Gareth Bale: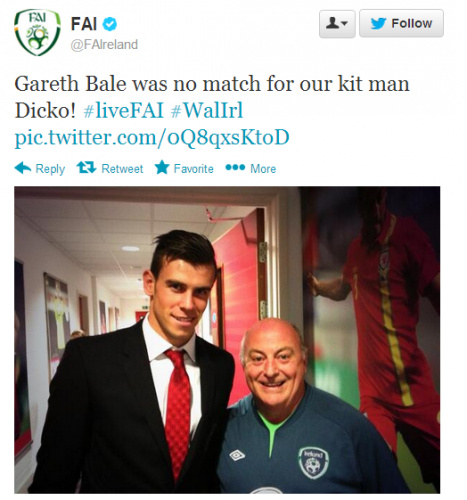 Oh, and in that other game that Ireland care about tonight, Zlatan's just grabbed his hat-trick.
We have our first booking of the game and it's Ashley Williams for Wales. It looked innocuous enough but apparently it was for unsporting behaviour.
Oh, and Shane Long picked up a yellow for the same incident. The handbags have now been returned to their rightful place and we can get on with the game.
Robbie Brady goes close again, sends the defender the wrong way at the edge of the area before curling the ball just wide of the right hand post.
By far the best move and chance of the game.
HALF-TIME
A well-worked Wales corner that goes just wide of Keiren Westwood's left upright brings to end a, solid, if unspectacular first half.
I'm a little underwhelmed by what I've seen so far to be honest; maybe a lot of players protecting themselves ahead of the weekend's fixtures?
I've had my half-time oranges (okay, Mars bar) and tea (coffee) so I'm good to go again and I'm sure there's better to come from Ireland in the second half.
The second half is underway and the disappointing news is that Ireland's best player in the first half, Robbie Brady has been replaced by James McClean.
No word on an injury as yet; still a chance for McClean to impress.
Just four goals for Zlatan in Sweden's friendly tonight.
Uh oh.
The second half has started in much the same way as the first ended. Nothing much in the way of goalmouth action and everyone's main concern is seemingly not picking up an injury.
That said, Shane Long has just come close from an Ireland corner but his header goes just over the bar and there still hasn't been a shot on target in the game.
Substitutions:
Darren O'Dea and Paul Green on for John O'Shea and Glenn Whelan.
While Vokes and King replace Bellamy and Ledley on the Welsh side.
Substitution
And it's a big one for Paddy Madden, coming on to make his international debut replacing Wes Hoolahan who, one nice break in the first half aside, hasn't really done much tonight.
Shane Long finally gets the first shot on target after 70 minutes and, to be honest, when one on one with the Welsh keeper, he really should have scored.
Substitution
Andy Keogh on for Shane Long.
These substitutions really are as exciting as it gets and I know most of you are probably watching the England/Scotland game on the TV which is much better but still. Big night for Paddy Madden, eh?
Walters breaks through the Wales defence but his second touch is way to heavy and the ball rolls safely into Myhill's hands.
Ireland come close again, this time Paddy Madden's well worked shot is saved before James McClean's follow up is cleared by a Welsh defender.
Better from Ireland in the last five minutes and, somehow, on his debut Paddy Madden has as many shots on target as the rest of the two teams combined.
Sky Sports have given Ashley Williams the Man of the Match award.
His contribution: One yellow card for unsportsmanlike behaviour.
Paddy Madden has another chance for Ireland but his shot came closer to hitting the international space station than it did the target.
There are three minutes of added time here and I'm seriously regretting not taking those odds on a scoreless draw.
And that's it, it's all over in Cardiff and Ireland come through without any obvious injuries.
It wasn't the best game we've ever seen but there were some positives to take from it.
Paddy Madden looked decent when he came on and twice forced the Welsh keeper into smart saves.
That was it really.
I'm sure we'll hear all about positivity and mentality from Giovanni Trapattoni after the game but if you can draw any conclusions from that game, you're a better person than me.
So that's it from me.
Thanks for joining us even if it wasn't the most exciting game in the world.