IT MAKES for an interesting, if slightly controversial, quiz question; when was the first IRB Women's Rugby World Cup?
The instinct is to say 1991, but the correct answer is 1998.
However, while the involvement of the organisation now known as World Rugby only began in 1998, they do recognise the events held in 1991 and 1994 as World Cups, just not as IRB or World Rugby ones.
"World Rugby took over the running of the World Cup in 1998," says Su Carty who, in 2009, was appointed the first Women's Development Manager for World Rugby.
"The only thing World Rugby could really do retrospectively is acknowledge that 1991 and 1994 were Women's World Cups, so when we talk about the number of tournaments held to date, we talk include those competitions."
Isaac Peral Photography Su Cart Isaac Peral Photography
Another of the tasks facing World Rugby when they took over the running of the women's game was that they had to decide which of the matches that had taken place before their stewardship actually counted as Tests.
"The other piece of the puzzle for World Rugby was that unions around the world started to take over the running of their women's teams at different times, a little bit like the Irish experience.
"During my time with World Rugby, I drove a project that put a ranking system in place for women's international teams and, in advance of putting that system in place, we wrote to all unions and asked them to confirm what they recognised as an official international Test."
For the most part, Carty says, this was a straightforward job for unions. However, it did lead to some strange scenarios, one of them being that Ireland played five games at the 1994 World Cup, but only four of them count as full internationals.
"The teams that played against the Scottish Students [Ireland were in their pool], those matches don't count as Tests or towards caps," Carty told The42.
"We literally went through every single women's game we could find and asked unions to confirm if they recognised them with caps or not and then we were able to approve all of those games as official Tests.
"So, while World Rugby could retrospectively approve individual official Test matches, what we couldn't do in the case of 1991 and 1994 — which were run independently World Rugby — was retrospectively approve them as World Rugby World Cups.
"But they are absolutely acknowledged as being World Cups."
Liewig Christian England will hope to claim another World Cup trophy next month. Liewig Christian
The confusion around early tournaments and Tests shouldn't really come as a surprise to anyone with even a passing knowledge to how these things work.
It's a different sport but look at the first ever Fifa men's World Cup — and the teams that didn't turn up — and it won't strike you as the epitome of organisational excellence.
It also serves as a reminder of just how young women's rugby is at an international level, and how far it has come in such a short period of time.
The 1991 tournament, for example, was held over the course of just one week in Wales, with 12 teams taking part. The United States emerged as 19-6 winners over England in the decider.
1994 was even more dysfunctional as the Netherlands, where the tournament was due to be held, cancelled just weeks beforehand.
With the organisers having failed to receive IRB recognition at the time, New Zealand refused to pay the expenses of their team so the Black Ferns were forced to withdraw.
So too did Spain, at a very late stage, and they were replaced by the Scottish Students — causing the confusion over official caps — in Pool C alongside Ireland and France.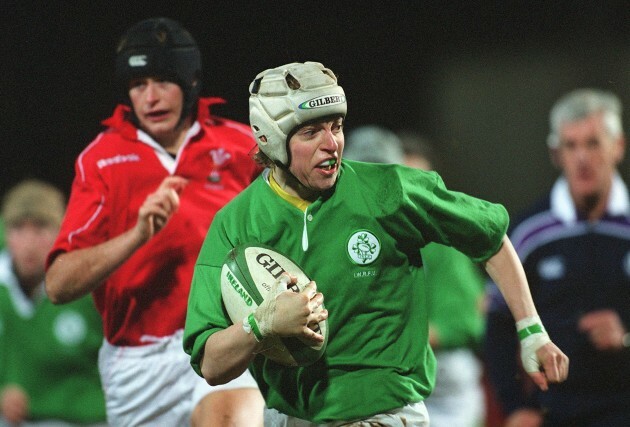 INPHO Fiona Steed in action for Ireland against Wales. INPHO
One player in the Ireland squad for that tournament was Fiona Steed.
"I was 21 when I joined up with Ireland. I was still quite young and naive I suppose," Steed told The42 recently.
"I suppose the set-up was different from what I was used to with the Exiles in England but the training was great.
"It was John Etheridge in charge at the time alongside Des Byrne who was also with the Exiles.
"When I went to the World Cup in 1994 — and, of course, it wasn't called the World Cup at the time it was the World Championship — I was the youngest in the squad and I had just qualified as a physiotherapist and, the year before I had actually acted as the physio for the team.
"I remember being in one situation, I was playing centre going into it and I ended up on the wing and I was making decisions on player injuries at the same time.
"There was one particular girl and she was also playing on the wing and I said to the coaches 'you expect me to make a decision on this girl, she's competing with me' and their reply was 'no, she's competing for the left-wing spot and you're competing for the right' and that's just how it was," she laughs.
"That side of things, there's no comparison to what it's like for the girls now.
"Even with accommodation, there was five of us in a room in what we'll call a 'hotel' in Edinburgh for the duration of the tournament. I think we purchased our own tracksuits ourselves or, at least, paid towards them.
"We had sponsorship — I still have the jersey upstairs — from Irish Textiles. And you got to keep the jersey, that was such a big deal.
"But we didn't get caps or anything like that, I didn't get a first cap. On my 50th cap during the 2002 World Cup — I was the first player to reach that number — and that's when I got my first cap, that was really nice."
Dan Sheridan / INPHO Steed has made a name for herself as a pundit since hanging up her boots. Dan Sheridan / INPHO / INPHO
Ireland learned a lot about international rugby in their first tournament and, by 1998, Steed says that there was a noticeable shift in the professionalism among the players.
"By the time 1998 came around, I had gone from centre to back row, and myself and my good buddy Ruth McKeown — who was also a back row but she'd gone from prop to back row — we just made ourselves professional.
"We were both physios, we both looked after ourselves and injures. She found a gym that had a personal trainer that helped us and we were in the shape of our lives.
"Hendrik Kruger came out to coach us at short notice and Tony Smeeth and Philip Doyle were also involved in 1998. They were fantastic. They were just so professional. That, for me, was when I took myself to a different level and a lot of the girls did.
"But going back to what it was like in 1994 for our first World Cup, I suppose I don't want anyone to think we were feeling sorry for ourselves because of the set-up, etc.
"I do sometimes think to myself 'oh God, I'd love to be 20 years younger and running out there now' but I wouldn't change a thing that I did either and I wouldn't swap my life now to be back playing, not ever.
"We had to dig in, but I don't want anyone to think we didn't love what we were doing."
The42 will have full features with both Fiona Steed (on her career with Ireland) and Su Carty (on her role in developing the women's game around the globe) in the coming days.
The42 is on Instagram! Tap the button below on your phone to follow us!