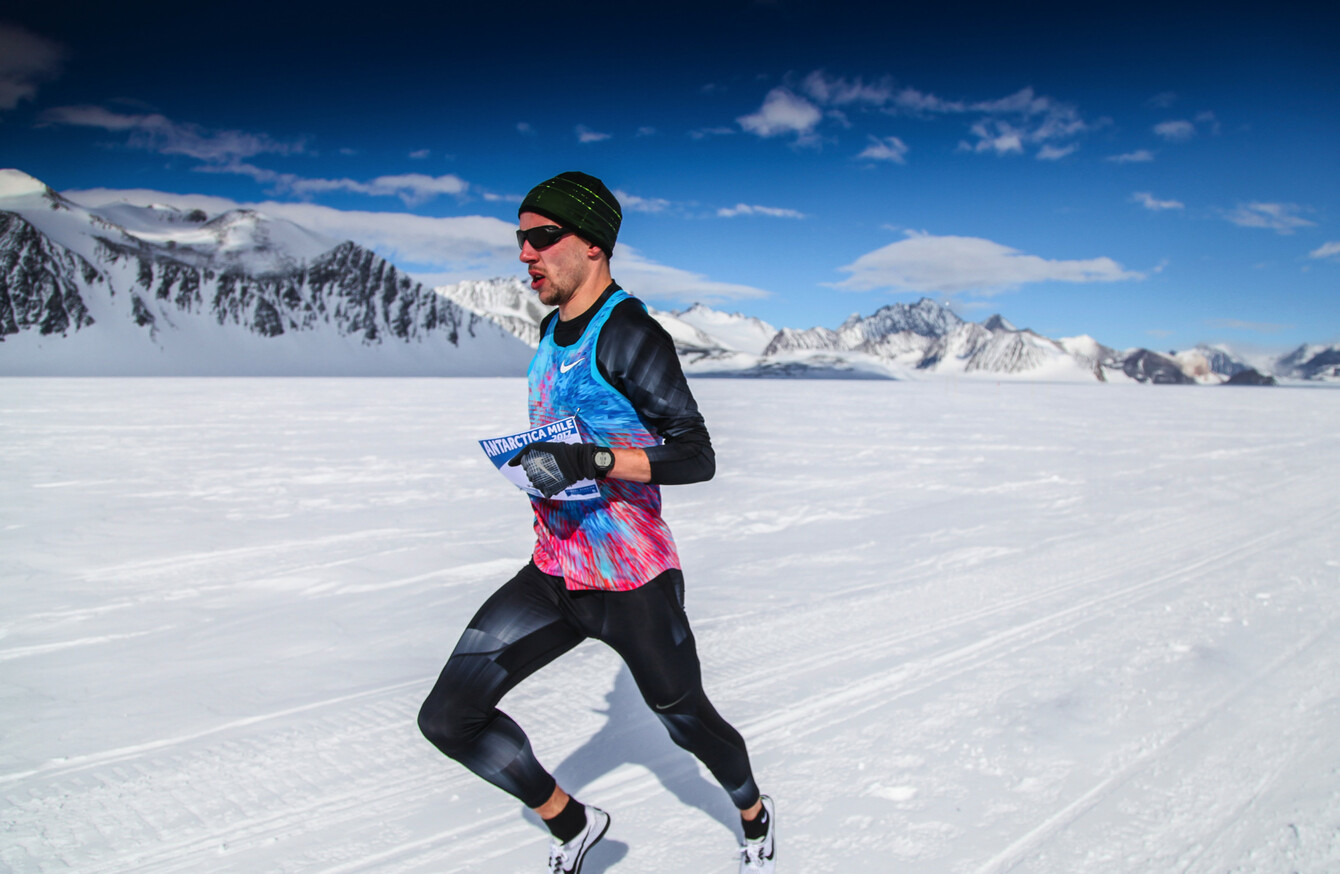 Robinson in the middle of his run.
Image: Mark Conlon/Antarctic Ice Marathon
Robinson in the middle of his run.
Image: Mark Conlon/Antarctic Ice Marathon
FOUR MINUTES, 17.9 seconds.
That's the time Paul Robinson clocked on Union Glacier in Antarctica on 25 November, making it the fastest mile ever run on the frozen continent.
The record attempt was the brainchild of Richard Donovan, a fellow Irish athlete who has become renowned for organising some of the world's most interesting adventure races.
Donovan emailed Robinson in early November and the Kilcock based athlete didn't have to be asked twice.
"Richard has put on loads of these events before and I knew that he did the Ice Marathon and all these various challenges," Robinson told The42 this week.
"About three weeks ago, he emailed me and asked me if I fancied running a mile at the South Pole.
Of course, I said: 'Oh yeah, that'd be brilliant.'
"I knew it would be a great opportunity and I don't think I'd ever turn down a chance to go to the South Pole and run a mile. I didn't really know what to expect, but it was an unreal experience."
Luckily for Robinson, he was in training, so conditioning wasn't an issue when the request came through.
"I was in a base phase of training. It's cross-country season but I don't run cross-country, I'm more geared towards the shorter distances and the track.
"I actually ran for DCU at the road relays there on 18 November, and we won that. I ran a two-mile leg and a course record so I knew I was in pretty good nick.
"Going out there, it just fitted perfectly into my training because I've nothing really coming up at the moment. I'm going out to Australia after Christmas so it was nice to do something while I'm in the middle of training."
After a lot of travelling — about 24 hours worth in three days — Robinson arrived in Antarctica but nothing could prepare him for the conditions he found, especially when he went out on his practise runs.
"It was a bit mad. The 10km course was mapped out for the marathon, they'd be running four laps of that. I'd seen the course — and they'd ran the machine over it — but the snow was such that my foot was sinking two or three inches into it when I wore spikes.
"So I was trying to see if I could find somewhere where the surface was harder. We went out to this blue ice runway where the plane lands, it's about 8km away from where we were staying.
"We went down and got stuck in this massive blizzard after going down on two ski-mobiles — Richard and I — and if you get lost out there, it's just nuts how isolated you are.
After running on the runway, I realised it was too hard. When I ran onto it, I went straight onto my arse. It was just too dangerous.
"So it turned out the best place to try the run was on the marathon course itself."
A part of the marathon course — about 650 miles from the South Pole — was isolated and measured by GPS a number of times to ensure it was exactly a mile. The section picked was relatively flat but had a slight incline at the start and finished with a slight decline.
At approximately 3pm GMT, one month before Christmas, Robinson set off on his run.
"Standing on the start line, you just couldn't see the finish line. You're just running into this white abyss and you've mountains either side of you. It was surreal, and very hard with words to do it justice as to how isolated you are.
I've never been anywhere like it before, it was like running on the moon or something.
"I really wanted to give it a good whack and see how close I could get to [four minutes].
"But it's really energy sapping and, if anything, I probably went out a little bit too hard and struggled. I did get a bit of a second wind once I knew I was getting to the finish.

Source: Global Running Adventures/Vimeo
"I definitely think I could go faster but it would need a very groomed, hard surface that just didn't absorb your energy. On the snow, that's going to be very hard to do.
"In perfect conditions, running a sub-four minute mile is still a great achievement. There are very few athletes who have actually done it on a track. I know how hard it is when conditions are ideal so I knew there was no chance running [a sub-four minute mile] on snow.
"But I gave it my best effort, and I'm proud of getting anywhere close to four minutes, especially as I was slipping and sliding and even thought I was going to fall over at one stage."
The snow may have had much more of an impact than the cold (approximately -20°C), but Robinson still felt it.
"The heat always helps when it comes to running, but I really don't think that was the biggest factor, it was definitely the snow.
"But I would say that, when I was actually running the race, I didn't feel like the cold was having much of an impact on the run. But, then again, I was wearing extra layers I wouldn't be wearing on a track or in a warm climate.
"Warming up was actually really hard though. I was warming up in this massive puff jacket, with four pairs of tights on, so you feel pretty restricted.
"And the worst part is, you don't really get warm. Once you change your shoes or take off the jacket, you get cold straight away. I had to take off my gloves to tie my laces and I got cold straight away."
The plan going forward for Robinson is the national indoors and European Championships in 2018. He finished fourth in the 1500m in the latter event in 2014 and hopes to go one at least one better next year.
But are there any more extreme miles for him to race?
We've nothing set in stone at the moment but we've a few ideas and, the way these things work is they're often relatively last-minute anyway, so you can't really plan for them.
"If the opportunity emerges, we'll take advantage of it."
The42 has just published its first book, Behind The Lines, a collection of some of the year's best sports stories. Pick up your copy in Eason's, or order it here today (€10):