Updated at 22.39
IT'S NOT EVERY day that people based in Ireland get the opportunity to witness top-level professional tennis in the flesh — in fact, it's once per year to be exact.
The world's second oldest tennis tournament, the Irish Open, gets underway in Fitzwilliam Lawn Tennis Club this week, with qualifying starting at 10.30am today before the main event commences on Tuesday, with the finals of the doubles and singles happening on Friday and Saturday respectively.
Just two years younger than Wimbledon, the event has been in existence since 1879 and admission to it is free all week. It features a singles and a doubles men's event, with 32 players competing in the former and 16 pairs in the latter.
Ireland's James McGee won the event in 2011 — thereby claiming his first-ever professional title — and has made considerable strides ever since, and so a number of others will be hoping to emulate the Dubliner.
In particular, Irish hopes lie with the two seeded players, 22-year-old Sam Barry and Mayo's Daniel Glancy, both of whom would be considered among the favourites to prevail and obtain the all-important 27 ranking points on offer in the process.
Yet the Irish duo face stiff competition in the form of Frederik Nielsen of Denmark, a former Wimbledon Doubles champion, as well as Britain's Edward Corrie, another decorated individual who also competed in the main draw of Wimbledon this year.
Another person who could spring a surprise is France's Theo Fournerie. At just 17, the player may well be a star of the future — his countrymen, for one, rate him extremely highly.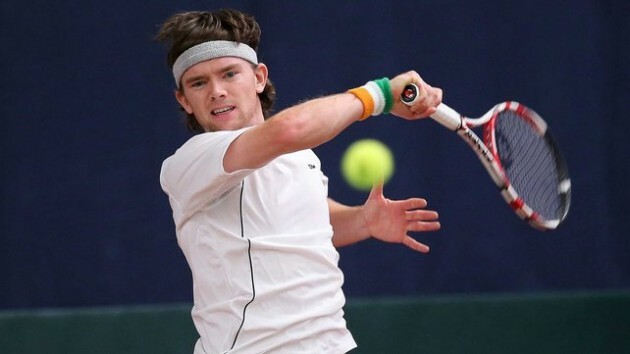 (Mayo's Daniel Glancy is another genuine contender to win the event)
There will also be four wildcard Irish athletes competing and possibly considerably more considering how qualifying pans out, as well as a variety of others from countries including Germany, France, Sweden and the Czech Republic.
One of the men behind the event is Mark Carpenter, the Chairman of the Organising Committee. In addition to watching the Irish continent and the other aforementioned names, Carpenter is also looking forward to the unique spectacle of seeing France's Nicolas Rosenzweig in action.
"He's probably the only professional who's extremely ambidextrous," Carpenter tells TheScore.ie. "He serves on the outside with his left hand and on the other side with his right hand, and hits only forehands with his right or left hand. He's pretty funky to watch. There's no other player I know of with any kind of world ranking who plays like that."
In addition, speaking of the tournament's importance, Carpenter explains how it provides a rare opportunity for promising upcoming Irish players to perform in front of a favourable crowd.
"It's very important for Irish tennis because it's the only professional tournament in Ireland in the whole year," he says. "For guys starting out, who are playing on the circuit, they have to travel every week, which is obviously very expensive.
"If you're based in France or Spain, you can pretty much just play there every week. But if you're Irish, it's not a possibility [to stay at home]. You have to travel pretty much every week of the year, so it's obviously great for the Irish guys to get a bit of support and not have to travel. So that's one of the big attractions it has."
Irish tennis is currently on the rise, with McGee, James Cluskey and Amy Bowtell all catching the eye of late. Does the latter's success consequently re-emphasise the need to bring back a female version of the Irish Open?
"There used to be an Irish Women's Open but that's fallen by the wayside along with a lot of other things in the last few years.
"Obviously it would be fantastic to have a women's event at some stage. We've Amy Bowtell who's doing quite well and some other good young players coming through. So it's something I'd like to see.
"I'd certainly be optimistic [a women's event] will happen somewhere down the line. But these tournaments require a pretty significant financial investment and you'd need a club or organisation to step forward and search for sponsors and so on."
And finally, does the emergence of these young stars signal a potential sea change in Irish tennis?
"It is a steady process. A lot more needs to be put in, but I think there is more interest in Irish tennis now.
"Tennis in Ireland is very popular from a recreational perspective — a lot of people play it. But from the performance side, it doesn't have the profile of some of the other sports. That's one thing that hopefully is changing a little bit.
"Those of us involved in Irish tennis would like to change it more, to show that tennis in Ireland isn't just four retired gentleman on a Sunday morning. We want to show it can potentially be players competing in Grand Slam Tournaments."
For further information, follow @FBDIrishOpen on Twitter or visit their Facebook page.