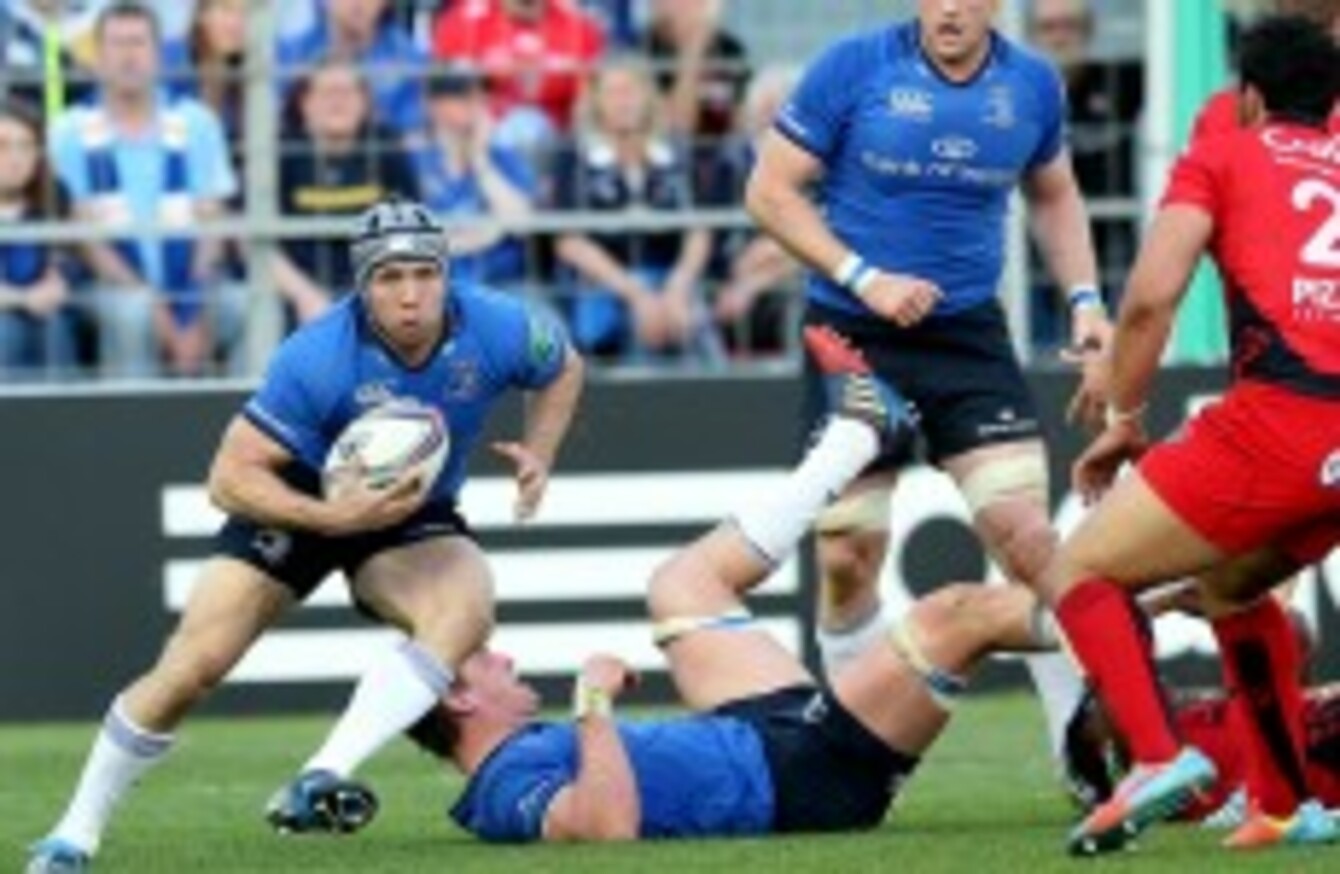 Boss was used as a replacement against Toulon in the Heineken Cup quarter-final.
Image: James Crombiee/INPHO
Boss was used as a replacement against Toulon in the Heineken Cup quarter-final.
Image: James Crombiee/INPHO
AFTER TWO LOSSES in the last two weekends, Leinster fans could be forgiven for allowing themselves to slip into a negative mindset.
However, ahead of the Pro12 clash with Treviso at the RDS on Friday evening, scrum-half Isaac Boss says the province's players haven't been carried away by back-to-back disappointing results.
"I don't think we're in dire straits," says the 34-year-old. "We lost two away matches in five or six days against two good sides. They've got to be given a lot of the credit for putting pressure on us."
It's a sobering and fair point, but the manner in which Leinster slipped to those defeats is what truly rankled. The precision we have come to expect from Leinster was absent at crucial times against Toulon and the Ospreys, as Boss admits.
[We were missing] accuracy in certain pieces. We've been making opportunities and making a few busts but we can't seem to capitalise on that. We need to be able to hold the ball for a little bit longer.
"Individual errors have been costly too, which is unlike us. It's been there in the last couple of weeks, so we just need to control those a little bit more."
Were those mistakes in tackling, rucking and handling down to a lack of consistent mental focus or a failure of the technical skills?
"A touch of both," answers the former Chiefs halfback. "Obviously they're work-ons, so the boys will be out there working on those things. I've had a couple of areas where I've had to work on.
"It's a touch of both; being aware in a game that you've got to be mentally switched on, even if physically you might not have to be at times."
Rediscovering that peak accuracy is a key target for Leinster against Treviso, but their discipline will be mentioned repeatedly in the build-up too. Last weekend's defeat to the Ospreys saw Dan Biggar kick five penalties to punish the Irish province's infringements.
Boss believes that cutting out the penalties is essential, particularly against a familiar face in the Treviso number 10 shirt at the RDS.
"That's it on the button. We were in there with a chance to win right until the end [against the Ospreys], but we gave too many kickable points to them.
We did the same the week before [versus Toulon], so it's a bit of a trend we need to cut out going forward, especially against Treviso. Berqy [Matt Berquist] has been pretty accurate this weekend and we know he's a good goal-kicker, so we can't give away those chances."
A return to their most prolific attacking form would be timely for Leinster as they head into the decisive weeks of the Pro12. Much of their play in recent weeks has seen them operating with runners off the scrum-half, but Boss explains that feature is related to the recent lack of handling accuracy.
"We've got a lot of options [in attack], but it's happened maybe because we haven't held the ball through more phases. We haven't probably put it as wide at times to take advantage of the breaks we make.
"We have probably been going through nine a bit more, but it's very dependent on the particular game."