RISING WESTMEATH FOOTBALL star Israel Ilunga has revealed he feared being "shot" as a youngster in war-torn Democratic Republic of Congo.
The 2013 Leinster minor finalist, full-back on this year's Tommy Carr managed minor team, recently received Irish citizenship after eight years living in Westmeath.
The 18-year old and his elder sister have been fostered by a family in Castletown.
Initially, Ilunga admitted he "absolutely hated" Gaelic football but grew to love the game and is now regarded as the county's brightest young talent.
He is being monitored by Aussie Rules scout Tadhg Kennelly and has been tipped by Dublin legend Carr to move onto the U-21 and senior ranks.
Ilunga says he is thankful just to be in Ireland and to be safe having endured a difficult childhood in Africa.
My parents tried to hide me from seeing everything around me but I remember all the bad things," said Ilunga. "Children having nothing to eat, going outside and fearing you're going to get shot."
"We think we have problems but every time I take to the pitch I say to myself, 'God, I'm lucky I have this'. If you were to compare it with Congo, kids having nothing, so I play as if it's going to be my last time playing at any level. I realise how lucky I am."
Powerful Ilunga, who hopes to earn a third level scholarship, was at the centre of a racial storm last year. He was red carded in Westmeath's Leinster minor semi-final win over Meath but following allegations of racism the dismissal was overturned and he played in the final.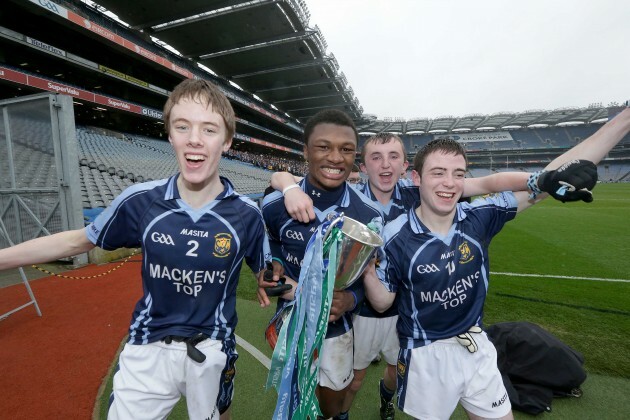 Morgan Treacy / INPHO With his Cnoc Mhuire team-mates after wining the All-Ireland Vocational Schools Senior Football A Championship final in 2013. Morgan Treacy / INPHO / INPHO
He says his foster parents, Des and Anne Dowling, have taught him to rise above any verbal abuse that may occur on the pitches.
If I laugh and smile in someone's face it's going to hurt them more than if I hit him in the face," said Ilunga.
"I used to get angry about it but my foster parents took me aside and that's the way I do things now. I would never hit a lad, never, it's not my nature but I wouldn't be allowed anyway.
"Even when there's any bit of pushing, any 50-50 balls, all I can hear from the pitch is my Dad in the stands telling me to calm down, every game!"
Ilunga was speaking to the Next Generation Ireland blog. The full article is available here.