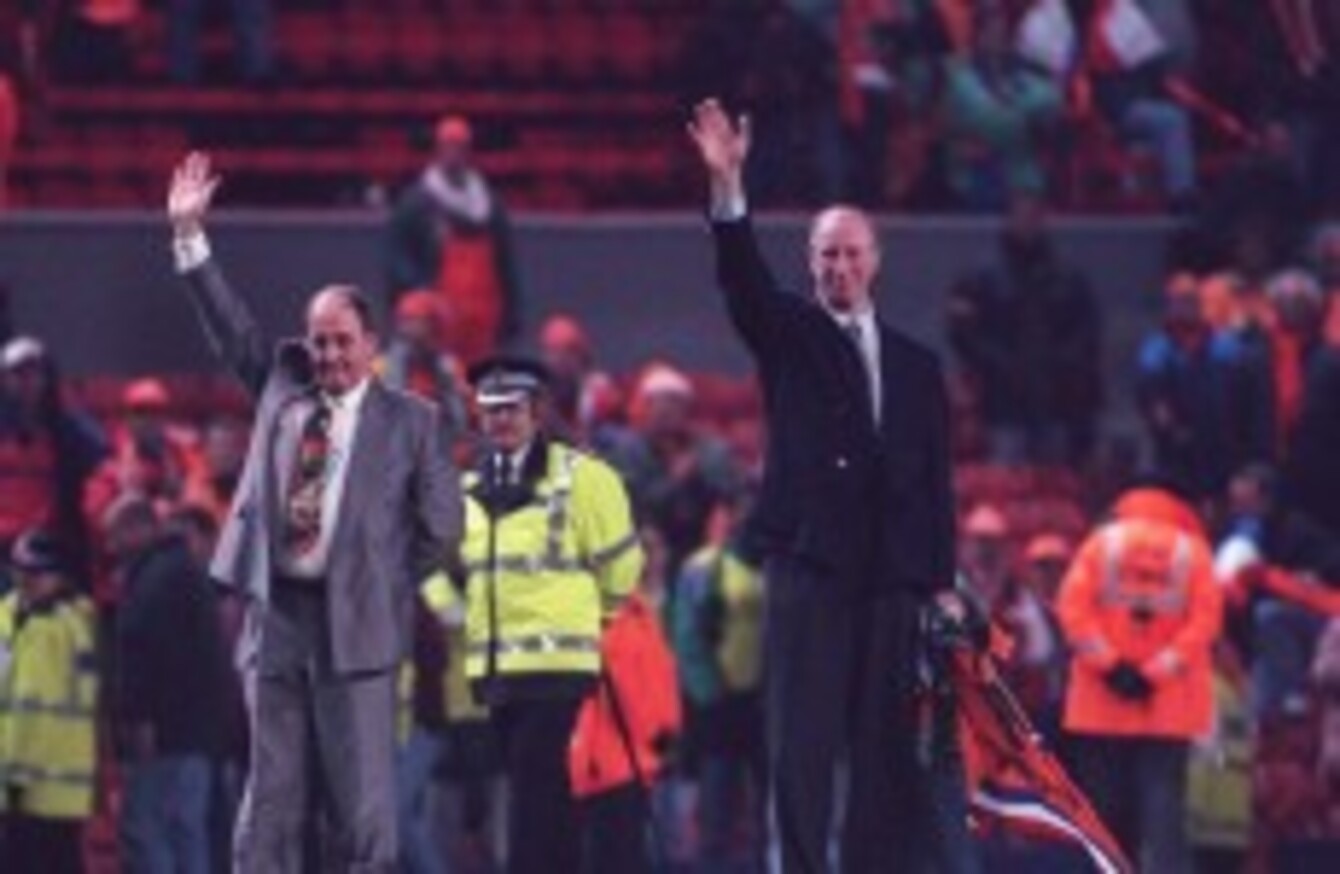 Jack Charlton and Maurice Setters pictured during the 1995 Ireland-Holland clash.
Jack Charlton and Maurice Setters pictured during the 1995 Ireland-Holland clash.
Updated at 12.20
PREPARATIONS FOR A vital Euro '96 qualifier went badly awry for Jack Charlton's Ireland, when they spent considerable time watching the Dutch under-21 team by accident.
It was the eve of the one-off European Championships qualifying playoff against Holland at Anfield in December 1995 when the mishap occurred.
A passage from Alan McLoughlin's autobiography reveals that the Irish players initially thought they were watching a videotape of the Dutch senior team, only for the mistake to soon become obvious to almost everyone in the room.
In A Different Shade of Green, McLoughlin recalls the incident:
"In a private room in our Liverpool hotel everyone sat attentively in rows of chairs, Jack Charlton and Maurice Setters up front, with the players behind them.
"The Netherlands had a formidable side and so everyone was very serious as the VHS went in the slot and the picture, crackly at first, came on the television. To my surprise, as the camera scanned across the two teams standing for the anthems it showed 11 anonymous faces in orange shirts surrounded by an empty stadium.
"I squinted at the Dutch team on screen, unable to make out Kluivert, Bergkamp or any of their other stars. After five minutes it became abundantly clear to everyone that this was a video of the Dutch under-21 team. Everyone, that is, apart from Jack and Maurice. The lads started nudging each other, laughter rippling, as we waited for Jack to realise."
The team eventually explained the issue to Charlton, but not before more hilarity ensued.
"Another five minutes passed. Still Jack hadn't clocked what was going on. Another few minutes passed. Up Jack leapt, pausing the video. He's finally realised, I thought. But as Jack started lecturing us, I realised I was wrong.
– 'Now, watch Bergkamp'
"Jack was pointing at the Dutch under-21 striker, who just happened, like Denis Bergkamp, to have blonde hair.
– 'Now, watch the way he pulls away from his defender. Here.'
"Cue hoots of laughter.
– 'What the hell do you lot think you're laughing at, eh? What's so fucking funny?'
"Jack's question was met with more howls of delight.
"Eventually, Andy Townsend told him what had happened. Jack blamed Maurice and gave him a bollocking. Maurice, in turn, blamed the Dutch. Sabotage! Jack's final word on the matter was 'fuck 'em, we'll beat 'em anyway'. It didn't bode well."
The Irish team ultimately lost the game 2-0, failing to qualify for the Euros in the process.
The above quotes are from A Different Shade of Green: The Alan McLoughlin Story by Bryce Evans and Alan McLoughlin. For more info, click here.
The book launch will be taking place tonight at 6pm in Dubray Books on Grafton Street with special guest Niall Quinn.