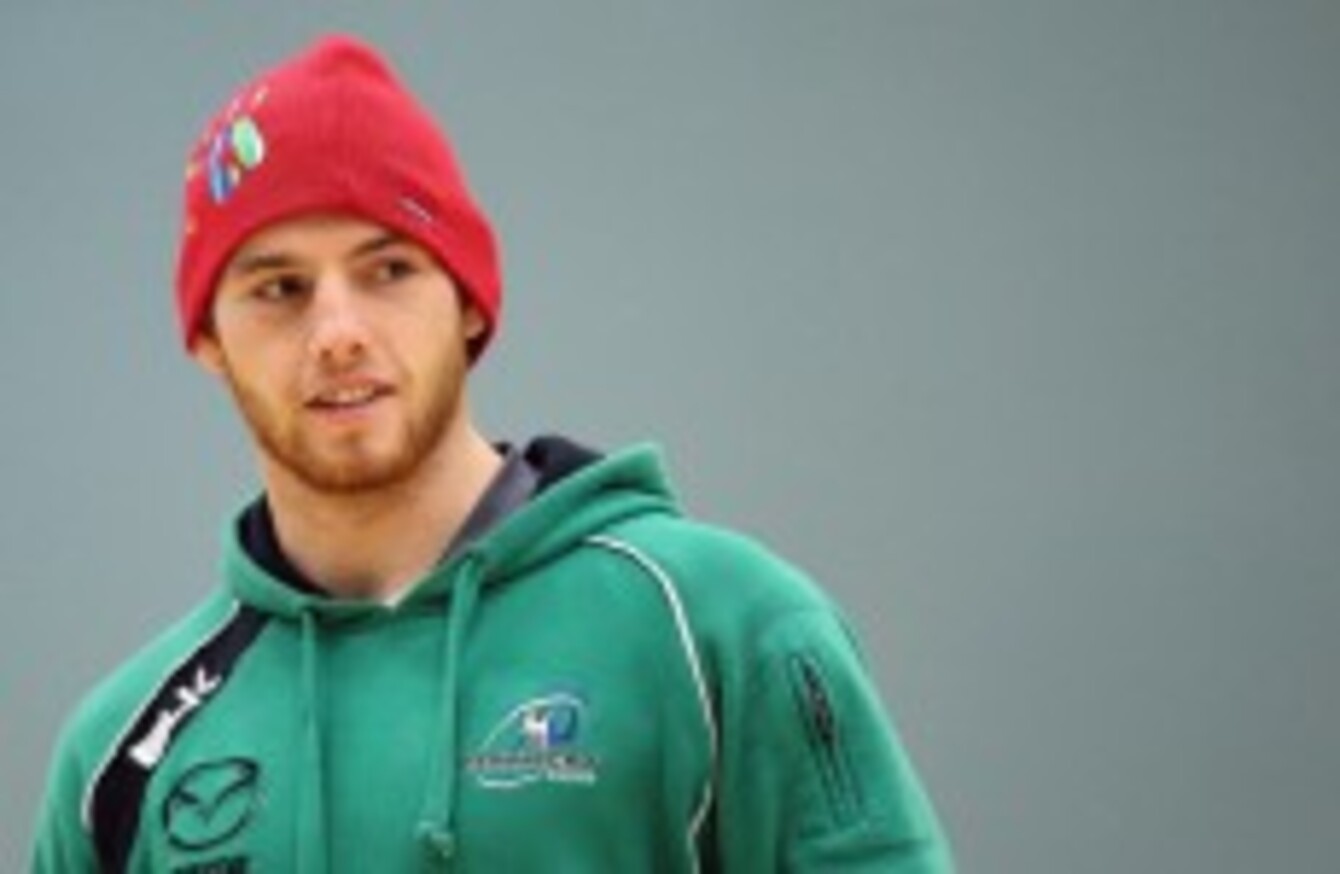 Image: ©INPHO/James Crombie
Image: ©INPHO/James Crombie
IT'S EASY TO be convinced otherwise, but Jake Heenan still has his entire rugby career ahead of him.
With Edinburgh visiting the Sportsground this afternoon, supporters will turn out in Galway hoping that another prominent performance from the number seven will be the key to upping this season's win ratio.
Not yet one full year into his three-year contract with Connacht, Heenan's performances have already marked him out as one of the province's most important match-day figures.
Signed as a 'project player' the man who will turn 22 on St Patrick's Day will be eligible to play for Ireland when that contract ends in 2016. There's an awful lot of rugby to be played in the interim period, but Heenan obviously harbours an ambition to win Test caps at some point in his career.
The key, as far as the Kiwi is concerned, is to worry about doing the things that will earn him that right rather than focus on the end result.
"I've told everyone I'm not sure what I would do, but I definitely want the option," Heenan told TheScore.ie this week.
"The day that I'm eligible I want Joe Schmidt to call me and tell me he wants me to be part of his plans.
"It's definitely something I want to achieve, but whether that's the path I take when I get there I'm not sure – I don't think too much about it – but I'd definitely like to be in that frame."
As his voice comes over the phone, nothing suggests that it is a rugby player of relatively tender years on the other end. He seems mature beyond his years, especially when speaking about his future. His voice is deep and gruff, as if hardened by his farming upbringing on the Pacific coastlines of Pataua North in the northern reaches of New Zealand.
With his countryman Craig Clarke forced out of action for the immediate future, it's striking that Heenan should raise the prospect of him taking up a leadership role in the western province; a role he'll perform by deed rather than by speech.
"I've captained most sides I've been a part of at one time or another. It's never been a problem for me. I didn't want to come over here and start telling people what to do when I hadn't got the respect of players.
"For me, leadership was about putting good performances on the paddock so people would respect me and listen to me.
"As far as me saying words of wisdom and that, I wouldn't really be one to give a motivational speech to others, but [instead] trying to keep on top of people and trying to keep other people honest."
One of those teams Heenan has captained was, of course, New Zealand at the 2012 Junior World Championship.
Perhaps it was being relegated to the replacements bench in the latter stages of that competition (by head coach Rob Penney) that urged the flanker to start considering a move towards the northern hemisphere. It takes a special kind of player to take that kind of pedigree and move lock stock and barrel to an underdog province, but there were no airs or graces about Heenan when the offer came from Pat Lam.
The former Blues coach Lam has always made a point of saying he's been watching Heenan since he was 17; the schoolboy captain shining out in a side that also contained Lam's own son and by the time Heenan went through the Auckland academy, the pair knew one another's strengths well.
Success or failure at Connacht, though, can't be measured as easily as it can be for the Super Rugby side in New Zealand's biggest city or the Junior All Blacks. While a win in Toulouse will go down in folklore, victories have been all too rare. The hope is that Edinburgh can be accounted for tonight to give Connacht their third Pro12 win of the season and hoist them off the foot of the table.
"It does get tough," Heenan says of the lack of victories, "but for me I'm very much worried about my own game. I know what works for me and I'm trying to constantly tweak my game and better myself.
"A lot of that keeps me from getting too upset about results. As long as I know I'm working away at my game. For me, I've tried to step into a bit of a leadership role and I've tried to drive things a bit more through the season.
Exclusive NZ - IRE
Rugby Analysis
Get Murray Kinsella's match analysis and Garry Doyle's updates from New Zealand exclusive to members
Become a Member
"If results aren't coming we look at different ways to approach things and that would be the only thing. Other than that I like to take things week by week, I don't get too caught up in results."
Behind the scenes
Whatever tweaks Heenan is making, they are benefiting his game. For any openside flanker from New Zealand there is one obvious comparison that will always be made a Richie McCaw-shaped yardstick that may never be matched – but this 21-year-old does have an uncanny ability to pop up in the right place at the right time and affect a ruck.
"I think I've always been reasonably good at reading a game of rugby. It's something that needs work week to week, but I just think it's more the work that goes on behind the scenes, the work that no one sees. I'd be very happy to watch a lot of opposition footage. I'm happy to spend a few extra hours on the park and just get a few extra things right.
"It's almost an easy thing for me – I may not be proven physically, but at the weekend if I feel I've done everything I can to be in the best shape possible, then I feel good to go out and play instinctively.
"I'm comfortable just going out and doing my thing."
Tickets are still available for Connacht v Edinburgh (kick-off 5pm) you can buy at the ground or online, here.