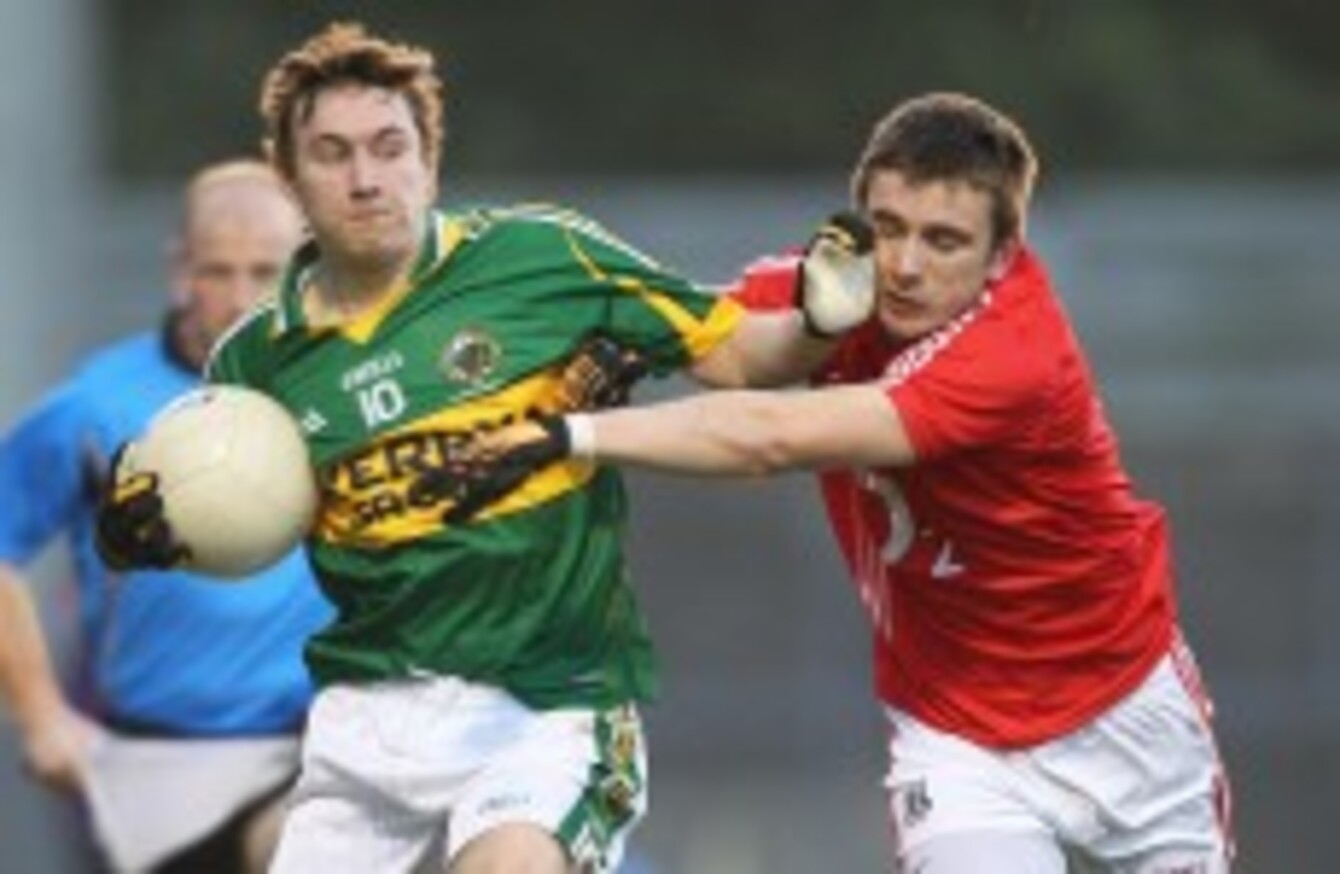 Wall, right, held O'Donoghue to just one point from play in the 2011 Munster U21 final.
Image: Lorraine O'Sullivan/INPHO
Wall, right, held O'Donoghue to just one point from play in the 2011 Munster U21 final.
Image: Lorraine O'Sullivan/INPHO
WHEN I INFORMED James O'Donoghue that his Kerry jersey had migrated to Dublin to be worn during my rehab, he quickly replied that my own Cork jersey was buried in his back garden, never to see the light of day again.
For anyone who isn't aware, on 7 April 2011 the Cork U21s defeated Kerry by 2-24 to 0-08, a Kerry team that included nine players who have since graduated to the current All-Ireland champions' line-up.
Having been designated the task of trailing the 'six-trick pony' that we now know to be James O'Donoghue, my job was made much easier than it ought to have been with the midfield dominance of Aidan Walsh and Micheál Ó Laoire the same night, and the same can very well be said of the latest instalment of Munster football's greatest rivalry in Killarney.
In 2014, the ball winning of Johnny Buckley and Anthony Maher provided the platform for Declan O'Sullivan to feed O'Donoghue for the 70 minutes, and there was little Cadogan, Shields, and the Cork rear guard could do as the Legion man racked up 12 points and put down his early claim for Footballer of the Year.
However, this year, allied to a much more effective short kick-out strategy, the Cork midfield of Kevin O'Driscoll and Alan O'Connor disrupted that pattern. Cork won 77% of their own kick-outs which, when compared to 2014 statistic of 61%, makes for happy reading for Cork fans and indirectly, is paramount when it comes to snuffing out the threat of O'Donoghue inside. Incredibly, O'Donoghue had zero possessions in the second half against Cork.
Luckily for me four years ago, James was deployed at number 10, roughly 30 yards out of position. The tables were turned 24 months later when, in a colleges challenge game, I spent 15 minutes with him inside my own 30 metre line, his playground.
Between 2013 and 2014, O'Donoghue converted a staggering 93% of all attempts against Cork, and all bar one of those possessions were collected within 30 metres. The problem with trying to mark O' Donoghue that close to your own goal, is that if you try to affect a challenge as he wins the ball, and fail to make him spill it, it is a score, period.
Just ask Donal O'Neill of Galway, who was taken for one of the goals of last year's championship.
The Cork system was set up from the off to counter the Kerry inside line, and to ensure we the public wouldn't be seeing another 12-point haul for any inside forward. There weren't 20 seconds on the clock when Paul Kerrigan intercepted an O'Donoghue-bound ball on his own 45. Not long after he doubled up with James Loughrey to turn O'Donoghue over in the corner.
Loughrey came in for criticism during the game last week for his 'stand-off' approach, but a closer look will show that although O'Donoghue was on the ball 10 times in the first half, four of those possessions resulted in a two-/three-yard handpass, he was turned over once and kicked an interception. It is inevitable that a player of his calibre will gain possession, and will convert any chance given, but Loughrey's job was one of limitation, and it was executed to near perfection. It has become clear that the only way to even come close to shutting him down is a packed defence with a designated shepherd.
If Cork are to prevail in Killarney on Saturday night they will need, at minimum, a repeat performace from Loughrey and those around him in limiting the influence of Kerry's most prolific attacker. But with the man in question, even that may not be enough.
James O'Donoghue had zero possessions in the second half against Cork. Keith Higgins, O'Donoghue's babysitter in the replay last year versus Mayo, received a fully justified man of the match nomination for the job he did in man marking Killarney's King of the Quiff.
And yet, O'Donoghue was nominated for man of the match last Sunday, and received the accolade last year after the Mayo game, despite his direct opponent's nomination. How this is even possible is down to two simple words: economy and efficiency.
Since his breakthrough in 2012, O'Donoghue has an attempts-to-points conversion rate of 77%. Just to give that a bit of context, before a ball was kicked this year, Dublin's Bernard Brogan's conversion rate was 39%.
They say statistics can be dangerous, but clearly not as dangerous as James O'Donoghue.