IT'S SAD AT times, but it's impossible to simply watch football and enjoy it for just what is unfolding in front of you.
Goals can't simply be appreciated, they have to be put through our internal goal-ometer to be rated from scrappy to lovely or from great to Golazo.
First impressions matter a great deal on the Goal-ometer. There are goals that make you smile, wince and goals that make you scream. But on Saturday night we were treated to the sort of goal that made the jaw drop.
While hoisting my chin back up and into a four-letter roar of approval, my mind was instantly taken out of Rio – to  Glasgow of all places.
The inner goal-ometer had shot straight to Zinedine Zidane in the 2002 Champions League final for a comparison to the magic that had just unfolded on screen. It lingered briefly, but by the time James Rodriguez had finished his dance, the 12-year reign of Zizou's volley was finally ended.
The more times you see replays of James' wonder-strike the better it gets.
This fan-shot video provides a brilliant vantage point to show his instinctive movement. You can't teach a player to constantly be in space, but this is a helpful lesson that it's okay to stroll sometimes.
Paul Holden / YouTube
Obviously, goals always get aesthetic bonus points for pinging in off the underside of the bar, but when you come back stage by stage through Rodriguez' hit there is nothing but perfection. The crispness of the contact – proof that there is no such thing as hitting a ball 'too well' – and the sheer power in that strike.
Business Insider Business Insider
His starting position, with his back to goal (or at least to the corner flag) before spinning into the goal of my dreams.
https://vine.co/v/MFOO0lOrMVO
That little look up while the ball was already in flight towards his chest. Looping headers are rarely useful passes to take, but the man who celebrates his 23rd birthday tomorrow instantly knew that he was turning water into fine wine.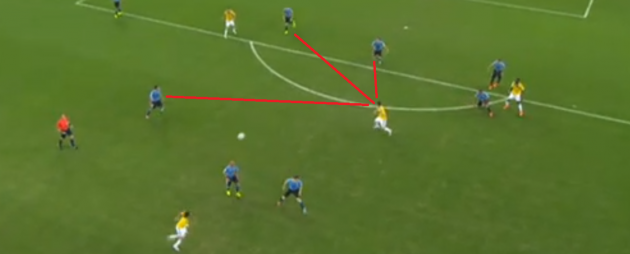 Aware,
Once the ball was in his control, it stayed there. Even when that Brazuca is millimetres from his face, he continues to march forwards – almost seeming to blow the ball downwards onto his foot.
Business Insider Business Insider
In an ideal world we wouldn't have to choose…
stefanos papadopoulos / YouTube
…but with apologies to Zizou, this left-footed volley is now my favourite goal of all time.
What's yours?