TO UNDERSTAND HOW bad Ireland were against Scotland, you first of all have to understand how bad Scotland were.
Ireland displayed a level of incompetence which is hard to fathom. It smacked of poor management, poor leadership and poor decision-making from beginning to end.
The mistakes are too numerous to mention but two in particular stand out. Ronan O'Gara's cross-kick of madness and Rob Kearney mindlessly running into all eight of his own forwards just before the end probably best tells this story of ineptitude.
Despite Scotland owning the lineouts and bossing the scrum, Ireland enjoyed 80% possession because Scotland either knocked it on or kicked it or gave away silly penalties. How did we use this possession? We didn't because we were clueless. Three clean line breaks and on each occasion we hadn't a clue how to finish it off.
The first bout of pressure came from several phases of quick ball. Then we get close to the line and we decide to slow it down, look around and make sure their defense was in position. No score.
'Poor Paddy Jackson'
Then we get a kickable penalty and instead of giving it to our debutant flyhalf we go for the lineout. Poor Paddy Jackson. His first pass involved a dummy runner getting in the way and then they wouldn't even give him the kick. He should have been minded at the initial stages, get the ball into his hands, let him find his range out of hand, put in a few passes etc.
Why did these things and so many others happen? It starts with poor management. Giving Jamie Heaslip the captaincy of Brian O'Driscoll's team while he is still on the pitch could never work. His decision not to take 3 points early on was critical and a lot turned on it. 20 plus minutes later and a Scottish sinbinning we still hadn't scored.
Ireland with ball in hand beyond a phase or two don't have any ideas. Our inability to show patience and composure on the ball needs to be constructively addressed. To have this level of possession against a team as poor as Scotland and produce only one try is not something to be ignored.
In a professional game how can we be so unprepared in terms of what to do with ball when we get it?  Against England it was blatantly obvious that when we got the ball we were making it up as we went along, whereas when England got it they were decisive and clear in their intent.
The number of Irish runners who run with the ball tucked away and not even looking where the support might be is frightening. This is not because these are bad players. It is because they have developed bad habits.
All of the above only comes as a result of poor management, poor selection and poor coaching. In these circumstances what you get from the players should be no surprise.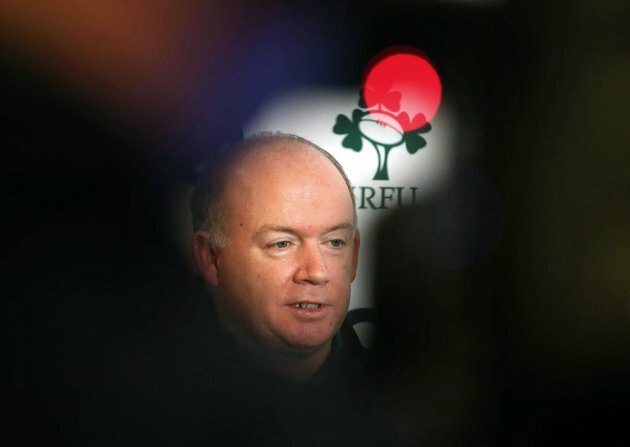 INPHO/Billy Stickland
Declan Kidney's career has a history of poor selections at key moments; no 7 and no 10 in the quarter-finals of the World Cup comes to mind. Failure to get his lineout right for Munster against Northampton in the Heineken Cup final is another. Now the captaincy issue is a cardinal mistake. He has always been lucky as a coach because firstly he had a hugely talented Munster squad followed by an Irish squad with similar credentials.
The amount of running across the pitch and taking the ball on from standing starts is not conducive to creating scoring opportunities. A new face at the helm is required and fast. Otherwise we will destroy the next crop of talent coming through.
There is a new bunch of talented youngsters who need to develop their game and gain experience. I wouldn't be over-critical of young Paddy Jackson. He did run across the pitch, missed a few penalties and his overall game management could have been better. How much of this was down to the management and his more experienced colleagues is the bigger question. I still thought he did some useful things and handled himself well at times. He deserved better support. Equally Luke Marshall showed his inexperience in the second half, having shown us his considerable ability in the first.
Ireland has lots of good young talent. They need leadership and to be given the opportunity. But most of all they need someone who is going to develop their game beyond a couple of phases, someone who is not going to allow them to develop bad habits which compromises their basic talent.
Bravehearts?
We must be braver and prepared to blood them earlier. Players like JJ Hanrahan should be more in the frame. If you protect them too much you take the devil out of them. By the time they come through you've lost a vital part of what made them such good prospects.
Whether it is through the established players or the new kids on the block as with most things, it starts at the top. It is time for change and the powers that be must show the vision and leadership that is clearly lacking in the management. If not, we could become the new Scotland quicker than you may think. I kid you not.
Emmet O'Rafferty is a former second row forward for Leinster and chairman of Top Security which operates a security business in Ireland and South Africa.
What do you think?