JAPAN HAVE BEEN included in the top ten of the IRB's official World Rankings following their 26-23 win over Italy on Saturday in Tokyo.
The Eddie Jones-coached Japanese were racking up their 10th consecutive Test victory as they beat the Italians for the first time in their history. As a result, the Brave Blossoms replace Fiji in 10th position in the IRB's list.
Earlier this month, Japan recorded significant victories over the US and Canada in the Pacific Nations Cup, while they utterly dominated the Asian Five Nations in May, notching four bonus points wins to ensure their spot in Pool B of the 2015 Rugby World Cup alongside Scotland, South Africa, Samoa and the US.
In what has been a superb year for Japanese rugby, their sevens squad ensured status as a core team in the 2015 Sevens World Series, while the U20 side won the Junior World Trophy, thereby qualifying for next year's Junior World Championship in Italy.
Senior team head coach Jones deserves credit for the excellent work he has done since being appointed in 2012, when he stated his desire to see Japan break into world rugby's top ten.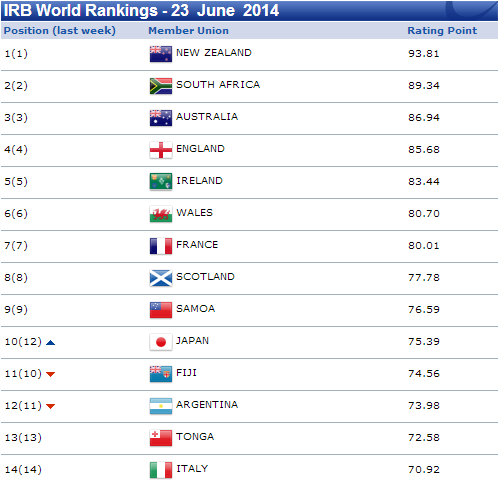 IRB IRB
Jones recently secured retired Saracens captain Steve Borthwick as his forwards coach, while former Australia assistant Scott Wisemantel acts as a skills expert within the national set-up.
With Japan hosting the 2019 Rugby World Cup, their continuing improvement is hugely encouraging for the world of rugby. That event drives everything the Japanese do at the moment, but Jones will be expecting his side to make a dent on next year's version of the competition too.