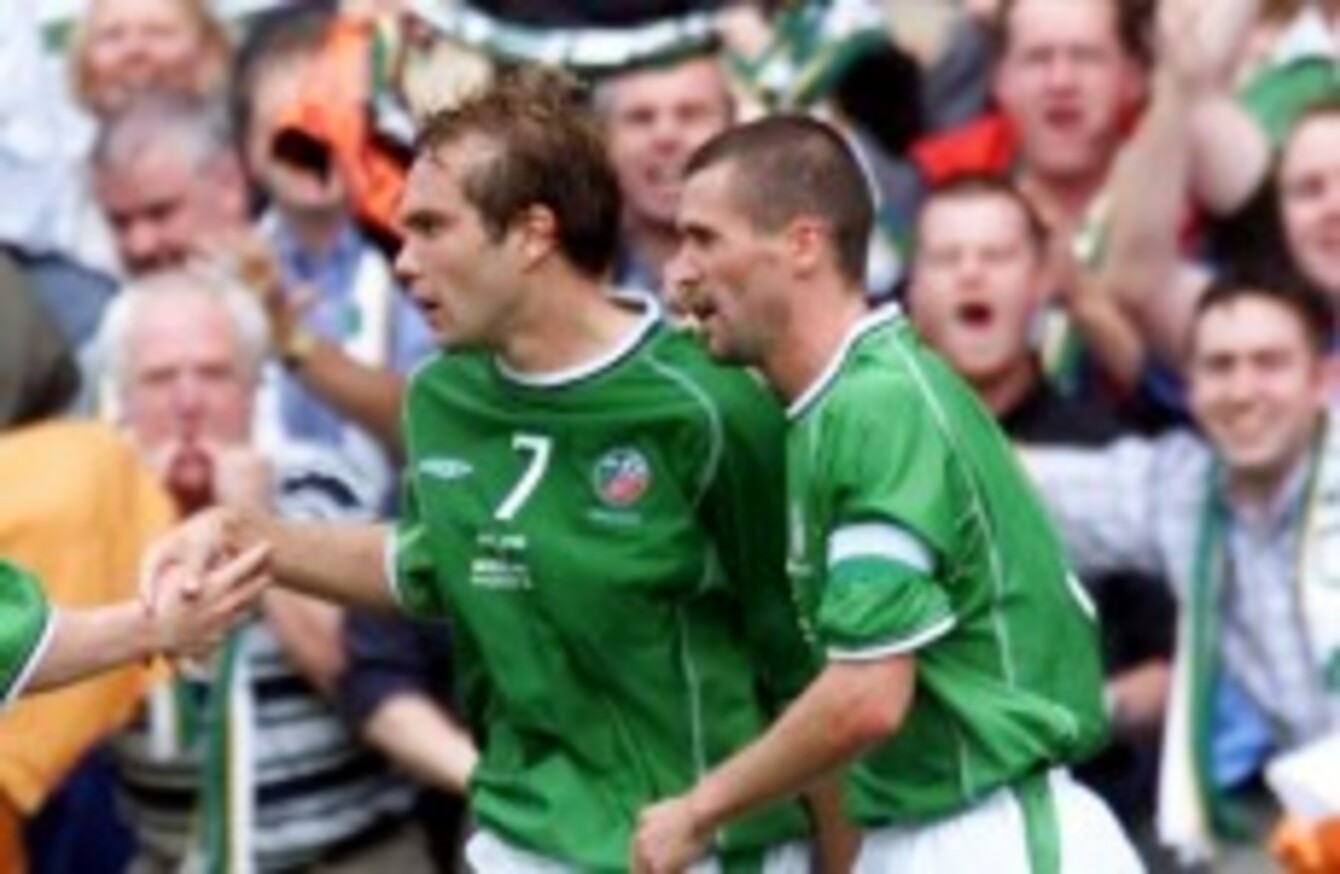 McAteer and Keane celebrate 'that' goal against Holland in 2001.
Image: Chris Bacon/PA Archive/Press Association Images
McAteer and Keane celebrate 'that' goal against Holland in 2001.
Image: Chris Bacon/PA Archive/Press Association Images
FORMER IRELAND INTERNATIONAL Jason McAteer believes that Roy Keane can be a success as Ireland's assistant manager.
The ex-Liverpool and Sunderland midfielder says that, like many, he was initially surprised when he heard the appointment while working as a pundit for Al-Jazeera given Keane's past with the FAI and the fact that he and Martin O'Neill weren't believed to be close friends.
"I was surprised," McAteer said. "I don't think there was any relationship with him and Martin O'Neill. Usually there is a connection between the manager and his assistant. Then with Roy's track history with the FAI I was surprised that he was asked to come back in a coaching capacity.
"At the end of the day, as long as Irish football is in good hands, produces good results and brings the young crop through then there will be no harm done.
"Obviously his managerial record isn't great but he is playing the assistant's role now to a manager who has got very good man-management in Martin O'Neill. I think it has been apparent since the appointment that Roy has made strides to show everyone he is second-in-command and that it's not about him.
"We'll have to wait and see. He is in a different capacity now and I don't think we have ever seen him as an assistant manager. This might be just what he needs. Roy Keane might be a coach or an assistant manager. He might not be a manager."
Over the years, McAteer and Keane have enjoyed a fractious relationship but speaking at a Setanta Sports media event in Dublin today, the 42-year-old explained that it is simply a clash of personalities.
"Roy's temperament and Martin's temperament are different. Don't get me wrong, my relationship with Roy is still getting whipped up now but at the end of the day it's a laugh.
"It's nothing personal. We don't jab each other out for personal reasons, we have a laugh. We don't get on. Not everyone gets on and there are other footballers that I don't get on with but it's just highlighted in the press that we don't get on.
"I'm not going to sit here and stick the knife into Roy. As far as I'm concerned, Roy as a footballer was absolutely fantastic. I think he will be fantastic as an assistant manager and believe it or not, Roy does have a decent personality. We laugh and joke and I might a few things but at the end of the day he does have a very good personality.
It is just a personality that clashes with mine. That's all it it. Like I always say, if he walked into a room now I'd like to think I could shake his hand and wish him good luck. I don't think he'll need it as they have got a really good bunch of players coming through.
"With Roy's experience with the national team and playing football at the highest level mixed with Martin O'Neill's experience and man-management, I think it's a team that can do very well."
After the opening two games of their reign resulted in a win and a draw, the new management team have three months to scout players and plan for the future before Ireland play again in March.
And McAteer, who won 53 senior caps for Ireland after bursting on the scene as part of the 'Three Amigos' alongside Phil Babb and Gary Kelly in 1994, feels that Keane can be a positive influence on the young players currently coming through.
"I think what Roy has got in his favour as well is that the generation of players that he has taken over – the likes of Seamus Coleman, Robbie Brady – will look up to Roy and he will be an icon and a real hero to them. And so he should be as he was a world class footballer.
"International football is completely different to club football as you only get the players once a month if you're lucky. There is a lot of work to be done in that week."
Jason McAteer was speaking in Dublin where Setanta Sports announced their Christmas and New Year's fixtures. To subscribe to Setanta Sports visit setanta.com