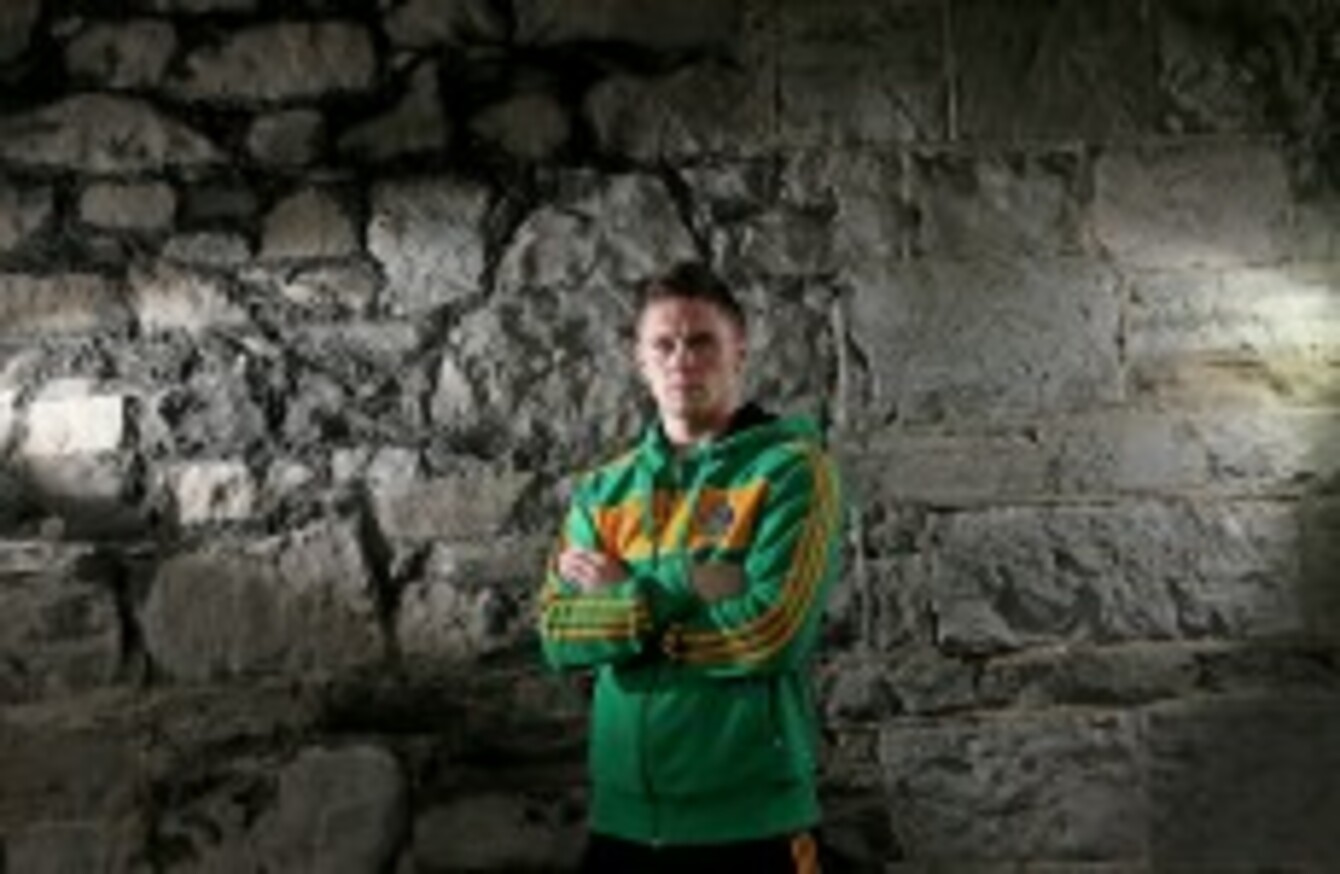 Quigley is expected to make his pro debut in America in July after signing with Oscar de la Hoya's Golden Boy.
Image: James Crombie/INPHO
Quigley is expected to make his pro debut in America in July after signing with Oscar de la Hoya's Golden Boy.
Image: James Crombie/INPHO
JASON QUIGLEY'S DECISION to turn professional with the world-renowned Golden Boy Promotions was a "no-brainer."
Oscar de la Hoya's superstar stable confirmed last week that they have snapped up Irish boxing's rising star on his first pro deal.
Quigley, 22, will launch his career under the same banner as household names like Amir Khan, Juan Manuel Marquez, Saul 'Canelo' Alvarez and Adrien Broner.
The Donegal native returns to training in Stranorlar today ahead of his debut which will be in the US, most likely in July.
An opponent and the venue have still to be confirmed although the dream scenario would be a place on the undercard of Canelo's fight against Erislandy Lara in the 17,000-seater MGM Grand, Las Vegas on 12 July.
Quigley has had no shortage of suitors since he exploded onto the scene with a historic 2013 which saw him win the European amateur title and then become the first Irishman to win silver at the World Championships.
Once Golden Boy made him an offer, he was sold.
"It was a no-brainer for me to be honest," he told TheScore.ie.
"When you have the likes of Oscar de la Hoya behind you, the man is a legend and a hero in the sport of boxing. What he's done inside and outside the ring is absolutely amazing.
Other promotional groups don't have a boxer that has made it behind them. Golden Boy have Oscar de la Hoya. He knows the way a boxer should be treated, he knows what a boxer wants, he knows the pressure that should be on a boxer before a fight and what pressure not to put on a boxer before a fight.
"It's invaluable experience he has really.
"The first time I met him was when I came out to LA there a month or two ago. Everything was positive. He's a gentleman, a really really nice, humble, down to earth fella."
The plan now is for Quigley to build up his profile and record in America, starting off in four-round bouts and gradually making his way up through the world's middleweight ranks.
He will be based in the US for his pre-fight training and he got a taste of the west coast lifestyle in the spring when he travelled out with his father and coach Conor for a camp in Los Angeles.
In the famous Rock boxing gym he brushed shoulders with no fewer than four world champions.
More importantly the time spent in LA allowed them to finalise their negotiations with Golden Boy.
"I think the first time they approached us was in December.
"There were so many rumours going about, so many people saying that they were signing me up and then Golden Boy weren't sure if they wanted to sign me because they heard that I was with somebody else, and I was with nobody.
Me and my dad were sitting at home and my dad just said, let's get the money together, get our arses up out of the seat and get out there and make this happen for ourselves.
After narrowly missing out on gold at the World Championships it became obvious that Quigley's dream was to become a professional world champion, even if though it meant giving up his shot at an Olympic gold medal at Rio 2016.
The writing was on the wall when he skipped the Irish National Championships in February and relinquished his middleweight title.
It took a couple more months before he finally signed on the dotted line with Golden Boy, but he insists there was never any rush.
"Once January came I was itching to get back into the ring and the National Championships were coming up but it wasn't what excited me. The professional scene excited me.
"We had a few offers at that stage and it was very likely that I was going professional, but we just had to sit down and take our time.
"I'm lucky. I'm 22 years of age and I could sit down and take my time and think about contracts. If you're 26, 27, you'd be thinking let's get on the ball here and get things happening as quickly as possible.
I was flat out for over a year and a half. I had 33 fights, 33 wins inside a year and half. That's massive, it's a serious amount of fights. That break that I had off did me absolutely no harm. If anything, it was a major plus for me.
Since the Golden Boy news was confirmed, Quigley says he's had nothing but good wishes from friends and fans.
He even got a little taste of the pro lifestyle when he was spotted during a bank holiday break with his girlfriend in Achill Island over the weekend.
He was, of course, happy to stop in and meet Achill Boxing Club's stars of the future.
And while his immediate future lies stateside, Quigley says the ultimate goal is to fight for a world title back in Ireland.
"America is where it happens. That's where the crowds are. LA, Las Vegas, Southern California – it's the capital of professional boxing no matter what anybody says.
"My first few fights mightn't draw a big crowd but if I do make it, it would be a dream to come back and fight for or defend a world title in my home country."