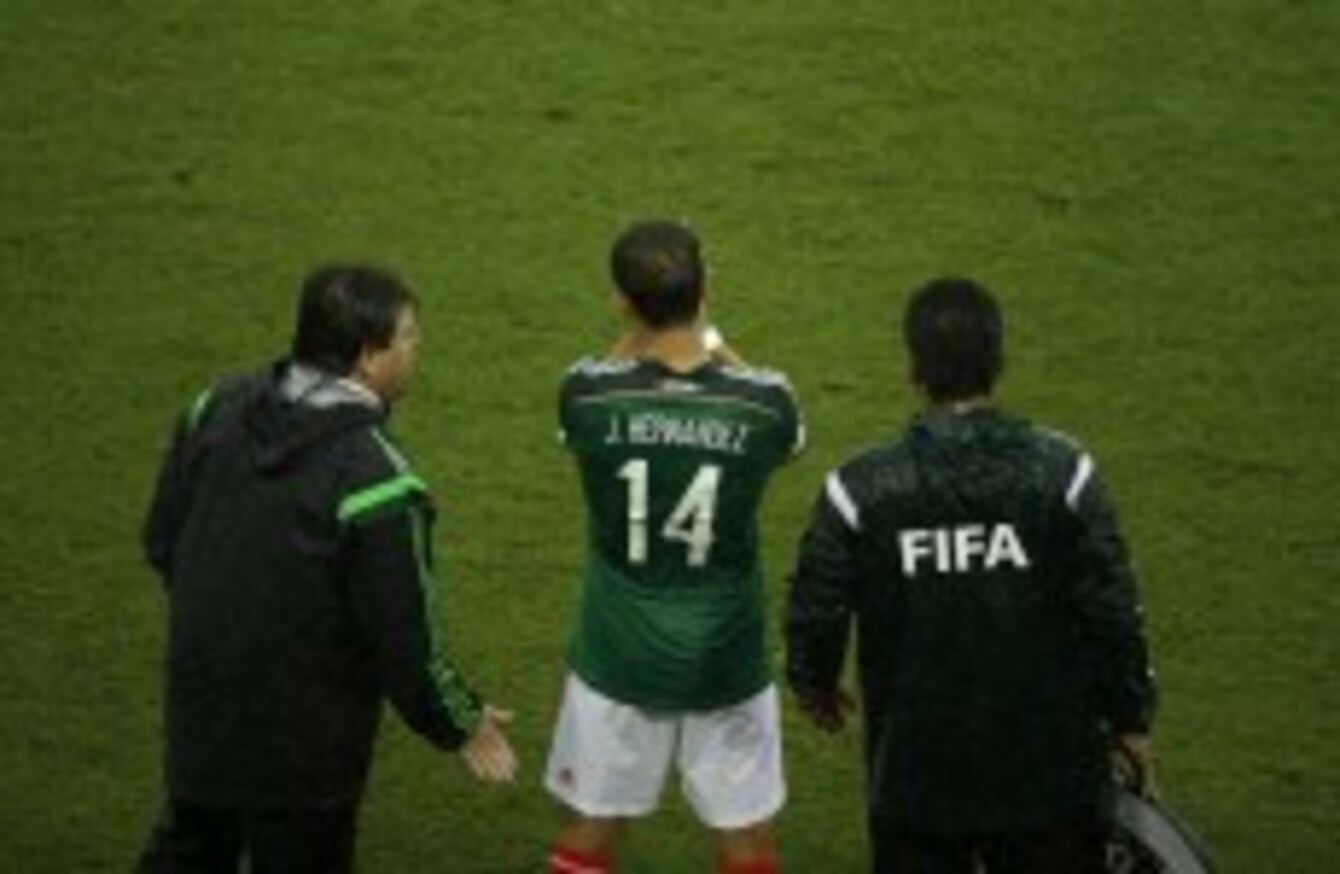 Image: AP/Press Association Images
Image: AP/Press Association Images
Mikey Stafford reports for TheScore.ie from Fortaleza
MANCHESTER UNITED STRIKER Javier Hernandez has a great opportunity to leave the Premier League giants this summer and reignite his international career, according to the Mexico coach who has dropped him from his starting team.
Hernandez, also known as "Chicharito" or "Little Pea", will start on the bench again tonight when Mexico take on hosts and tournament favourites Brazil at Estadio Castelao in Fortaleza.
"El Tri" coach Miguel Herrara prefers Giovani Dos Santos and Oribe Peralta, Mexico's goal-scorer in the 1-0 win over Cameroon, to Hernandez, who started only six Premier League games this season for United.
Speaking yesterday ahead of the Group A clash with Brazil, Herrera said he was choosing players on their club form and Hernandez, who has been linked with a move to Aston Villa, needs to play for regularly to force his way into his plans.
Sometimes people get heated up and carried away because they want to see Javier on the pitch. But people have to understand that we want to have 11 players going through a good time with their clubs.
"He had a difficult year because the coach who brought him to the club left. He now has a huge possibility to be at another club where he can be a protagonist," said Herrera, who is Mexico's third coach in the last 12 months.
"The 11 that are on the team are the 11 I decided wanted on the pitch," added Herrera, who praised Hernandez's contribution from the bench in Mexico's opening round win.
He made wonderful play when he came on. He started the move for the goal and I know we do have that possibility when we have a need for tactical movement.
The 26 year old, who has scored 35 goals in 63 appearances for his country, hinted last week that he would leave Old Trafford in search of first-team football.
"I've never seen myself as a sub and I don't like being one, and believe me, I am tired of a lot of people seeing me that way, as a 'super-sub'," said the man who has scored 59 goals in 152 appearances for United since joining from Chivas Guadalajara in 2010.