IT IS ONE of the GAA's most historic rivalries but Dublin manager Jim Gavin is concentrating on the here and now as he prepares for Sunday's All-Ireland semi-final against Kerry.
Gavin was only a little fella, too young to be tossed up over the Croke Park turnstiles, when Heffo's army got one over on Mick O'Dwyer in the famous 1977 semi.
The following September he was sitting up in the Cusack Stand to see Mikey Sheehy stick the ball over Paddy Cullen's head.
YouTube Credit: Conyoudiggit25
It was the sweetest revenge for Kerry, denying the Dubs their third All-Ireland title in a row and sparking an unprecedented run of dominance that would see the Kingdom win every Championship meeting between the sides — until the 2011 final.
"There's a great tradition there that goes back even before the 70s as well," Gavin reflects. "And the one common thing I suppose is that Kerry have had the upper hand in most of those games.
They've certainly controlled the power base and that has even reflected itself in recent years as well, through the 2000s.
As a player Gavin never came up against Kerry in the Championship — he missed the famous Trip to Tipp in 2001 through injury — but as a manager, he traces his philosophy back to the era of that great rivalry.
"It comes from those teams of the 70s," he explains. "When I was playing under Dr Pat O'Neill, he would have espoused the same thing.
"Fran Ryder, Jim Brogan and Bobby Doyle – they would have promoted that type of game as well. Even Mickey Whelan in 96 – it was a privilege to play under him as well. It's just what I was brought up on.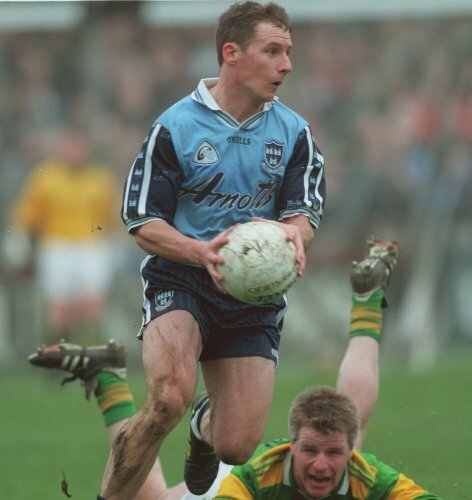 Gavin in action against Kerry during the 1998 league campaign (© INPHO/James Meehan)
"I would have brought that philosophy to the U21 sides as well. Half the time it worked there and half the time it didn't.
There are no guarantees in this sport and it's just something we believe in. We believe that's the way the game should be played.

I genuinely believe we have one of the best field sports in the world and we play within the rules that we've been given. Whether that gets us success is another thing. But we hold true to those values.
While the history and traditions of the rivalry are strong, Gavin explains, they won't weigh too heavily on his stars this week.
"What we say to the players when they're playing for the county is that it's a privilege. It's a privilege when they get a club jersey to represent their parish or community and it's a privilege for them to wear the county jersey.
"It starts at home first of all and it starts with respect — and certainly they have a lot of respect for Kerry.
"We do most of our focus on our football team and what we do and how we approach the game. Naturally enough we look at the opposition but most of our focus through the national league and Championship has been on how we play our football and how we can put our footprint on the game."