THEY PROBABLY WON'T be sharing a pint anytime soon, Tomás Mulcahy admits, but the respect that exists between Jimmy Barry-Murphy and Ger Cunningham will always be strong enough to sustain a long-standing relationship.
There's simply too much history there for that not to be the case. Former county and Munster club medallists together with Cork city-based outfit St Finbarr's, JBM and Cunningham played on the Barr's team beaten in the 1981 All-Ireland final.
With Cork, they won the lot, capturing All-Ireland senior medals on the same teams in 1984 and 1986, along with a 1981 National Hurling League crown. They were crowned Allstars together in 1986 and two years ago, JBM was manager and Cunningham coach when Cork contested the All-Ireland final against Clare.
Tomorrow night they're in opposition in Croke Park, Cunningham's unbeaten Dublin team up against JBM's Cork side who excelled in seeing off Clare last time out.
James Crombie / INPHO Jimmy Barry-Murphy (Bainisteoir) and Ger Cunningham (Maor Foirne) on touchline duty with Cork in 2013 James Crombie / INPHO / INPHO
But Mulcahy, a former Cork teammate of the pair, always believed that Cunningham would emerge from JBM's managerial shadow to carve a niche in his own right.
Mulcahy told The42: "Ger would probably have said to himself: 'I want to train the Cork team'. He would have went in with JBM as number two and they did very well together and got to an All-Ireland final but Ger wanted to do his own thing from then on."
Cunningham was heavily linked with the Limerick job after stepping down from his Cork role in 2013, before Dublin's door swung open following Anthony Daly's departure last year.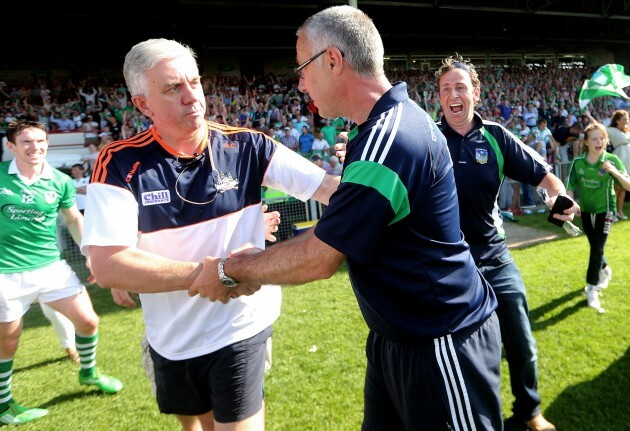 James Crombie / INPHO Ger Cunningham was in the frame to succeed John Allen (right) as Limerick hurling manager James Crombie / INPHO / INPHO
Mulcahy recalled: "When Ger put his name forward for the Limerick job, Jimmy would have said that if he (Cunningham) wants to go for Limerick, he won't be back in Cork."
It's fair to say that Cunningham had cut his teeth, having also served as selector and goalkeeping coach to the Cork teams managed by Donal O'Grady and John Allen from 2003-2006.
And Mulcahy said: "Ger said, look, I've done my time. He was also involved with the Cork U21s and if the opportunity ever came up, he wanted to be the main man. I'd be the same myself.
"You want to do it and do it your way, taking responsibility and ownership of a team, appointing who you want and doing what you want to do. If you're on a selection committee and you're number two, you don't get those opportunities.
Training
"Jimmy would be the first man to acknowledge Ger's contribution to training and the players would have as well. His training sessions were incredible by all accounts, with the amount of detail, time and effort that went into them."
During the latter days of Cunningham's involvement with Cork, the rumour mill was constantly awash with chatter that his personal relationship with JBM was strained. Mulcahy doesn't deny that that was the case.
"Off the field of play, they're not going to be meeting on a Thursday night in Mok's but if they do bump into each other, there is conversation there. They still have a good relationship hurling-wise.
"They played with Cork for years and years number one, won county titles with the Barr's, Ger at one end of the field and Jimmy the other. That can't be rubbed away.
"They probably had difference in the end but that's sport. They moved on. I'm sure Jimmy and Ger will be the first to shake each other's hands but they'll be looking to get one over on each other. Ger is now the manager of Dublin and his focus is on Dublin and Dublin only.
Cathal Noonan / INPHO Ger Cunningham's intercounty focus is now on Dublin Cathal Noonan / INPHO / INPHO
"But Jimmy brought Ger into the frame from day one with Cork and if there was a divide there, Jimmy wouldn't have gone to Cunningham. Sometimes people make a lot of more of it than what it is."
Cunningham's Dublin host Cork at Croke Park tomorrow evening in a tie that will evoke memories of the classic 2013 All-Ireland semi-final between the two counties. And Mulcahy believes that Cunningham has what it takes to be a long-term success in the capital.
"Ger would look at a lot of sports like rugby and other international sports to learn and see what he can bring from them to the table. He would lend his ear to a lot of international coaches and he'd be very friendly with the likes of Michael Bradley (Georgia's assistant head coach).
"That's where Ger will be different in Dublin, with an emphasis on tactics. I just hope for his own sake that it won't be too much. Sometimes people go over the top and complicate the game of hurling but his attention to detail is second to none."
- This article was originally published on 6 March at 6.00pm