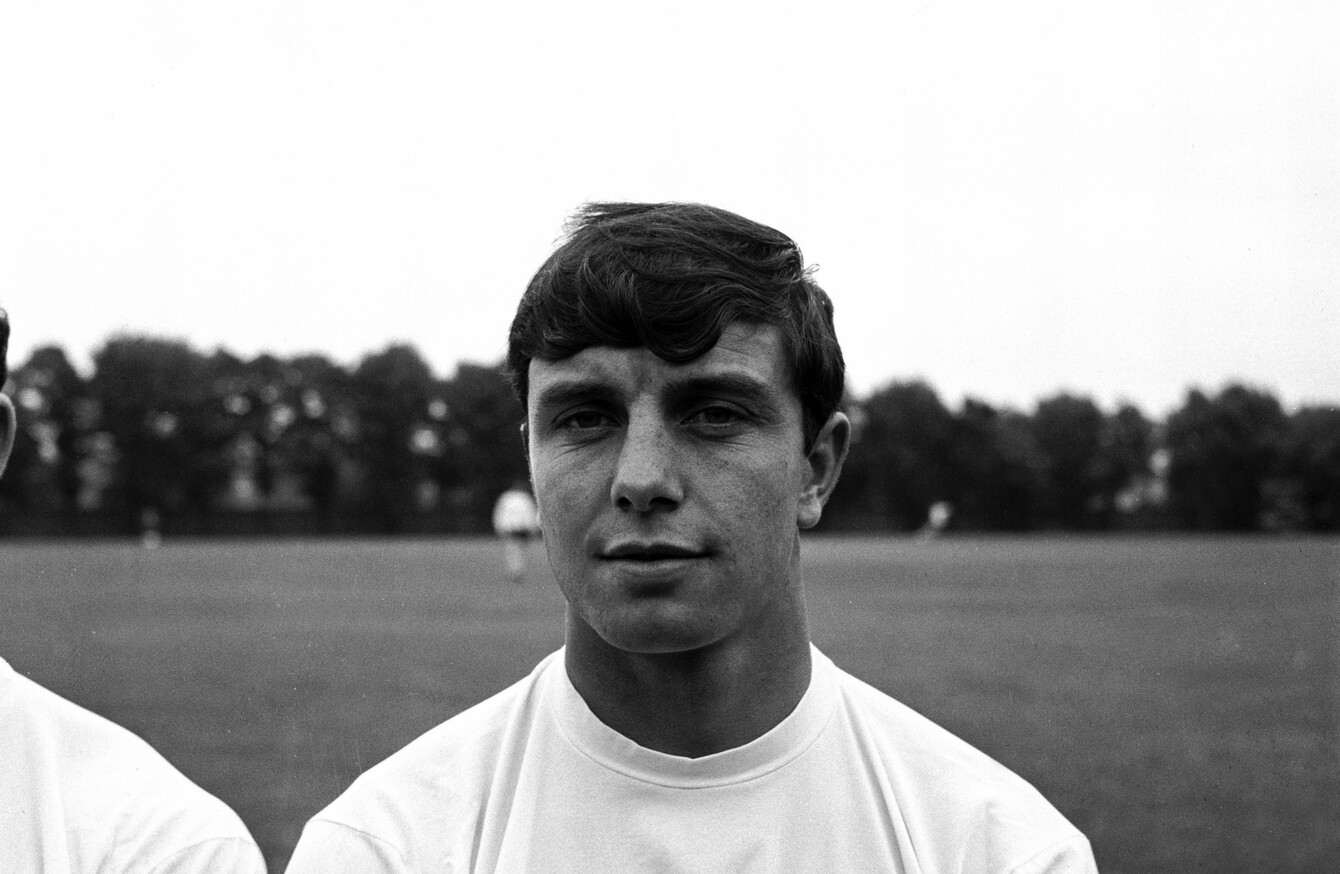 Image: Barratts
Image: Barratts
IT STARTED WITH his dark hair and those big, beautiful blue eyes. Dublin's Crystal Ballroom. A lifetime ago.
"I had no idea he was a swashbuckling footballer but my best friend was dating one of the Bohemians' players. She'd told him that I was over from England on a holiday and from all the single guys on the team who wanted to meet me, I guess Jimmy won."
Noeleen laughs. She does it a lot in the early part of our conversation. The tears come later.
"He walked me to the bus-stop," she continues.
"We said our 'good nights' and Jimmy went off in the direction of Cabra West. My friend came over and said, 'Well? Are ye going out?' And I said, 'Yeah, he asked me out. We're going to meet on Wednesday'. And she asked, 'Where are you going to meet him?' And I said, 'Oh, I don't know – we never said.' And she went running after him to find out. That was how we met…
At a dance."
One of twelve children (five of the brothers would all play for Bohs), Jimmy Conway cut his teeth at Stella Maris but despite a number of trials with English clubs, there was no dream move. Instead, he signed for his local League of Ireland side and blossomed. An old inside forward, he was steely, focused and intent on using his time at Dalymount as a springboard.
Under boss Sean Thomas, Bohs – the only amateur side in the league – played good football and won many admirers. With a number of hungry young players in the side, they racked up successive third-place finishes in 1965 and 1966. They started to win some silverware. And then, inevitably, the team disbanded and Conway got his wish.
Along with striker Turlough O'Connor, he signed for Fulham and made his debut in October 1966, scoring a superb goal in a 5-0 League Cup thumping of Wolves. Just a few days later he was starting at Anfield.
Further into the season, he scored against Aston Villa and Southampton and proved crucial to the Cottagers as they stayed in the top-flight. Around him in the dressing-room was a glittering array of talent: World Cup winner George Cohen, future England coach Bobby Robson, Allan 'Sniffer' Clarke and iconic attacker Johnny Haynes. In charge was Vic Buckingham, who had previously been manager of Ajax and who would take on the Barcelona job just three years later.
It had all worked out perfectly.
Noeleen was born in Dublin but moved to England with her family when she was 10. That night at the Crystal came when she was back on a visit. It was a long-distance relationship to begin with but everything found a steady rhythm once Jimmy moved across, quickly settling into the role of perfect son in-law.
"My Dad thought all his birthdays had come together," Noeleen says.
"He had supported Fulham all his life and to have his youngest dating one of their newest players was a big deal for him. He'd go to Craven Cottage – as would all the wives and girlfriends too – and Dad just loved that."
It was also the height of Swinging London: Carnaby Street, Mary Quant, Terry and Julie. The city was the epicentre of the world. But Jimmy shunned the intoxicating social events and cult of celebrity. Instead, he just concentrated on what he was. He'd never aspired to be anything else.
"Jimmy is probably one of the very few Irishmen who didn't drink," Noeleen says.
"We used to joke that he got thrown out of Ireland because he was bad for the economy. He loved people and loved a good laugh but he wasn't a clubber. We'd go for dinner and be with friends. But he was never the man about town. There were certain things. Like, when Fulham reached the FA Cup final (in 1975), there were invitations and opportunities. People were throwing magnums of champagne at both of us. I was so naive – I used to give them away to neighbours and friends. People in the rag trade would invite me to things and just tell me to take what I wanted. I remember thinking, 'Is this what really happens?' That was the experience we had of 'big time'".
In 1968, Fulham were relegated to the Second Division. The following year, they inexplicably dropped to the third tier. They bounced back soon enough but Jimmy would never feature for them in the top-flight again. Still, the club retained a sense of prestige and were able to entice more World Cup winners to Craven Cottage. Former player Alan Mullery returned in 1972 and Bobby Moore followed two years later.
The side's talent should've been rewarded with Wembley success but with Mullery as skipper, Moore at centre-back and Jimmy in midfield, they lost the mid-decade FA Cup decider to London rivals West Ham. As Noeleen is quick to offer up, her husband wielded quite an influence and impact on the side. The kid from Cabra had developed into a strong, forceful player – a consistent Republic of Ireland international – and someone who never suffered from an inferiority complex.
"Bobby Moore was a great guy. George Cohen too. But those guys kind-of ran in different circles," she says.
When you played on the 1966 World Cup team, doors just opened up for you. Jimmy was never a hanger-on. He was never interested in just putting his face out there. That wasn't his personality. He wasn't intimidated by them but had so much respect for what they had done in the game. On the field, he was an equal and played like that."
"He always had this energy. At Fulham he went on to play in a few different positions and I remember during Jimmy's debut when George (Cohen) grabbed a hold of him and just got him to calm down."
Noeleen attended nearly every home game Jimmy played in. But she always carried some concern. It was physical, it was ruthless, even then. And it was relentless. Games came thick and fast. There were no 18-man game-day squads. Substitutions weren't even allowed in English football until 1965. It was 1988 before teams were permitted to make more than one change in a game.
The onus was on injured players to grimace, even groan, but keep going. This was post-war Britain. Coaches like Alf Ramsey, Bill Nicholson, Bill Shankly, Burnley's Harry Potts had all served. They'd seen what 'real' bravery was. There was no middle-ground. Men were soldiers. 'Iron Man' Dave Mackay broke his leg – then a career-ending injury – against Manchester United but was back after nine months. On his return, he broke the same bone again. But, he kept playing for another six years afterwards.
George Curtis – an uncompromising centre-half with Coventry and later Aston Villa in the 1960s and 70s – used to tell a story of how he'd win so many headers against forwards that were taller than him.
Early in the game, when the first ball comes up the middle, I don't head the ball. I head the back of the centre-forward's head against the ball – and he doesn't usually come back for more."
Goalkeeper Bert Trautmann had only retired in 1964. A member of the Luftwaffe, he fought on the front but was captured and held in a POW camp in Lancashire. Famously, he joined Manchester City shortly after his release and broke his neck in the 1956 FA Cup final against Birmingham. Despite the pain, he continued playing and made some crucial saves as City held on to claim victory. It was only three days later that he found out the severity of the injury.
Still, he instantly became a celebrated figure. His heroism was undeniable. So, there was an expected level of dedication to the cause. Duty of care wasn't exactly high on the list of priorities.
"They all did the grin-and-bear-it thing," Noeleen says.
"It goes back to this being their job. And there was someone else waiting in the wings to take your place. The managers wanted you to go through all that stuff. There was a game Jimmy played against Liverpool, I think, which was televised. Jimmy went down and stayed down for a while. He got up and was disoriented. And that was definitely a concussion because he didn't even remember having played the game. They eventually took him off because he was so bad. But, just a few days later, he was back and playing in the next game. And in terms of injuries, unless you stayed down for a while and the trainer came on, no one really worried and you just shook it off."
"People see the sparkle, the event, but when you're married to someone and it's their job, it takes on a whole different meaning. You worry. 'Is he going to get hurt again?' 'Will he be okay coming back from injury?' Injuries can be devastating for athletes. It's not all fun and games. It really was his job and he treated it as such."
I remember one time Jimmy went to the Harley Street Clinic. You're thinking, 'Right, here we are in one of the most famous medical centres in England and probably the world' and they opened up the wrong leg to operate on. The surgeon opened up the wrong knee. The place was like a hole in the wall. So he had to recover from that and then go back to have the right knee done."
Jimmy stayed in London for one more season after the Cup final defeat. He was offered a testimonial but turned it down, feeling Fulham supporters had forked out enough of their hard-earned money to keep him in a job.
In 1976, he found interest from Division 1 side Manchester City too hard to resist. They were the reigning League Cup winners and fancied their chances of a title tilt. They forked out £40,000 for Jimmy's services and he slotted straight into their starting XI. With the likes of Asa Hartford, Peter Barnes and Dennis Tueart alongside him, Jimmy got a taste of European football too, featuring against eventual champions Juventus in the Uefa Cup.
On the move:
Jimmy Conway and family leave Fulham for Manchester City pic.twitter.com/zXlca0GdAu

— The League Magazine (@Theleaguemag) September 24, 2017
That season, City finished as runners-up in the league, just a point behind champions Liverpool. But Jimmy had found it increasingly difficult to keep his place in the side. He was in his early 30s and still desperate to play. City wanted to keep him and, identifying his interest for the finer details of the game, offered him a package that would see him take on a coaching role with the youth team. As he mulled things over, City were contacted by another club who were interested in signing him: the Portland Timbers.
The North American Soccer League was at an all-time high. In 1977, the league boasted average attendances of over 13,500. Some of the world's most decorated and celebrated players now plied their trade in various pockets of the United States. George Best was in Los Angeles. Pele and Franz Beckenbauer were in Manhattan. Gordon Banks was in Fort Lauderdale.
A move to America also meant Jimmy could keep playing regularly and not have to watch the bulk of a season from the stands. So, he pitched the idea to his wife.
"He came home and told me the two offers," Noeleen says.
"And Jimmy loved playing so much. It wasn't a hard choice for him. He wanted to continue as a player, at whatever level. He said to me, 'How do you feel about going to Oregon?' And I said, 'Where's that?' So we got the map out and I saw it was just above California and I thought, 'Oh, the weather will be gorgeous over there – we should go.'"
"He went from always playing on grass to playing at a stadium that had a concrete base with a teeny bit of fabric on top of it – that's the best way of describing it. It was terrible on the body. And the ball would bounce into orbit if you didn't control it. The stadium was very, very old. But, he never talked much about it. It was always about the game. He was always taking players under his wing and trying to help them along. And it was an easy transition for him to go into coaching, especially considering there weren't that many qualified coaches in the country at the time."
Portland has always boasted of a passionate, hardcore football fan-base and Jimmy quickly became a beloved figure. In his first season, the Timbers reached the championship semi-finals but suffered defeat to eventual winners New York. In 1980, he began to assist with coaching the team and when the Timbers folded two years later (the entire league would follow in 1984), Jimmy didn't return to the UK or Ireland.
Instead, he stayed put and immersed himself in the country's collegiate system, taking on hugely influential head coaching roles with Pacific University and Oregon State and also the Oregon Youth Soccer Association. When the Timbers reformed and became a professional side again in 2001, Jimmy was immediately drafted in as part of the coaching staff.
Portland, very quickly, became the Conways' new home. Their third child, Mark, was born in the city. Their eldest, Paul, became a professional footballer and later played for the Timbers.
"This is home," Noeleen says.
"The vastness was the first thing that hit us. We always compared Oregon to Ireland but the comparison would only stretch as far as how green it was in both places. The difference was the size. We're an hour from the mountains, an hour-and-a-half from the ocean, we've got the desert, we've got everything here. The natural beauty is really something to inspire you. The beauty of the place was stunning. I'm still in awe of it.The people were incredibly friendly here. That was the biggest thing for us. The people were so welcoming."
"Our friends are here. Our children are here. I couldn't imagine living anywhere else. I feel so blessed – considering there were so many NASL teams at the time – that we ended up here. And Jimmy was able to spend such a long time here compared to other players who bounced around various teams."
"I was speaking to Gavin Wilkinson (current General Manager of the Timbers) recently and he referred to Jimmy as a 'state treasure' and it's true. He coached seven days a week. The game always came first. He'd go anywhere, drive anywhere to do coaching clinics. And he felt he was giving back to the sport that had given him so much."
From this point on, Noeleen finds it hard to remember the specific chronological order of things. There is so much. Too much.
The majority she wishes she could erase from her mind completely.
It started with football, about a decade ago.
"Jimmy would always do a lot of coaching clinics – field sessions and classroom sessions. The first time I noticed something was really, really wrong was when I passed by one of his classes. He kept clearing his throat as he was speaking to the students. I thought, 'Oh, he's getting a cold' or something. I didn't think much of it. A few weeks later, he was doing another clinic and the same thing was happening. It was that he couldn't remember the words. So he'd cough to give himself a minute to try and remember."
"I used to work with Jimmy and we'd have various staff meetings or board meetings. There'd be discussions going on around the table and it would get to Jimmy and he'd go off on a tangent, like he hadn't followed the conversation at all. What he decided to talk about had no relevance to the subject we were discussing. At that point we went in and he had an MRI. It said there was no signs of Alzheimer's or any brain dysfunction of any sort."
Jimmy was in his late-50s. Still playing football with his old-timers team, still playing golf, still working relentlessly. He was an immensely fit man, never losing that ex-pro obsession with conditioning.
But, none of that mattered.
"Coaches started to notice," Noeleen says.
"They'd talk amongst themselves and nobody had said anything to me. I was thinking, 'Maybe it's just a phase'. I hadn't been around any dementia or neurological disorders before. Jimmy was so fit, physically. He prided himself on that. But one of his coaches stopped by my desk one day and he was feeling awkward about bringing it up. He said, 'Do you think Jimmy might be having some memory issues?' But we'd just had the MRI and had the report back and they were telling me nothing was wrong with him. And that's what I told the coach. But then it went from bad to worse in terms of his ability to recall things, people's names and he'd just space out so much. It was getting worse and so we went and saw another neurologist. And they did a four or five hour testing with him. I wasn't allowed to be there. We got the report back and it was terrible, just awful. He failed in nearly every level of recall."
On the way home, I said – and I was trying to be gentle – 'I think you have a bit of a memory issue'. I remember him saying to me, 'We'll get through this together – we'll be fine'. He didn't really talk about it. Or say much about it. And as the months progressed…and then it becomes years after that…"
The pauses become more frequent and her voice trembles.
"The movie Concussion, have you seen it?" she asks.
"That was basically Jimmy. He became very, very violent…and…"
Noeleen breaks down.
"Sorry. It's hard for me to talk about this."
"It's just that it's so frustrating to think that people are pooh-poohing the idea that football can cause this kind of damage."
Noeleen and her family believe that Jimmy's early-onset, trauma-induced dementia has its roots in the repeated blows he suffered as a footballer and the frequency with which he headed heavy footballs.
Research has been minimal, ensuring many still attempt to brush off the validity of the concerns. But the work that has been done is damning.
Firstly, there are the personal testimonies. Four of England's starting XI in that 1966 World Cup final now have either dementia or Alzheimer's: Martin Peters, Nobby Stiles, Ray Wilson and Jack Charlton.
According to Stiles' son John, there are more players from that squad suffering in silence. His father was just 60 when he first began developing symptoms.
Over the last number of years, countless high-profile names have been struck down and the age-profile of sufferers is lowering.
Billy McNeill, who captained Celtic to their iconic and historic European Cup win in 1967, was diagnosed with dementia in 2010. He's 77 now and is unable to talk anymore.
Stan Bowles, once the dazzling, long-haired Man City maverick, has been battling Alzheimer's for the last two years. He's 68.
Former Birmingham City player Jimmy Calderwood , best-known for managing Aberdeen and Dunfermline, revealed earlier this year that he had also been battling early-onset Alzheimer's since 2015. Calderwood is just 62 years old.
Jeff Astle, the ex-West Brom striker, was just 59 when he died in 2002. He had been diagnosed with early-onset Alzheimer's and an inquest into his death later found that repeated trauma from heading a ball had led to his cognitive brain disorder. The coroner declared his death was the result of 'industrial disease'.
Since then, his daughter, Dawn, has worked tirelessly for more research to be carried out. She told the BBC last year that since starting the Justice for Jeff campaign in 2014, she'd been contacted by families of over 250 footballers who were suffering from degenerative brain disease.
In 2014, Astle's brain was studied and was found to have chronic traumatic encephalopathy (CTE), a degenerative brain disease associated with repeated blows to the head. Symptoms include memory-loss, mood disorders and dementia.
"The sub-concusive stuff is the big thing," Noeleen says.
"With a concussion, you can see someone getting knocked out or they're disorientated or whatever. But the sub-concussive stuff doesn't manifest itself very clearly. But you can have multiple sub-concussive injuries that are cumulative and that's what breaks down the brain and causes this plaque – which is called tau – to build up in the brain, especially in the front part. And the tangles are what short-circuits the brain, for want of a better description. And it obviously gets worse because the plaque just keeps growing and growing."
Earlier this year, detailed post-mortem research was undertaken on six former footballers who had suffered from dementia. The results were astounding.
All of them showed tearing to a membrane that was consistent with repeated head trauma. Compared to previous studies, just 6% of the general population have had the same membrane damage.
Four of the six men examined also had CTE.
And Jimmy's doctors have also long suspected that it's what he has too.
"They remain convinced that he has CTE, especially if you look at how early the onset was and his behaviours," Noeleen says.
"People would come up to me all the time – particularly when Jimmy was in the early stages – and say, 'I'm so sorry…' and I remember distinctly thinking, 'It's not that bad – he forgets things but we'll get through this'. Never in a million years did I think it would have taken the turn it did. People with Alzheimer's will get irritable – especially in the early stages when they're aware – but his was more than that. He would rave and throw things. It was definitely different with him."
It started off with him not knowing how to put a new blade on his razor – something he'd done for so long. But he was still able to go and play a round of golf. Or he'd go down to the Timbers. Mick (Hoban, an ex-team-mate and longtime friend) always took him to the games. Mick wasn't a golfer but we had other friends that would come and take him for a round or two. But one time, one of the boys who used to take him came back here and was in a terrible state because Jimmy had just started punching him in the face for no reason. So, those outings stopped then as well."
"He used to play Hearts – which is a memory game. He used to play chess with the kids. We used to do camps, sometimes with 20 kids taking part, and by the end of the day he'd remember each of their names. I'd struggle to remember them all by the end of the week. So he had this great memory for stuff like that."
"And then it all went away."
For a while, Noeleen coped. He had his moments. The forgetfulness, the memory-loss, the disappearing acts. But for the most part, Jimmy was manageable. For the most part, he was still himself.
"When you reflect, with a disease like this, and you think, Oh, that was a little off'…but you just brushed it off," she says.
"The people who noticed it more were his siblings. When he'd go back to Ireland, he'd always stay with his older brother, Pat, and his wife, Helen. When he was diagnosed, Helen said to me, 'Noeleen, we were noticing little things each year he'd come over'. They'd see little differences in him. I'd probably seen things as well but I didn't attach too much significance to them until things got really bad."
"The boys (Paul and Mark) were away so the one who took the brunt of it with me was our daughter Laura. She was in the trenches with me. Her husband was amazing and he'd take Jimmy for walks. Jimmy had all of this energy. We always went out walking but he'd just take off."
But he had to be within a foot of me at all times. He was my shadow. I couldn't go to the bathroom. He'd stand at the door. He'd follow me around everywhere. We had gone for a long walk and I was going to jump in the shower. So, I made him tea and gave him some biscuits and sat him down. I thought, 'I'll be in and out in a flash' and I was. But Jimmy had gone. He'd taken off and you never knew which way he'd gone. He was still very active. Running or walking. But the police found him a few hours later."
Another time, I'd given him a shower and we'd had breakfast. I hopped in the shower and I'd had alarms put on the doors. But when the shower was on you couldn't hear. And I came out and said, 'Dear God, he's gone'. I'd already called the police when my friend phoned me and said, 'I've had a call from one of our coaches and he said, 'I think I see Jimmy walking down Highway 26". And they recognised him from the Olympic Development Programme sweats he was wearing. But this was a busy, busy freeway. He was heading towards the stadium. He must've thought he was going training. But how he didn't get run over I don't know."
Jimmy was changing. Sometimes, he was unrecognisable. The incidents were becoming more frequent. And more terrifying.
"Jimmy was presented with an award for his contributions to football in the US and it was really tall and dramatic," Noeleen remembers.
"And what do you do with something like that? We used it almost as a door stop. But one day – it was really out of the blue – I had showered him and shaved him and he'd got dressed. But something must have gone on and…"
Her voice begins to tremble.
"He picked it up and threw it at my head and missed me by about an inch…"
Noeleen breaks down again. She struggles to finish the next sentence.
"He could've killed me."
Her voice trembles again as she catches the lump in her throat.
"He was so quiet and I know he adored me. And for that to have almost happened…for him, if he knew – and he probably did then – the police restraining him – there was no coming back from that.
And that was the lowest point when I think back."
See Sport
Differently
Get closer to the stories that matter with exclusive analysis, insight and debate in The42 Membership
Become a Member
Noeleen couldn't take care of Jimmy anymore. But she struggled to find anyone who could.
"The way he was treated when we took him to the ER was awful".
He was strapped down. Hands, legs restrained. He was filled full of Haldol (an antipsychotic medication), he was put in a tank – I'm sure that's where they put drunks and drug addicts. All that was in there was a bed and a metal door. And they came in and he'd try and get out. And they'd bring the guards down. It was pretty horrific. He had one-on-ones when he went into another psychiatric hospital because he was attacking people."
Noeleen struggled. Seeing her husband, her partner, the father of her children, treated like that had scarred her. She felt she had a duty of care. She felt, in her innocence, that she could still give Jimmy comfort and solace and, in some way, make him better. But, quickly, she realised that was fanciful.
"I had him come home and I wasn't sleeping at all. The kids said to me, 'Mum, he's got to go into a care facility – it's going to kill you'. So, he went into another place and went to the psychiatric ward. He was there for about five weeks. They had him on medication and all of that. But they'd still call me to come and give him a shower in the psychiatric unit because he wouldn't let them do anything for him."
"So, Laura and I looked everywhere – all over Portland – and some places I wouldn't put my dog in. But we found this one place, a brand-new building. He was there for six weeks. I spent seven hours a day there. I bathed him, fed him, dressed him. I only went home to sleep. It was incredibly expensive."
I went down a few days later and left him to go to the pharmacy and figure out his medication. I was gone for five minutes and I got a call from the facility to say they'd called 911. Jimmy had thrown a chair at a patient. He didn't hurt him, he missed him, but they called 911. By the time I got back, the police were there. And then they called an ambulance. But the police don't even know how to handle people like that either. They treat them like they're criminals. This police-officer said, 'I need to speak to your husband privately' and I said, 'No you don't – he's ill'. He was strapped down and taken back to the hospital. They secluded him. He was literally comatose with the drugs they gave him. They pumped him full of drugs and put him in this kind-of padded cell. Finally we got him out. I had to fight and fight with our insurance, call in favours from people we knew. My insurance kept saying they wouldn't pay but finally they relented and we got him in to this geriatric facility where there was a renowned geriatric psychiatrist. It was like a hovel, like something out of Dickens, but we were there for the expertise. He was six weeks there and I thought we were going to lose him at that stage because he stopped eating and drinking and looked so emaciated. His brain was just so fried he didn't know what he should be doing. Our doctor – Dr. Nash – was wonderful there and she got him on an even keel in the sixth week. I told the kids, 'I'm taking him home – he's not going back to a place where he'll be strapped to a gurney again'. I went to get his medication – tons of different stuff like anti-psychotics and all of that – and went back to the facility the next day and he'd flipped again the previous night. They told me the only place he would go was the state hospital."
"I was conjuring up images of One Flew Over The Cuckoo's Nest – which was filmed in the Oregon State Hospital – and I was saying to them, 'Over my dead body are you bringing him there'. Like, I was raising my voice and forcibly saying he wasn't going. And my daughter said, 'Mum, we have to at least go and look'. And so we went and my jaw dropped. It was amazing. There was no outdoor space in the previous place he was but he still had all this pent-up energy. And at the state hospital there are these beautiful, landscaped quad areas with basketball hoops, seating, walking areas."
In March 2018, Jimmy will have been in Oregon State Hospital for five years.
He's found peace there. He knows the staff. He's calm. But a lot has changed since he's been there.
There was a time, a few years ago, when Jimmy and Mick Hoban, the two ex-Timbers team-mates, would head to the garden and a knock a ball back and forth to each other.
It was a beautiful thing. Small, maybe insignificant to outsiders, but a thrill for those who understood the magnitude of it. But those things don't happen now.
"There are so many good memories, obviously, but he can't do that stuff anymore," Noeleen says.
"He needs help standing up, sitting down. He needs to be fed. All personal cares. There's nothing that doesn't need doing for him. He can still walk but honestly, you watch him sometimes and he looks like he's 90 years old. Both knees could be replaced and his hip too but they can't do it, obviously. So he's in constant pain. He's on Oxycodone - which is a very controlled substance for pain. So, high levels of pain medication. And the reality is that this can last for years more. That's just the nature of the disease."
The staff will tell me he does recognise me. Anyone who's kind and goes up to him, he'll give them a smile. He's in a much better place now. Whether he has a special smile for me or not is sometimes hard to tell. It's like the movie 50 First Dates. I can go and see him, give him a kiss and go in the kitchen – because I always make him lunch – and when I come back it's like the first time he's seen me. Or sometimes I'll look at him and there's nothing there. He can't speak. He can't communicate. He's lost that ability. He can understand, sometimes. I'll say, 'Do you want chocolate?' And he'll look at me and nod his head. It's a disease that, on any given day, you don't know what you're going to get. Some visits are better than others. Paul, our eldest, came with his family – his wife and his girls – and they had a really bad visit with him and it was so sad because that's what they take with them – for Paul anyway – until the next time. On the other hand, our other son, Mark, came with his little ones – and he had an amazing visit. We had such a good day. Jimmy responded to the kids and it was truly wonderful. So, they got both sides of it, if you will."
Noeleen is indebted to the state hospital and everything the staff have done for her husband. They have treated him with respect and sensitivity.
"I haven't enough words to describe how great the facility is there. They don't pay them enough to do the work they do," she says.
What Noeleen wants from all of this is more research. She wants people to look at the the volume of ex-footballers suffering with dementia and Alzheimers and join the dots. The same generation. The same lack of concussion protocols. The same flippancy towards head injuries and player welfare. She wants people, at the very least, to acknowledge the links.
A major reference point for her throughout the last number of years has been the film Concussion, the story of Dr. Bennet Omalu and his battle with the NFL, who attempted to silence the research he conducted into former players and the degenerative brain disorder – CTE – that many of them suffered with.
"I watched it on my own and I kept saying, 'Oh, my God' because I saw so many parallels," she says.
"That was the thing. That's when I felt, 'This really is a result of him playing'. He's the eldest of 12 kids. There's no-one else in his family showing signs. This is not a coincidence. When there's a group of people and they've all done the same thing – they've all been players or whatever – why are some people susceptible to a disease and others aren't? But you can argue the same about smoking. Not everyone who smokes gets lung cancer. But we know smoking causes lung cancer. There are other medical analogies that we can make. Some people get certain cancers and others don't, even though they have the same lifestyle."
"The FA, PFA, FAI, Fifa, all of those, I feel, have hidden behind the diagnosis of Alzheimers in terms of, 'Oh, well this person got Alzheimers and died and that's it'. But now we have a diagnosis of CTE – like with Jeff Astle. The scene that struck me most in the movie is when they're talking about some birds who have a double layer of protection around their head because their feeding mechanism means they have to go flying head-first and connect with the ocean. There's no protection in the human brain for it to be hit. People will say, 'Look, a lot of people get Alzheimers'. When you look at the older ex-footballers and you ask how many have died with a diagnosis of Alzheimers and how many had early-onset…Nobody knows until post-mortem. But with the symptoms they have, there's certainly a common thread between the people who are suffering with this and what they did for a living."
"CTE wasn't part of the vocabulary when we initially brought Jimmy in for tests. Maybe if it was, people would be throwing out – high-probability – that he's got CTE, instead of trauma-induced dementia."
"I share everything Dawn (Astle) puts up on Facebook. I read all the time. Different findings, different research. And we've already decided, as a family, that Jimmy's brain will be donated, probably, to Boston University, where they're doing the CTE research. Hopefully some good will come of that. And we always preface everything with, 'What would Dad do?' And it's what he would've wanted."
Since Omalu's initial work, a litany of studies have been carried out into the links between NFL players and degenerative brain disorders. Earlier this year, one looked at the brains of 111 NFL players.
CTE was found in 110 of them.
"We want people to know what they're getting into so they can make an informed choice about whether they want to take the risk," Noeleen says.
"But the other side of that is that even if he knew, I think Jimmy would still have played. He just loved the game. He was just truly passionate about it. This has been a lot for our family but if there are days when you want to have a pity party, I always think of kids lying in cancer hospitals who haven't had a life yet."
"And Jimmy had a truly, truly amazing life. He got to travel the world with soccer and our family have had so many opportunities from living in this country that maybe they wouldn't have had. So there are a lot of positives to take from everything. It's just got a very sad ending."
"Nothing was laid out to us. We were never told what to expect, really. And maybe that was because we didn't ask the questions? Because you're so caught up with it you can't breathe, really.  That's the whole thing. It's just hard to breathe sometimes, when you sit back and think about it. Nobody knows enough about the progression. They can tell you there are stages. Sometimes a sufferer will plateau and then drop off again. So nobody knows, definitively, how anyone is going to go. Jimmy's behaviour wasn't a-typical for someone with dementia. A lot of people have dementia but don't end up in the state hospital because no-one can take care of them."
"The other heartbreaking thing is that I can't bring him home. I'd need someone living here 24/7. Financially it's not viable to do that either."
We've spoken a lot about Jimmy so I ask Noeleen how she is doing. The question seems to take her by surprise, like she hasn't really been able to think about herself for a while.
"I have an amazing family, I really do."
The voice trembles again and she breaks down.
I have a great group of friends who are very kind. But, at the end of the day, it's not what we hope for. When I look back…it's 10 years. It was like a freight train came and hit us and we really didn't see it coming. My Mum always said to me, 'Noeleen, laugh and the world laughs with you. Cry and you cry alone'. And it's very true. I've always tried to keep upbeat about things. Life goes on and I'm incredibly blessed. I've got my kids, grandchildren. I couldn't have done this without them. And Jimmy's family in Ireland too – even though they are so far away – have been incredibly supportive and we stay in touch all the time. And his friends. But we're going through something right now where they want to move him out of the state hospital into the private sector again. And I think it's going to give me ulcers even thinking about it. He's finally in a place of peace there and knows the people. It's been nearly five years. But I'll do whatever I need to do. It's not about what I want. It's about what he needs at this stage of the illness. We don't know what the prognosis is or how long he has. Nobody can tell you that. And that's the thing about this disease. It just nibbles and nibbles away at you. It's an insidious disease. So anything we can can do or say that can stop one more person going through this…"
Noeleen coached high-school football for 18 years. Married to a former pro, mother to another former pro, she knows the game better than most. Despite everything, she still loves it.
"I just don't want anybody else to suffer this way," she says.
"Ideally, in the best of all worlds, could we play without heading the ball? I think it could still be a fabulous game. But this is why there's pushback. They're (football governing bodies) protecting their brand and I get that. I'm not stupid. A multi-billion pound industry. But the NFL did that too for the longest time. They pooh-poohed the idea and made Dr Omalu feel like a fool and he was treated terribly until he was proven right. The only reason the NFL buckled was because there was a class-action lawsuit."
"I keep saying to Dawn that we just want them to find out but, frankly, they're dragging their feet. We don't even know if the PFA have started the research they promised her for years and years. It's just that the press have kept it at the forefront of people's minds. And the likes of Alan Shearer now, and the more high-profile people you have coming out and saying it's a real thing, means it's not going to go away. Modern medicine and research means there'll come a time when they'll take a blood test from a player and say, 'Hey, you're done'. I believe that and I don't think they're very far away from that."
Jimmy turned 71 in August. He's now a version of himself.
"He doesn't resemble that robust guy," Noeleen says.
"Even seeing him walking now is just sad. It's hit me more lately because I've reflected on how long it's been. When you're going through it it's like a whirlwind."
But there's one part of him that's stayed the same.
"Oh, my gosh! Yes! He's still my good-looking guy…"
She laughs.
"Those beautiful blue eyes."
The42 asked both the FA and the PFA for comment relating to their planned commissioned research into the possible links between football and dementia. Neither responded. 
The42 also contacted FifPro, the world players' union, who told us that the planned FA/PFA study has not yet started.
If you need to talk, contact:
Samaritans 116 123 or email jo@samaritans.org
Aware 1800 804848 (depression, anxiety)
Pieta House 1800 247247 or email mary@pieta.ie – (suicide, self-harm)
Teen-Line Ireland 1800 833634 (for ages 13 to 19)
Childline 1800 666666 (for under 18s)  
Subscribe to The42 podcasts here: