Murray Kinsella reports from Sydney
AFTER A NIGHT of celebrations, the Ireland squad disassemble today and go their various ways.
South Africa, Portugal, Thailand – the holiday destinations after a long season are widespread but Joe Schmidt and his team have more than earned a few weeks of rest and recuperation.
The Ireland head coach will make the relatively short trip to New Zealand, taking the chance to get home and visit his daughter, mother and other family members now that the dust is settling on his most successful campaign yet.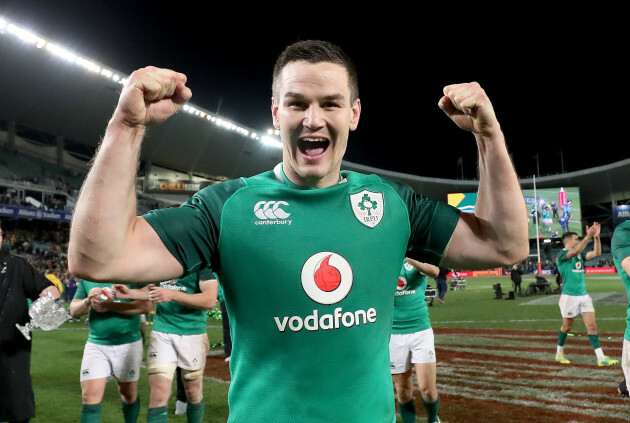 Dan Sheridan / INPHO Johnny Sexton celebrates Ireland's win. Dan Sheridan / INPHO / INPHO
He can reflect on a clean sweep of the November Tests, the growth of depth within his squad, a Grand Slam, and now a series success over the Wallabies on Australian soil.
It's not a bad return but knowing Schmidt, his ambition won't be dipping away in the slightest.
Already last night, he was looking ahead to the November Tests, Ireland's next run of fixtures, although his planning will centre around a training camp in August first and foremost.
The autumn series will provide Schmidt with his latest chance to take on the All Blacks, but the Ireland boss points out that there is much more to his team's November schedule.
"To be honest, I'm really looking forward to getting back to Chicago where we're playing Italy," said Schmidt after Ireland's 20-16 win over the Wallabies in Sydney.
"Without being too hackneyed, we're next-game focused. I'm also looking forward to getting a little bit of breathing space myself and that's why it maybe will be August before I talk [to the players] because I think they deserve a break.
"Whenever you get back together it's a slightly different group all the time so you're not quite in the same rhythm.
"We probably won't look too much further ahead than that, Argentina after Italy and then, for me personally, the All Blacks is a little bit special because my mum's such a big fan of the All Blacks.
"It's always a little bit tenuous. I'm going back to New Zealand for a couple of weeks so I probably won't get as many of the treats that she cooks just in case I don't make sure that we're less than competitive because that's certainly not going to be the case.
Dan Sheridan / INPHO Bundee Aki with his daughter, Adrianna, and Isreal Folau. Dan Sheridan / INPHO / INPHO
"These guys, they want to win everything they can so that's going to be a real challenge for us. Then we finish with the USA and they had their first win in a very long time against a Tier 1 side and they're building pretty well as well.
"I'll look at all of that in about three or four weeks."
One has to hope that the famously driven Schmidt can relax and enjoy his incredible achievements after what has been the best season in Irish rugby history.
Second in the world and having shown great character to cling on and overcome the Wallabies, Ireland's confidence ahead of the 2019 World Cup will have been boosted in recent weeks.
"It's big for us because we don't do it very often and it was 39 years ago," said Schmidt of winning a series Down Under for the first time since 1979. "I did have a good chat to a couple of the guys who did it last time; Ollie Campbell is a guy I've got huge respect for.
"We had a bit of a chat about it. He's such an enthusiast and his confidence was brimming that we could do it.
"I didn't quite share the confidence at the time because I knew how tough it was going to be and that was evident in those final minutes, not just tonight but last weekend as well.
"They were coming in waves and we managed to keep them out as well. I feel that potentially we were a little bit fortuitous and the margins are so fine. I didn't think we were far off in Brisbane either. It's been a fantastic series."
"Certainly not too many of the crowd left. Some of them were trying to get a bit closer than they should have, but not too many of them left, and it's great for the players. They enjoy celebrating with the crowd who were very animated, whether it was for one team of the other."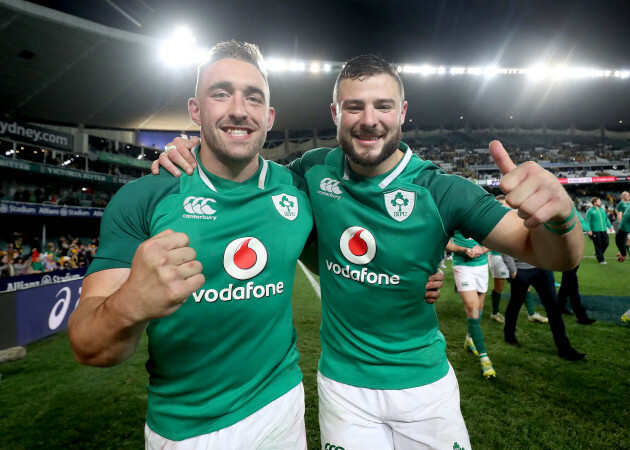 Dan Sheridan / INPHO Jack Conan and Robbie Henshaw celebrate. Dan Sheridan / INPHO / INPHO
The fact that Ireland won without captain Rory Best – as well as after injuries to Garry Ringrose, Dan Leavy, Iain Henderson, Andrew Conway and Sean Cronin – makes this success all the sweeter.
"It just unsettles the rhythm a bit going into a game when making late changes, but it has happened to us on a few occasions and it is one of the things that's a testament to depth in certain positions that we have that guys step up and do a good job," said Schmidt.
"Niall Scannell came in [for Cronin], Rob Herring came in, they were both very good in Melbourne as well. They very quickly put their hands up and toiled away.
"It is just part of a process that we'd like to be able to streamline if we lose someone that someone else can step up.
"I thought there was a few times towards the end of the game that we might have lost Johnny [Sexton] and it was going to be a very big debut for Ross Byrne.
"We have a lot of confidence that he is going to come through, it was disappointing for him – he was on the very cusp of coming on a few times.
"I know he won't be disappointed, he's team-orientated, but at the same time it would have been nice for him to have gotten that cap having come away on tour."
- This article was updated at 4.58pm on 26 June to add 'good in' in the 24th paragraph.
The42 is on Instagram! Tap the button below on your phone to follow us!