White smoke from Lansdowne Road!
The IRFU this afternoon confirmed the news we all expected. Joe Schmidt will swap his Leinster track-suit for a brand new green one at the end of the season.
As always, we'd love to hear your thoughts on the game. E-mail Sean@thescore.ie, tweet @thescore_ie, post a message to our Facebook wall, or leave a comment below.
You may need to refresh the page for YouTube videos and other elements to display correctly.
A very good afternoon, Joe Schmidt fans. You've joined us as we wait for the new Ireland coach to poke his little Kiwi head out from behind a door in the Aviva Stadium.
It's been a wild afternoon, but thankfully the speculation is now at an end and we can get round to looking forward to seeing how our first foreign coach since Warren Gatland can improve the national side.
In case you're clicking in here going 'whoa, what?' Here's the news that broke just over three hours ago.
But, tell us, will it be good news and plain sailing from here on in for Irish rugby. Or, will Schmidt have to adapt to a new style to overcome some unique obstacles in the Union's process-heavy structure.
Let us know your thoughts on the new Kiwi on the block in the comments below.
Lucozade Sport: check.
TheScore.ie microphone; check!
Shiny new coach?….
Credit: Darren Cleary
There's movement people. The little red light on the Union's broadcast camera is on and the IRFU media officer is guarding the door like a wee rottweiler.
Here he is, the tracksuit is gone and he's got a full on suit. The lad looks smashing!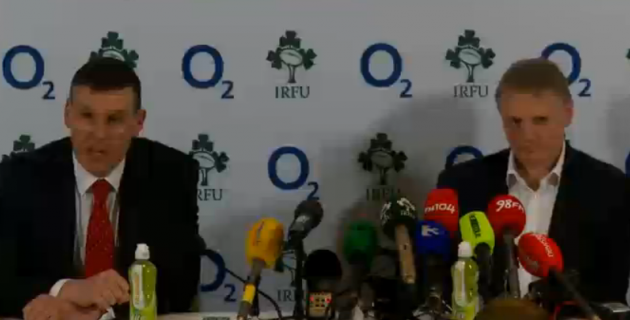 "I sympathise with the recent Ireland performances.
Any drop in the level can be put down to the key personnel being injured.
Munster showed in recent weeks that they have recharged and are back to a level."
On his possible back-room, Joe says:
"I just got my own details today -
"I'd like to take four to six weeks and a few windows in amongst that to sort that."
Schmidt cites his family as a major part of the reason he wanted the job. Stresses that the care given to his youngest son, Luke, is a key part of the reason he's happy to stay in Ireland.
On Les Kiss retaining a role during the tour to North America:
'Hopefully there'll be a few (player) names pulled out for the Lions tomorrow – the more the better – but I think Les (Kiss) has a pretty good list of people who he will work with in America and also on the development tour to Georgia'
"That was something that wasn' meant to leak into the public domain." He says of the promise to make Leinster the best passing side in Europe.
He won't be setting any big goals, public today folks.
On his talismanic centre's potential retirement this summer, Schmidt expressed an interest in pushing him into an extra year.
"He's put some pressure on me. So I'd certainly like to put some pressure on him. We put some plants in the crowd to start that chant ("one more year" at the RDS)."

"I'd like to see him continue. I'd love to see him named tomorrow and hopefully that will be the continuation of a wonderful career, not the end."
And that's that for us as-it-happens media types.
Schmidt ended the first half of his press conference by tugging on his shirt saying "It's a bit hotter than normal" with that familiar laugh. He'll get used to that heat soon enough.
We hope you're happy with the new man at the helm. Here's hoping that between now and April 2016 he can bring as many trophies to Ireland as he has to Leinster in the last three years.