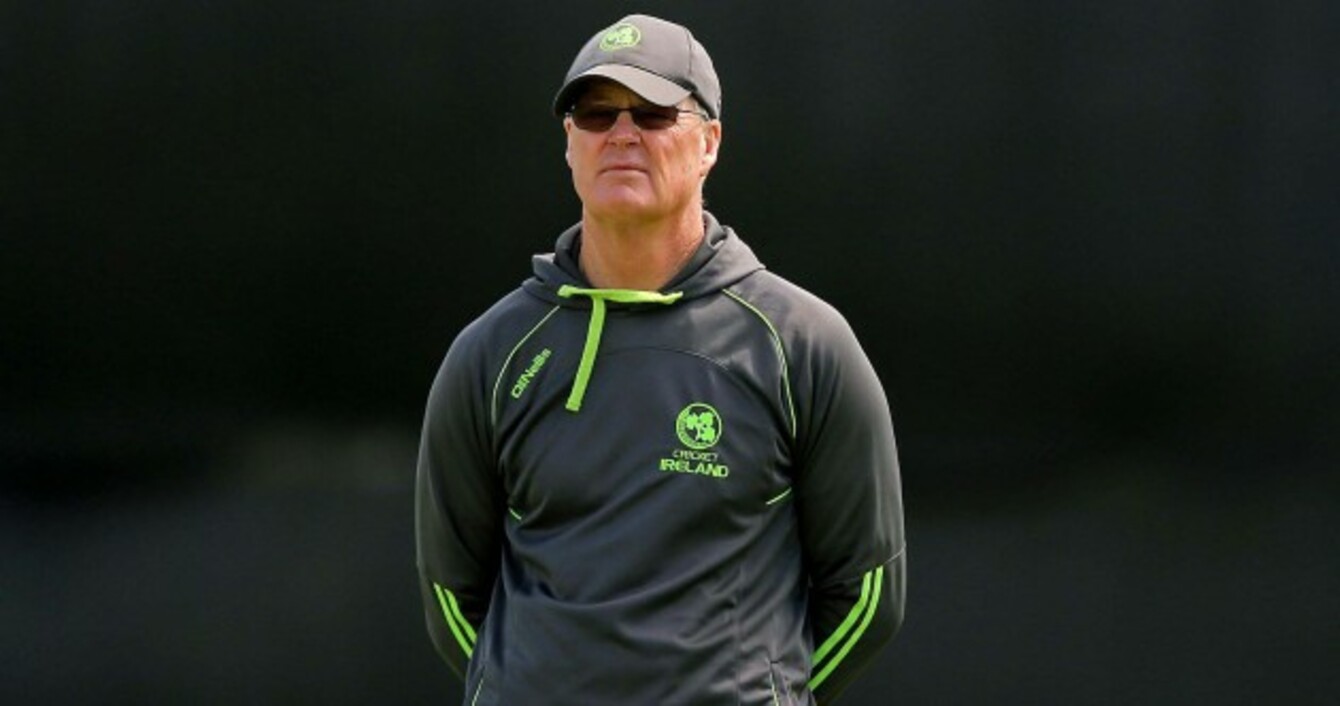 Ireland head coach John Bracewell sat down with The42 this week.
Image: Donall Famer/INPHO
Ireland head coach John Bracewell sat down with The42 this week.
Image: Donall Famer/INPHO
A COUPLE OF weeks after his appointment as Ireland head coach, John Bracewell sat in the Malahide pavilion and looked out over a sodden ground.
In one wet afternoon, the realities of the situation he had walked into were laid bare as the showcase fixture against England was washed out and a rare chance to flex the muscles against a higher-ranked team went with it.
It wasn't officially Bracewell's first game in charge, as paperwork issues meant the start of his tenure was delayed until later in the summer, but he was in position and it was the start of a new chapter for Irish cricket. A new era.
This week, exactly two years on from that abandoned match in Dublin, Bracewell's side face England in a historic two-game series, which includes Ireland's first-ever One-Day International fixture at Lord's.
The New Zealander's time in charge, and that new era, has been underwhelming at best, and instead of the tangible levels of excitement and optimism surrounding the game at Malahide, there is now a certain degree of apprehension heading into what should be a landmark series.
Thousands of supporters are expected to travel over to Lord's next Sunday for a hugely momentous occasion in the history of Irish cricket, but many will travel in trepidation.
After banging on the door for so long, using the performances and results of the national team on the international stage as persuasive evidence in their case for more opportunities, Ireland are now preparing to sit at the sport's top table at a time when the team is in rapid decline.
"Statistically it hasn't been great," Bracewell admits, when asked to assess his two years in the job.
That's something of an understatement when you consider Ireland stuttered to qualification for the ICC World Twenty20 on home soil, then failed to win a game at that tournament as they lost to Oman and Netherlands and overall have won just 21 games of cricket in 57 fixtures.
Moreover, there has been an alarming inevitability about this downward spiral, with the warning signs extending as far back as Bracewell's first summer at the helm. Nothing has changed or is being done at the top-level to address the obvious shortcomings with Ireland's depth practically non-existent despite the brouhaha surrounding the national academy.
When you think of Irish teams under previous regimes, the sides which brought the likes of Pakistan, England and West Indies to their knees you think of passion, intensity, hunger. When you think of the last two years, words like inconsistent, mediocre and uninspiring come to mind.
Last month's comprehensive, abject and damaging defeat to Afghanistan in the Intercontinental Cup was an almost fitting end to a winter which saw Ireland slip to series reversals in all three formats to their Associate counterparts.
The manner in which Bracewell's side slumped to an innings and 172 run loss in a game of such significance was the most concerning aspect and instantly raised questions about the coach's future.
"We need to be realistic and when I think back about the results they were indicative of the level of the two teams in those [Indian] conditions," he says, before remarkably insisting he wasn't surprised or disappointed with the results.
"I wasn't either surprised or disappointed in the outcomes because it's not easy for our guys to go to India and expect outstanding results.
"We've played a lot of big teams both home and away and we're starting to get in the mood of touring. That change of emphasis from event cricket to international touring cricket has been quite a culture shock for our guys and losing key players when we lacked that depth affects our competitive chances and we have to be realistic about that.
"That's not an excuse but losing Kevin O'Brien, Boyd Rankin, Jacob Mulder and Paul Stirling – they're four key players. Whilst those sort of things happen, I was delighted with our attitude and commitment and our growth through those six weeks.
"I think we made really good advances in our cricket, our cricket maturity and knowledge and we'll be a far better side going back next year and competing."
Being realistic is something Bracewell repeatedly says throughout the course of our chat, and while he has a point, the truth is that the last two years haven't been good enough and that's based on the standards set by these very players under the previous regime.
"If you're going to be in international sport, you want to have international standards and we are working hard to achieve those," he continues.
"In all facets in terms of facilities, the amount of play, gaining experience, gathering depth and it's a process. That's the stage where we're at and I certainly accept the fact people want results and I don't have a problem with that and we are trying to get those results.
"Everybody wants high expectations and everybody wants to win. I don't have a problem with people wanting to win but we also have to face the reality that this is a very very steep learning curve."
Bracewell says he is aware of the criticism and the growing levels of displeasure among the supporters as the optics and consequences of heavy defeats threaten to undermine previously uninterrupted progress. Ireland can ill-afford to keep performing as badly when the world is watching.
"I shut that out but I'm not naive," Bracewell says of the critics. "I'm aware there are massively high expectations in regards to what is expected of the team and what is expected of myself as coach. That's the reality of international sport, there is an expectation that you must succeed but that's not always based on facts."
Let's look at those facts.
Ireland's record under Bracewell — 21 wins in 57 games — is poor, and that's being kind; but to put that statistic in some sort of context, 41 of those games have been against Associate opposition, with Ireland winning 21 and losing 20.
By way of comparison, Ireland won 98 of 111 completed Associate fixtures, losing just 13, under Phil Simmons. The argument that results have turned because Ireland are playing more higher-ranked teams in the last 24 months lacks substance.
There can be no criticism for losing games against the likes of Australia and South Africa but a team which once held such supremacy at Associate level has dramatically lost its swagger and ability to grind out results.
The reality, there's that word again, is that Bracewell took over when this golden generation of Irish cricketers had reached their peak and the development of the team was about to stagnate — but the performances and results are ultimately his responsibility. He, nor Cricket Ireland, can use that as an excuse. It's their job to find a solution, to make the necessary changes.
How can a team which came agonisingly close to reaching the Super 8s in the 2015 World Cup have regressed to such an extent that Bracewell describes the current situation as one of 'massive transition'?
The buck stops with him and irrespective of resources, because Adi Birrell and Simmons worked within even greater limitations to far greater success, the results, and this is a results game, haven't been good enough.
"When you lack enormous resources in terms of a playing pool, the stars have to be aligned for you to get it right. We've got to align everything on the day to win. I've been around long enough to understand these things," he explains.
"Whilst I love winning and I'm preparing my side to win, I know every time they turn up, this particular Irish side try to win. They are a side that I would never question that they are not 100% dedicated to try to win that the resources they have behind them.
"I haven't lost faith in this side, I haven't lost confidence in this side but I'm also a realist and I understand sometimes our 100% isn't good enough on the day. I am 100% confident in the fact we are good enough that if we get it together on the day we can beat any side."
Ireland have done it before against the very best. They've played, been competitive and beaten Full Member nations on the biggest stage over the last 10 years so it begs the question why can't Bracewell get the best out of this group too?
"We're working towards our bowlers becoming a lot more aggressive in one-day cricket," the Kiwi says.
"We'll be looking to take wickets earlier rather than screw sides down and try to frustrate them and hope we take advantage. We've got to understand that sides are turning up against Ireland and they're not going to be surprised anymore.
"They've been embarrassed by them in the past and they're not prepared to let that happen again. So we've no longer got that shock or surprise element, or the attitude of let's take it easy, let's play some of our bench players against Ireland."
Against England next week, Bracewell reveals his side will need to take risks: "We need to keep strong with our process in trying to play games and win games and not look nice.
"Unfortunately looking nice and having nice losses and looking like we're tough because we batted the 50 overs doesn't necessarily wins games of cricket. We're going to have to take risks. We're there to try to win the game, and not just look good."
That's all in the short-term and there has to be an appreciation that Cricket Ireland are working on two fronts; to keep the national teams, both men and women, moving forward in the right direction whilst also pumping resources into developing key projects such as the academy, 'A' programme, training facilities and ensuring financial stability.
Warren Deutrom and all at Cricket Ireland have worked tirelessly over the last number of years to get the national team and sport to the level it's currently at. There can be no denying the superb job they have done and the progress which has been made on and off the field.
Last week's development at International Cricket Council (ICC) boardroom level which paves the way for Ireland to be elevated to Test status in June is testament to all the hard work over the last decade; but there needs to be a team capable of competing on that stage.
Having played Test cricket for New Zealand before coaching his country, Bracewell's pedigree and experience cannot be questioned, but whether he is the right man to lead this journey has been and will continue to be questioned.
"For me, it's a process of trying to develop a number of things which will stand Ireland in good stead in the long-term," he continues. "We at the moment are going through a massive transition in our cricket and the development of our cricket.
"There's a lot of things that we're putting in place that the benefits of which probably won't be seen or felt for two, three, four years down the track and maybe even the next generation.
"It's something we have to go through. It's something other countries have had in place and taken for granted but we're putting them in place whilst trying to produce a national side who are trying to get results at the same time.
"I'm not interested in doing any other job, this is the one for me. It suits my psyche, I'm a long-term thinker in how I go about my business. I'm not doing this to get to another gig somewhere so it's not a live or die situation for me.
"What we're doing is a long-term benefit to Irish cricket and we need to stick with that and unfortunately there might be some short-term pain."
The most important part of all this jigsaw is what happens on the pitch and after a forgettable winter, Ireland head into a defining summer needing a sharp change in fortunes if the gloom is to be lifted.
Bracewell's contract expires at the end of October and last month Cricket Ireland Performance Director, Richard Holdsworth, hinted that another string of bad results would put his future in serious jeopardy.
The Kiwi has been in the game long enough to know that for himself, even if he feels he needs more time to stamp his mark and continue on the work he has started in Ireland beyond his initial contract.
"That's not my choice," is Bracewell's reply when asked if he would like more time in the job.
"That is in the hands of my bosses, they're the ones that judge us and judge what we're doing, how we're doing it and whether we're doing it right or wrong.
"I'm sure through an appraisal process, they will make that decision. I'm just in the position I'm in. I'm enjoying what I'm doing, I enjoy the guys that are involved in it, I enjoy working with playing staff, I enjoy the process the academy is going through at the moment.
"I enjoy the journey Cricket Ireland is on but I also have to be a realist, it's a judgemental sport and people will judge where we are and whether we need to be further ahead in terms of performance than where we currently are. That's not for me to judge, I've just got to do the job I've been given to the best of my ability."
That job now revolves around Bristol and Lord's this Friday and Sunday for what is set to be a stern examination of Ireland's credentials and any weaknesses are likely to be ruthlessly exposed by an explosive looking England side.
This is the start of an opportunity Ireland have been waiting so long for. The chance to play on the biggest stage and at the game's most iconic venue but the irony, of course, is that it all comes when Ireland is at its lowest cricketing ebb in recent history.
Bracewell acknowledges that these are challenging and testing times but insists morale inside the dressing room is still as high as ever and the players are still steadfast in their commitment to the cause.
"These guys aren't prima donnas, they're blue-collar, hard workers. They dig in and they don't complain. I really enjoy that part of it, it's refreshing and their expectations and their disappointments are carried personally and just as hard as what supporters feel.
"These guys work damn hard and I'm proud of every one of them which makes me quite loyal towards them. We've just had six weeks living in the same hotel, going to the same ground and playing against the same team. Now if there's anything that's going to bust a team apart when they're losing, that is.
"Our guys every turned up with a smile on their face, went about their work, never complained and played hard and fair every day for six weeks. I've never been in a group like it. They got on so well and they've been talking about this day [v England at Lord's] since it was announced last year.
"It's going to be a fantastic cricket occasion, a historic one but at the end of the day it's another cricket match. We can't lose sight of that and of course we want to win and the guys will get excited if we do, but for me it wouldn't change anything we're trying to do."
The42 is on Instagram! Tap the button below on your phone to follow us!