CLARE FORWARD JOHN Conlon says their All-Ireland hurling final replay victory was down to a relaxed approach, a strong start and the influence of Davy Fitz.
The Clonlara attacker says he and his teammates have the ability to win more trophies, having realized they have nothing to fear against the other counties. In the short term, they will just be enjoying last weekend's success.
"When you are a young lad, you dream of these days, say to yourself 'I'd love to be there one day.' I suppose you have been going to All-Ireland finals since you were a young lad, up with your parents and I remember even saying to my girlfriend last year watching the Galway – Kilkenny game, 'I'd love to be there,' and she said 'sure you'd never know John.' 12 months later, we are finally here, we have kind of reached the Promised Land, our dreams have come true."
Conlon reveals that apart from the normal pre-match nerves, Clare were largely very relaxed in their approach to the replay. The 24-year-old thinks that attitude was down to the youthful element of the squad.
"We were on the train on the way up and the train driver, he was a Clare man and had the jersey on leaving the train anyway, but he just remarked to me at the back of the train that he had never seen so many lads as relaxed. I'd say there were two or three games of 45 going on and different little games.
Everybody was just laughing and having the craic. I suppose the panel is so young lads don't get too nervous. That's a good sign of youth, they are fearless. They are a great bunch of lads. We just go out, if we win, we win and if we lose we just have to put our hands up."
A strong start saw Clare race into an eight-point lead on Saturday, and dominant opening spells have been something of a specialty for the Banner this season. Conlon, who scored two points against Cork, says manager Davy Fitzgerald is the key to that.
"Dave has always instilled to us that hurling is a game to enjoy, to go out and express yourself. Life problems and things like that, there are people sick at home and people with illnesses. He just instilled into us, he says 'none of ye are sick, just go out and enjoy yourselves.'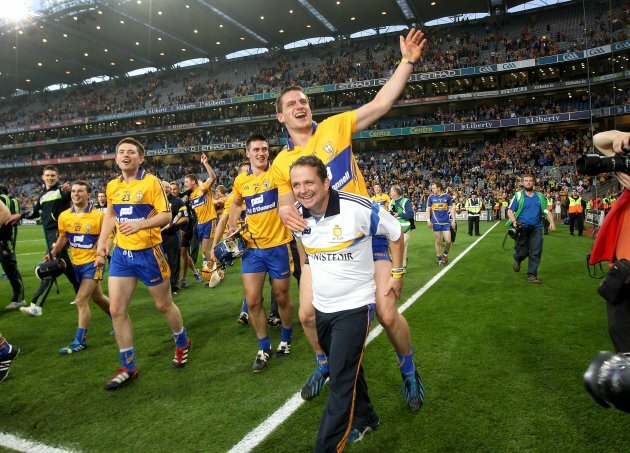 Conlon celebrates with manager Davy Fitz on Saturday. ©INPHO/Ryan Byrne
"I suppose we were born to play hurling since we were young lads and it is a credit to Davy and a credit to the backroom team that they have instilled that into us. It took two years, thank God he came in and took us over."
Conlon is of the belief that Clare would never have won this All-Ireland if Davy hadn't come on board in 2011. The Ennis man highlights the professional set-up the manager has built for the players, allowing them to focus totally on training.
"When Davy came in, I suppose I was on the panel two or three years and we hadn't had much success. I don't think we had even won a Championship game, never mind winning All-Irelands. It is all down to him and his backroom team, he puts great people around him. I suppose Pat Donnellan was nearly sick of naming out so many people in the backroom team on Sunday.
"Between picking up your socks to washing your gear, the set-up is amazing. It is very professional. All you have to do is come to training with your hurley, helmet and boots, everything else is laid out for you. That's a fantastic set-up and lads respect that. As he kind of put it 'If you give a lad something, they will respond to you.'"
Shane O'Donnell was the star for Clare on the day, scoring 3-03 with clinical efficiency. Conlon says he knew the 19-year-old was going to be in the starting team, but kept it to himself.
"I found out during the week that he was starting, but he didn't know right up until the day. We went to St Pat's College for a bit of food beforehand. I saw Davy talking to him and I just said to him 'You are in I heard.'
And he goes 'Yeah, how do you know?'
I just said 'Ah, sure I knew that during the week.'
'Why didn't you tell me?' he says, 'Am I the last one to find out?'"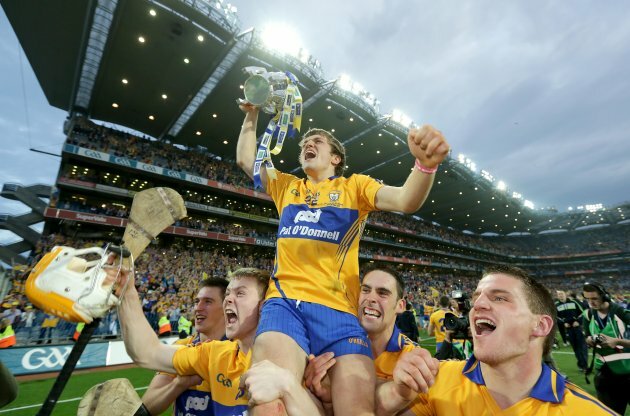 Conlon wasn't surprised in the least by O'Donnell's performance. ©INPHO/Morgan Treacy
Whatever about the cruel anecdotes, Conlon wasn't surprised to see O'Donnell scoring so freely, despite the nerves he suffered before the game.
"I think he said to me after the match 'Jaysus I was about to get sick there going out on the field.' He didn't have time to get nervous. He was amazing, he was excellent, he was outstanding – that's Shane.
"He has been getting the goals all year, even in training. He doesn't like to go for points, I know he scored three points on Sunday, but he still got three goals. What a day out for him and what a credit he is to his family and his club. He's a great lad."
So what next for this talented young panel? Conlon insists that a hurdle has well and truly been leaped by the Banner, and a lack of belief will never prevent them from competing for honours again. Clare will enjoy this success but won't be resting on their laurels.
"It is a really young panel and there is great talent coming through with the Under-21s winning and great minor teams again. It is up to Davy now to bring all those lads along again and keep everybody happy. I think everyone wants to be part of this panel now because it is going places.
"I think a big thing in Clare was that when we first started out we might have been a bit frightened but lads are getting it in their heads now that they can believe in their abilities. People, I suppose, fear these Cork jerseys, fear these Tipperary, Kilkenny jerseys.
"But we have come on a run now, we are All-Ireland champions and why should we fear? It is about going out, respond, cherish this and drive on for the next few years."#
Originally published at 08.30