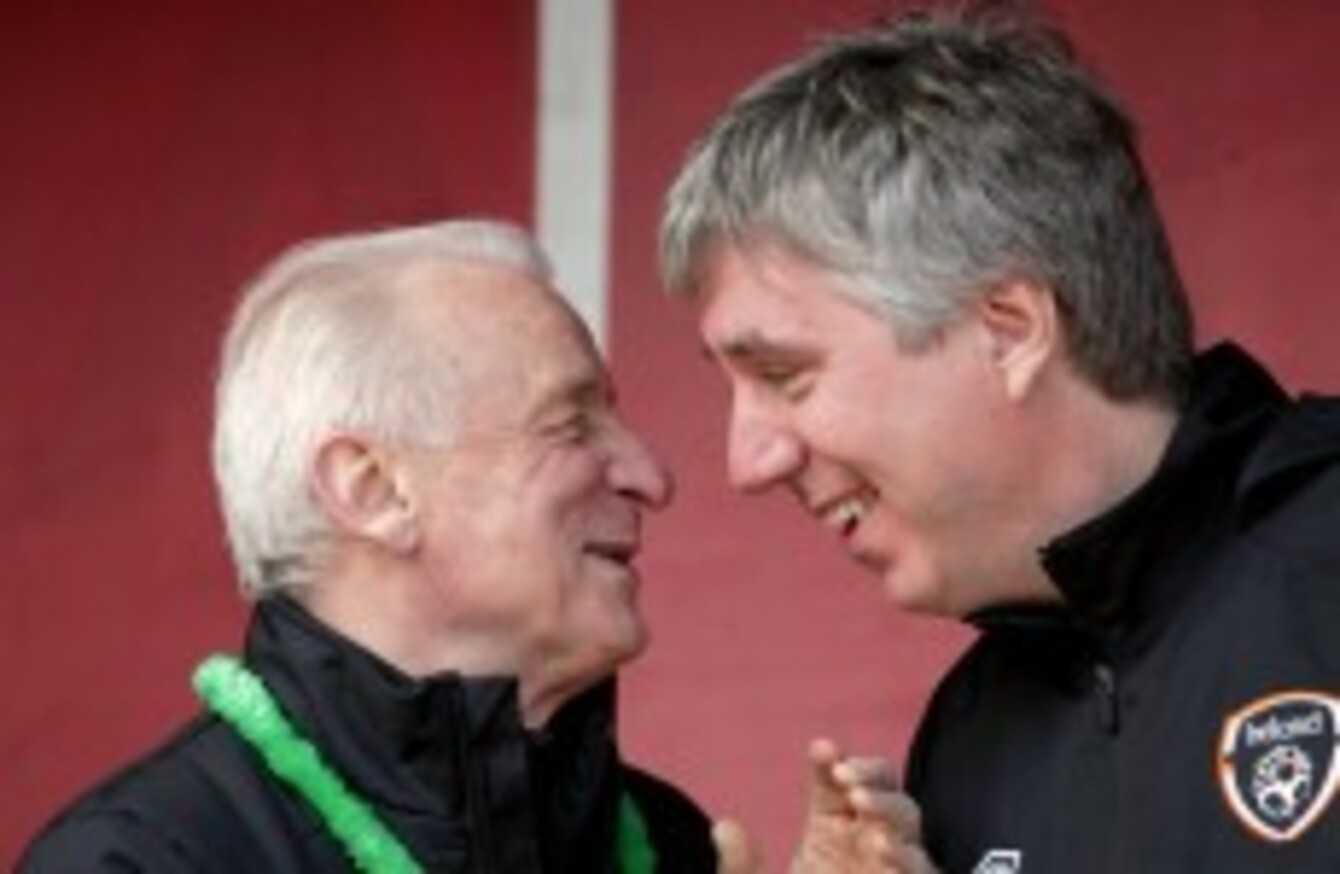 Image: ©INPHO/Donall Farmer
Image: ©INPHO/Donall Farmer
FAI CHIEF EXECUTIVE issued a measured defence of the Giovanni Trapattoni reign as Ireland manager within an hour of the Italian's contract being ended by mutual consent.
Trapattoni, 74, came to the end of a five-year tenure with Ireland after slumping to two defeats in five days to Sweden and Austria. Results which have end Irish hopes of reaching the 2014 World Cup in Brazil.
After speaking with Trapattoni, Delaney was interviewed by Pat Kenny on Newstalk, where he said:
"I think he felt today when it first came out today that he had done a good job for Ireland. Because when he first came we hadn't qualified for a major tournament.
"We were very unlucky in the Paris game, obviously. Then the Euros last year was the first major tournament we had qualified for in years.
"He genuinely believes that there is a group of young players available for the next manager.
"I think most people would agree that over the course, he's left Irish football in a better state than what he inherited."
Dignified
The chief executive added that the association's board of management would bide their time over appointing a replacement, saying:
"Today was a day to deal with Giovanni and Marco in a dignified fashion and I think that's been achieved – I hope so anyway.
"I hope people will respect – I mean, he is a legend of world football –  what he has done for Irish football.
"We'll meet in the next week or so to determine the process for a new manager.

"We do have time. European qualifiers don't commence until next September. I think what we'll do is take stock over the next couple of days."
Delaney responded to the suggestion that Roy Keane could be a candidate with a short laugh and, "I don't think I'll comment any individual." However, asked whether Mick McCarthy would be more suitable he listed off  the names of Mick McCarthy,  Brian McDermott, Chris Hughton, Roy Keane and Martin O'Neill as being "in the pot."
With discontent over his own position resurfacing with the Irish sporting public, the Waterford native attempted to sidestep the question saying that the performance of the international side, or the manager in control, reflected a only a minor part of his role.
©INPHO/Donall Farmer
"I'm employee by the board of the FAI. I work extremely hard day in day out.
"The support for my role has come from the grassroots of the game. Obviously people are going to be emotional at times like this,but the international side of what I do is probably  three or four percent of the overall job of developing Irish football.
"I'm on the board of the FAI, I'm appointed by the board to develop the game. Simple as that. As long as the board of the grassroots of the game want me to do that, then certainly that's what I'll do."