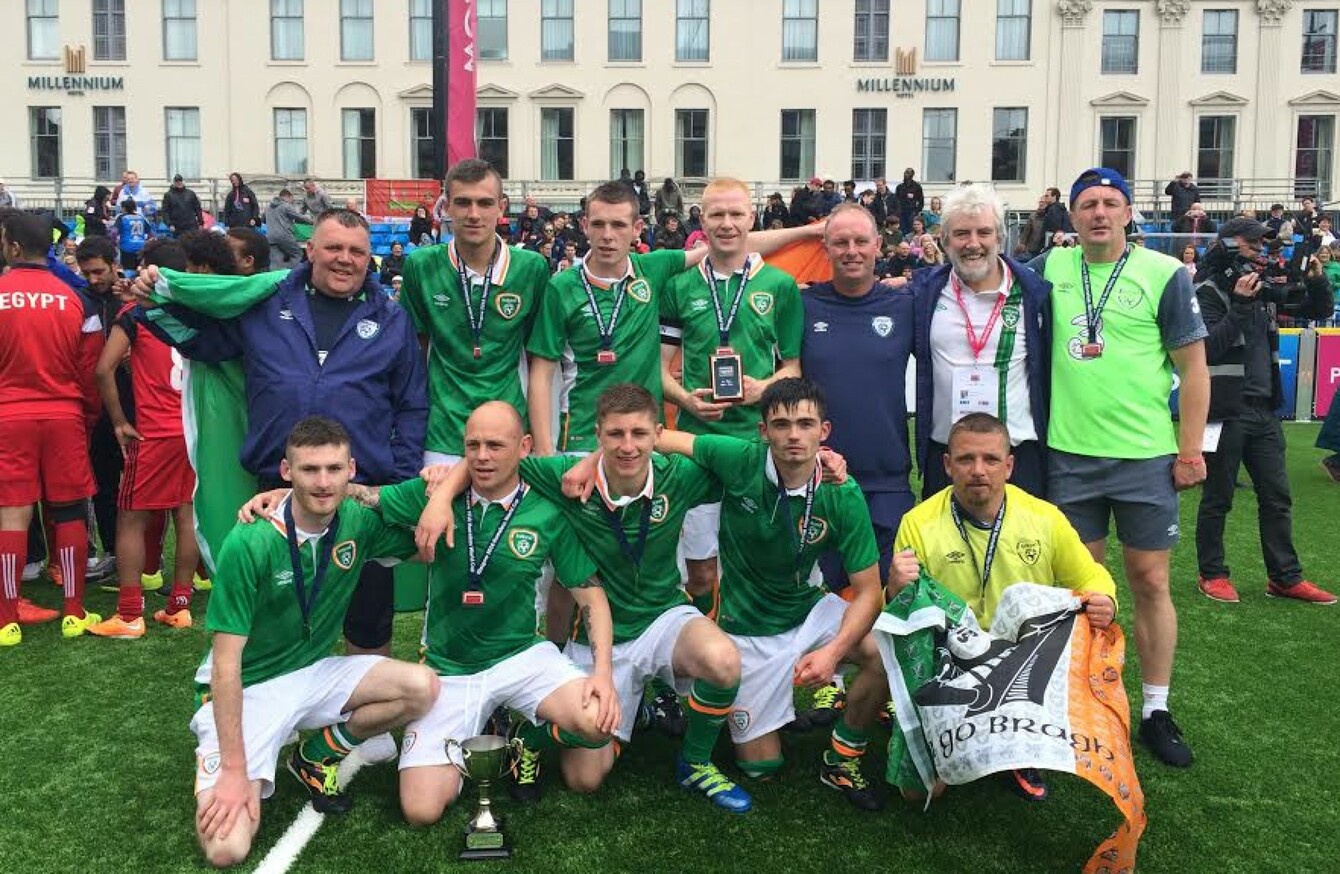 The Irish team pictured at the 2016 Homeless World Cup.
The Irish team pictured at the 2016 Homeless World Cup.
WHILE MARTIN O'NEILL and co were thrilling fans with their exploits in France last summer, another Irish team were also doing themselves proud abroad.
Ireland's Homeless World Cup team exceeded expectations at the tournament in Glasgow, going the entire tournament without losing in match play, and rounding off their adventure by beating Egypt on penalties in the plate final to become the unsung sporting heroes of 2016.
"I still find it hard to believe that it actually happened," goalkeeper John Farrell tells The42. "I have to keep turning on highlights of the matches just to double-check.
"Coming from where I came from, the opportunity to represent your country is a massive dream, so it still feels like that."
Playing a typically Irish "in your face" brand of football with hard work and physicality the team's primary characteristics, Thomas Morgan's side secured victories over a number of sides including Northern Ireland, Costa Rica, USA, Greece and Sweden among others.
I believe that team would have achieved success anywhere we played. There was some brilliant football.
"Friends of mine were in Chile (for a previous homeless World Cups) and I got an awful lot of slagging for getting Scotland (as the hosts), but it was an unbelievable experience.
From the locals that we met, the support that we had to the people that they put in charge of minding us — it did make us feel like we were home.
"Winning (the plate) was nice, but it was more about the experience of actually playing for my country and meeting new people — I've made friendships with two or three of the lads (on the team) and we still keep in contact."
Source: HomelessWorldCup/YouTube
For Morgan, representing the country with distinction completed a remarkable turnaround in his life.
Football was always a part of my life when I was younger," he says. "Football was an addiction. Sport was an addiction. I played everything when I was younger — basketball, rugby, GAA, soccer… But then drugs take it away from you."
While Farrell is in a good place now, having ultimately got back involved with football through the Irish Street League, it has been a long and often dark journey to get to this point.
Growing up in an environment where it was not unusual for friends and relatives to become addicted to drink and drugs, Farrell says he was an "alcoholic" by the time of his Junior Cert.
Drugs such as cannabis and cocaine were also a major part of life during his teens, and Farrell eventually started using heroin aged 20.
"With the effects of heroin and the needs from it, the lengths that you go to get it, you end up hurting everybody close to you.
"I robbed from everybody. It didn't matter who you were, what you were to me, I took from you.
"Eventually, enough was enough and I was thrown out of my family home."
Over the next few years, Farrell would alternate between staying in hostels and sleeping rough. Despite his problems, he was married at the age of 25.
(My wife) stuck by me for years and would come round to hostels to make sure I had somewhere to sleep. She did everything with me. She never used drugs, but she stuck by me."
The couple had a daughter (now aged 11), but the difficult circumstances surrounding her birth once again drove Farrell to the escapism provided by drugs and alcohol, and the pair's relationship ultimately broke down.
We had a daughter who was born 15 weeks premature and she had a load of medical health issues.
"I'd get stable on methadone, (my wife would) come back to me. I'd use, she'd leave. This went on, back and forth for a while. And then enough was enough for her. One day, she said: 'That's it, good luck.'"
Eventually, there was a turning point. Farrell still remembers it vividly. His doctor had refused to help him detox and said that he would have to be "stable" before anything was supplied to him.
I remember waking up that morning and thinking, 'please God, give me the strength to do this today," Farrell recalls.
"I walked away from the clinic (after the row with my doctor). I walked from Clondalkin into town and I was either going to get the boat to die in England or go to a Narcotics Anonymous meeting.
I'd been in and out of NA meetings and I just wasn't ready for it at the time. But there was something inside me that just said 'try this and try it properly'. You're not doing it for your girlfriend, you're not doing it for anyone, because I'd tried doing it for them loads of times."
He continues: "I'd been battling with myself knowing that being a drug addict, being strung out, not being around for my kids, not being a son for my mam or a brother to my brothers and sisters.
As a drug addict, you always have this little tiny inkling inside you, a little thing screaming and shouting 'please stop'. But because the drugs have such a strong hold on you, you very rarely listen to it. It's like it's the real human side trying to shout 'just stop'.
"99 out of 100 times, you ignore it. It just happened to be that one morning where something inside me said 'enough is enough'.
You can be lucky that one time where you actually listen to the voice. It's the scariest thing that you'll ever do. Coming into reality from the life that a drug addict lives is scary. Going over to England was always an easier choice for me than walking into an NA meeting. It's something you know — you know death and misery and pain. You don't know what it's like to live.
"You know that you're going to have to face your demons — everything that you've done wrong and people who you've hurt. And that's terrifying because you've never faced anything in your life before. You've always suppressed it.
"Once you use drugs it's 'forget them, don't worry about them.'"
Now 38, the Rathfarnham native works with Crosscare, providing support to other people who are struggling with homelessness and addiction, and helping them learn skills he honed as a young apprentice, such as copper engraving.
I work with my hands so I meditate while working. When I was getting clean, I was doing that 14 hours a day. I can't do mindfulness, I can't do meditation, I can't do any of that. I get stressed out doing it. But I can meditate with my hands, because you're focused on something. And that's what I do.
"I work with heroin addicts, people who are strung out on tablets, people who have mental health issues. I go in, talk with them, work with them and build up relationships with them. And I can identify with them, so that helps me."
And what advice does he give to people who are struggling with addiction?
Don't be afraid to ask for help. There are people who will gladly help you as long as you're willing to help yourself. Life isn't easy, but it's nowhere near as hard as being a drug addict.
"There are opportunities there for everyone. If you don't like it, you'll always know how to use drugs. That fear that's holding you back is keeping you in addiction."
For more information about the Irish Street League, click here.
The42 is on Instagram! Tap the button below on your phone to follow us!