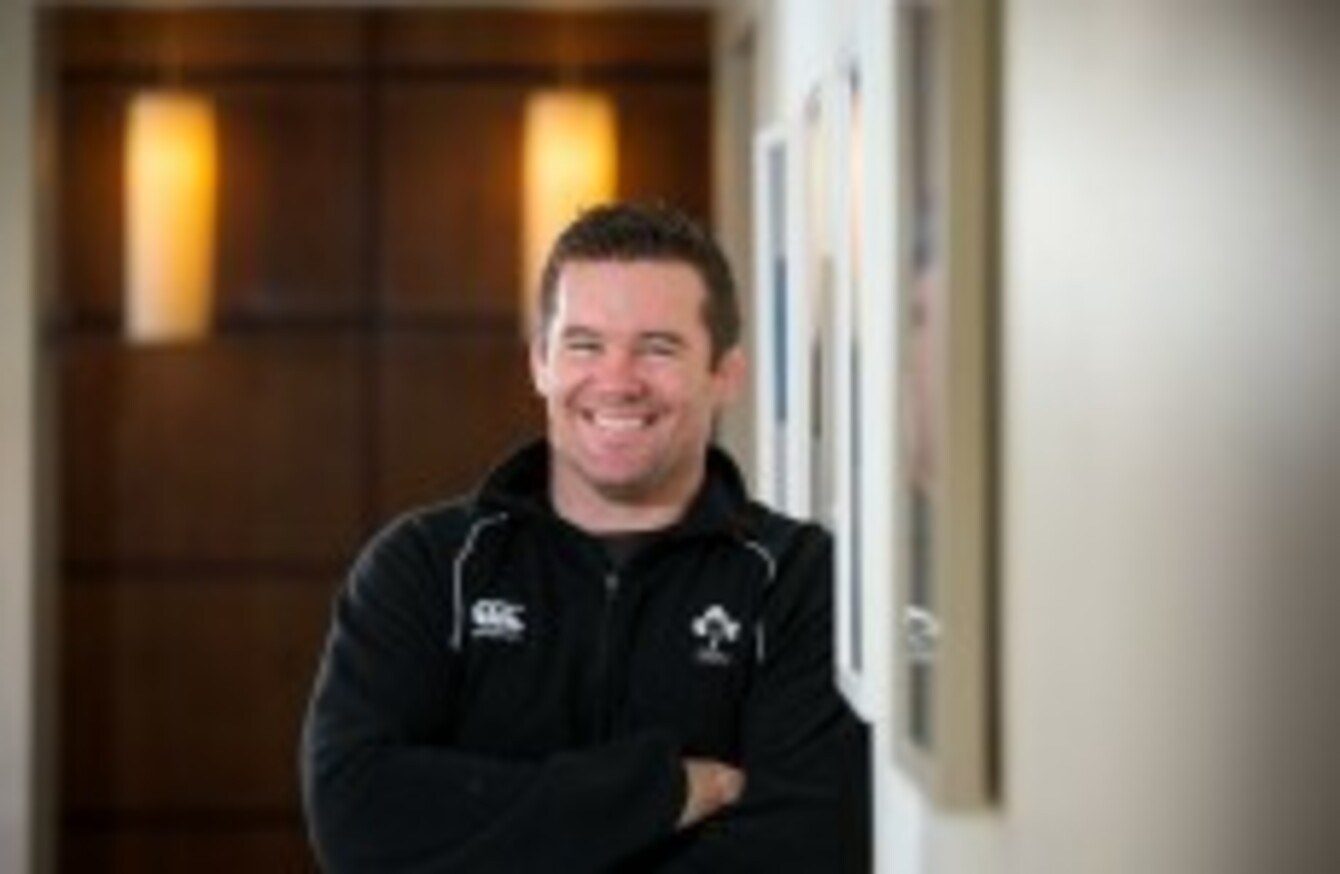 Fogarty is enjoying his role with the Ireland U20s.
Image: Cathal Noonan/INPHO
Fogarty is enjoying his role with the Ireland U20s.
Image: Cathal Noonan/INPHO
RUGBY COACHING ISN'T always about knowing everything, rather being able to get what you do know across to players in an effective manner.
John Fogarty has learned that much since transitioning from player to coach after his retirement due to concussion in 2010. The former hooker now draws on lessons taken from the range of high-quality coaches he worked under during his playing days.
The Cork native is an Elite Player Development Officer with Leinster, as well as moonlighting as scrum coach for Nigel Carolan's Ireland U20s. The job with Leinster involves lending his expertise to the province's academy, schools and clubs, as well as overseeing the Leinster U20 and 'A' teams' forwards.
With a growing family at home, these are busy times for a man who admits he's still in his apprenticeship in terms of coaching.
100%, even the last week was a huge learning curve," says Fogarty. "I learned about interacting with a player, building trust in a relationship, I'm still massively learning."
Fogarty's first foray into coaching came during his five-year spell at Connacht, when he helped out an U16s team and "basically rambled off everything that was said to me as a player."
His move to Leinster in 2008 led to coaching stints with De La Salle Palmerston and Old Belvedere, before his current role with Leinster opened up the year after his retirement. Having just completed a Master's degree in Sports Management at UCD, Fogarty jumped at the opportunity.
"When I started this job I was still finding my feet at it," admits the one-time Rockwell College student.
"How you communicate with players, how you ensure the message is put across, how you don't overdo it with your chat, there's loads to it aside from the actual technical and tactical stuff.
"How players learn, how I communicate, all those things have slowly been learned through experience."
Fogarty and the Ireland U20s are in the midst of preparing for a meeting with an imposing England team at Donnybrook on Friday evening. The scrum specialist recounts that even their last fixture against France led to important learnings for him.
Last time, there was a difficulty on the pitch and we went off plan in a certain area. Having to, during the game, figure out what we were doing that wasn't the plan was the challenge.
"Then it involves sitting down with the player for two or three sessions and discussing how he's thinking and feeling, really trying to help them with their development.
"At the end of it, hopefully I've a better understanding of the player, he has a better understanding of what he's doing and when he's out in front of another coach in another scenario, he can communicate even better. The learnings are huge in all that stuff."
The once-capped Ireland international's positive approach to empowering the player in order to help them develop sits ideally with the philosophies of Carolan and Colin McEntee, two further pillars of the Ireland U20s coaching staff.
Overseeing what Fogarty calls a "grounded bunch of lads," Carolan and his assistants have handed decision making responsibility to the players. Fogarty is directly in charge of the scrum, but says his role has slightly expanded as the campaign has progressed.
Two games into the Six Nations, the 37-year-old says "the breakdown is probably starting to become my responsibility a little bit, mainly because I had a strong opinion on it initially."
This is Fogarty's first season as part of the Ireland U20s set up and the change of scenery is welcome.
I can focus on the scrum so it's a great break from the day job in Leinster, but there's pressure in it as well. I know they're a good group and I want them to be successful. I want to develop in my own role."
As Fogarty admits, that personal development remains ongoing, although he has been provided with a foot up thanks to the cast of highly-regarded coaches he worked with during his playing days.
Even now at Leinster, he is learning from Matt O'Connor, but figures such as former Munster coach Declan Kidney and Joe Schmidt have been key influences too.
"You learn a lot from your coaches," points out Fogarty. "Declan coached me, Michael Bradley coached me, they had very different styles of coaching. Michael Cheika, Joe, Matt, you learn an awful lot from how they interact with players, how they develop a culture.
"You learn about their communication. Joe's a teacher and his background is in teaching. When I was a player with him, I found him to be very, very good at what he did. Since I've been coaching, I've chatted with him and again he's teaching in that.
"He's not just saying 'do that and you'll get a good outcome.' He's talking about interactions with players, creating a good culture. He's so good at what he does; his manners are good.
"Michael Cheika and how he went about his business, you'd use a bit of that. Bradley had a natural confidence. Deccie focused on creating that culture and we always had a chip on our shoulder.
"You could be playing against the worst team in the league and you'd be thinking 'these fff…'
"So they're all very different and you take learnings from all of them."