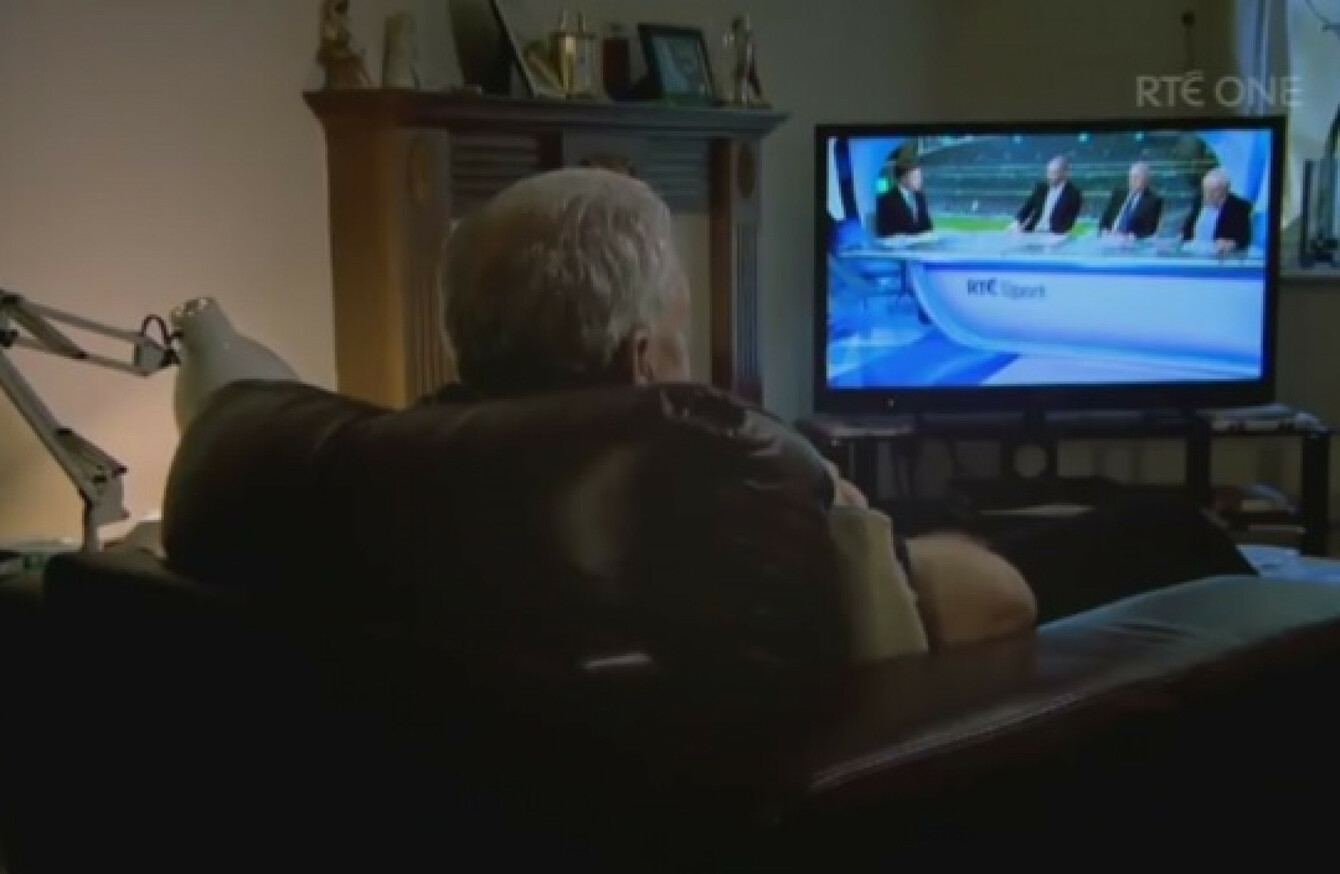 "PEOPLE ARE FED up with me saying it at this stage," declares John Giles with a shake of his head, eyes closed as if bracing himself for the worst.
Then a smile.
"You have to take each game on its merits."
The Irish footballing great continues to exhale Senior Analysis over a year removed from his final say on the RTÉ panel, and suggests Ireland's impending bid to steer back on course for Russia is of the off-piste variety, certainly, but hardly quixotic.
"It's a difficult task, but possible," says Giles. "That's the most important thing – it's still possible.
"As I was saying to the [print] lads this morning, there, when you go back to when we drew against Scotland, do you remember, in the qualifiers for the Euros, we looked dead and buried. Now, Scotland blew up, but we had to beat Germany. If we don't beat Germany we don't go through. I think that was a bigger task than this.
"See, football is a psychological game. If a draw is considered a good result, you get a draw. Right? But what happens in some of the matches when we go in front is we get a bit negative, because we have something to lose.
"When we played against Germany, we had nothing to lose. When we played against France a few years ago, do you remember, one of the playoffs – best we've ever played – very unlucky not to win the match. Italy in the Euros: we had to win. It does release the players."
While a draw in either of Ireland's two remaining qualifiers is simply not an option should Martin O'Neill and his side wish to avoid the tormenting inquest into a hames-making of era-defining proportions, Giles, like many, is of the belief that a group which Ireland topped as recently as June might have unfurled differently were it not for a conservatism inherent to both squad and management – an oft-discoursed issue which he maintains long predates afflicted Irish teams.
He suggests Ireland 'blew it' at home to Wales, Serbia and, to a lesser extent, Austria, but also muses that draws away to Serbia and Georgia should have been greeted with an equal dissatisfaction. Instead, he found them to be accepted, and borderline welcomed, on account of their having occurred many miles from Dublin.
And so it's back to each individual game's relative merit, again with a grin, a twinkle of the eye. And you can forget about 'on paper' as a concept, as far as he's concerned. On Monday, it's backs-to-the-wall time. Ireland must go out and play.
"You shouldn't have any preconceived notion of what's a good result. And I played in teams. You take the great Leeds United team: when we were away from home in Europe, a draw was a great result. We never got more than a draw, even when we should have won. That was the mindset.
"It's become a bit of a false cliché in my book: 'A draw away from home would be a great result.' Sometimes it's not. If you look at the away games we haven't won – Austria aside, because that was good – it's just a preconceived state of mind.
Away to Serbia in the first match, we didn't have to win it. It was there for the taking, but it was early on, so… The general consensus was that a draw would be a great result, and that's what we got. This time, it's win or nothing. And that frees the players mentally. It's a psychological relief, ya see, to need to win a game. If you're in front in a match earlier in the qualifiers, you have something to lose and you get a bit negative. In a match like this, the shackles are off.
Giles continues: "This game is different. It's a must-win situation, as is Moldova. You can't even be thinking about a draw. If we go one up against Wales, there's no point in saying, 'well, we better sit back.' We have to go for it.
If we were playing Spain away from home, and we had to win, I wouldn't be optimistic at all. But this is Wales. I don't think Wales are a brilliant side, because if they were, they wouldn't be in the position that they're in now. They still have to win matches. If we win the two matches, which is in our hands in a way, Wales haven't qualified and they've finished below us, no matter what else they do.
The corresponding stalemate with Wales transpired only to strum a somber tune on the nation's heartstrings, not only back in March when we saw Séamus Coleman felled in barbaric circumstances, but four months later, too, as we ingested an altogether different RTÉ football offering.
Spoiler alert, however belated given the article image above, but Loosehorse's Giles documentary concludes with the Leeds and Ireland icon watching the famed panel he once adorned but from the other side of his screen, before partaking in the pre-match rendition of Amhrán na bhFiann from the comfort of his couch.
The widespread acclaim with which his story was met caught Giles off-guard. So too did many aspects of the film itself, but all for the better as he now accepts.
"The reception was unbelievable," he says bashfully. "I couldn't believe it, to be honest. Aw, yeah, I didn't expect it at all. At all.
"I mean, I left it to the lad, Cormac [Hargaden] who was doing it, who was great. And there certainly would have been certain things in it that I wouldn't have put in.
For example, the Irish team were playing, and I was mic'd up. But I'd had a few drinks with the lads, and I'd forgotten I was still mic'd up. I was sort of half-humming, half-singing the national anthem. I wouldn't have done that! I would have said to leave that out, I would have said that's a bit… I would have taken the mic off. Because when I'm watching it, I had no idea that I was singing. I do it in all the international matches, 'cause I learned it in school: 'Sinne Fianna Fáil…'
"A few things like that, you know?" Giles adds, his smile on this occasion propping up an accompanying frown.
"I left it to the lad who was an expert in making documentaries. I learned that from football! Because I know a few people who'd have an opinion on football – which is what makes the game popular – but they wouldn't be that qualified to.
"There were a lot of poignant moments in the documentary that I didn't realise were in it. Like, sometimes it was quite sad! But I didn't want it to be sad. I have nothing to be sad about. I wouldn't have wanted any melancholy moments in it at all, because I've been very lucky in my life generally. So I didn't have any real sad moments, or at least moments when I felt sad.
Now, it was poignant when I saw myself go back into RTÉ after such a long time, and I wasn't doing it anymore. Or when I saw myself watching people play football, and I'm not doing that anymore. It was. But that was the lad Cormac who made it – he decided that, because I left it to him, I told him: 'you're the boss.' And certainly it got a reception far, far greater than I ever thought it would. There seemed to be an affection to it, which I could never have expected – especially as a footballer!
John Giles is 'not on the internet,' as he puts it.
He saw it once, didn't care much for it, and decided to leave it off altogether. His children sort his emails and book his flights, and Giles maintains correspondence with friends and acquaintances using only a mobile phone that, at a glimpse, likely made its debut in the dial-up age.
He keeps his contacts in a thick, black notebook, maybe A6 in size, and yet since he started keeping a record of phone numbers, as he explains with no shortage of annoyance, he can no longer recall off-hand the 50 or so he could recite a few years back.
The overwhelming documentary response to which he refers incorporates not a single tweet, Facebook status nor online review, because he didn't see them. Instead, he was chuffed by plaudits he received the 'old-fashioned way': through text messages from pals. But there was one more which particularly stood out, and not least because it caused his phone to light up during the commercial break at the film's midway point.
"I don't know about the internet, but I did get a few on the night even, on me me old mobile, some texts coming in from people that I knew. And I was amazed.
And what swung it, really – because I was in Dublin watching it – but Eamon [Dunphy] rang me halfway through it. He said: 'John, this is really good.' So if Eamon thinks it's good, thumbs up. Because Eamon would be the first to say: 'John, this is… Ah, you shouldn't have done that. That is not good.' But when he said it was good… Pfft… Ah, I was delighted then.
"Cormac did a great job on it."
Be part
of the team
Access exclusive podcasts, interviews and analysis with a monthly or annual membership.
Become a Member
Giles' portrayal of its protagonist's return to RTÉ studios – both old and new – likely saw a gulping silence befall many a fawning viewer, and while the former pundit of three decades took the fleeting Montrose visit in his stride, he provides a somewhat atypically sentimental assessment of why it may have been affecting to those at home.
Still a prominent football journalist with the Herald, a regular contributor to Eamon Dunphy's The Stand podcast, and with a weekly slot on Newstalk's Off The Ball to boot, Giles has scarcely headed for the sunset, but accepts that his RTÉ gig was impactful as part of an institution – his departure therefore jarring for many who had grown up watching 'the panel' in its previous iteration.
"I haven't disappeared," he laughs, "but I think it was just because I was on RTÉ for so long. 30 years. You're in the house with people, and they believe they know you. You're growing up with people, and people are growing up with you. You're in their living rooms.
"But I think what made it poignant wasn't just because it was the passing of time for me, but because it was a passing of time for people who were watching it. People older than yourself, thinking, 'Jesus, I remember I was only 30 when that started.'
People might have been thinking, 'Jesus, poor John, looking back on that,' as if I was sad about it, which I wasn't. There was a sadness about it, but I wasn't personally sad. The sadness was more for the people watching it, because they'd be thinking about their own lifetime: 'Jesus! That's 30 years since I started watching the panel.' 30 years is a long time in anybody's life. If a lad was 20 at the time when I started, he'd be 50 now. He probably wasn't married at the time, and now he's married with kids… And the kids have probably grown up watching it as well.
"I think that's where the sadness or melancholy was," he adds. "I think Cormac wanted to touch on that. I fell into the job, and it lasted 30 years. It's a long time, and it goes quickly."
Sentimentality, however, only partially extends to the role itself.
"No. No. I've never missed it, funnily enough, the panel. I actually thought I would miss it. I really don't.
"See, it's also a job. I was very lucky that I found… Well, I wouldn't say 'secrets of television', but just how to do my job on television. If you go out of your way to be liked, people cop onto it. Now, I'm only talking about people talking about football. When I talk about football, I say it as I see it. And that's it.
"You're not trying to appease anybody or play to the gallery. But I was good for RTÉ and RTÉ was good for me. That was the deal. But to me, I was always only ever talking about football. Forget you're on television. Forget about the cameras – I couldn't care less about cameras. I didn't know where the cameras were – couldn't care less where they were. If people liked it, they liked it, and if they didn't like it, well, tough, you know?
You're not trying to look good or be controversial. You're talking about football, as I am to you. Because I'd go into places and they'd say, 'Now, John, we want you to be controversial' – not in television, now, but in the papers. Maybe they might have said it in television as well. But I'd say, 'No. The truth is controversial.' The truth, in football, is controversial, because there's so much rubbish talked.
"I remember doing a match one time," he adds with a chuckle. "I think it was Man United-Arsenal, and they said to me: 'oh, we've had a load of texts in criticising you, John.' I said: 'oh, right?' He [the producer] says: 'well, funnily enough, 50% are from Manchester, 50% are from London.'
"People should think, 'Right, well I don't like what he's saying, but he's being honest in what he's saying.' And that's it. Or at least that was my philosophy, anyway. You can't say anything about Manchester United these days, because their fans will say, 'ah, but you hate United, you're anti-United'. And the next day it'll be Manchester City, or whoever, and so on."
One of his RTÉ successors in Richie Sadlier once regaled of how Giles, then the state broadcaster's Senior Analyst, met him for a three-hour coffee in Terenure ahead of the boy prodigy's Premier Soccer Saturday bow – a friendly introduction more so than a formal induction, though one which nonetheless featured what Sadlier described as an amicable 'sussing out' process.
Giles recalls the encounter with significantly less comfort, wary of doing Sadlier a disservice, but explains how he wished only to pay forward a tip he accrued from a senior RTÉ figure during his own formative days in studio. It was one which stayed with him for the entirety of his 30-year TV career.
"I was onto Richie, yeah. Well, like everyone coming into it, he was new. Richie was a little bit quiet when he was addressing 'the audience', as it were. Maybe the head was down a little bit.
"Now I was lucky in that when I went on first, there was a lad called Tim O'Connor who was RTÉ's Head of Sport. He said to me: 'John, make sure when you talk, that you talk. Give it a bit more volume.'
"So I'd say, [raises voice], 'well, Bill', – say it was Bill at the time – 'well, Bill, this is why…' And I'd project my voice a bit, and try to assert myself. But that was sort of the only tip that I got, because Tim believed in his pundits just being natural doing it.
I said that to Richie. Well, first I said, 'Well, Richie, look, it's none of my business, but your head is down a little bit when you're talking.' But he expresses himself very well. Ah, he's an intelligent lad, isn't he, Richie? Bright lad. Well educated. Not like most of us footballers!
He now watches Dunphy, Sadlier and company with the rest of us, and while he may not necessarily miss it, he remembers his time on RTÉ with great fondness.
O'Herlihy, Dunphy, Brady and Giles will forever remain etched in Irish sporting culture, both as a quartet and individuals. The key for the next generation, Giles maintains, is not to force nor feign a chemistry, and to instead allow for it to manifest itself organically.
I think it's very difficult to… I think what we had with Bill, Eamon, Liam and myself – it doesn't come along every day. It just came together as things happen, and it's very, very hard to repeat that or replace it. Again, we were doing it for a long time. There was no planning in it. These things just happen. The panel just became the panel.
"But you don't want to replicate it. You want something a bit different."
There are not one, but two warm handshakes from Giles as he stands to depart, arriving on either side of a hearty 'best of luck with everything in the future.' He picks up his personal telephone directory, places his phone back in his pocket, and offers his final word: "you won't forget to give Specsavers a mention, now, will you?"
John Giles launched the Specsavers Grandparent of the Year Award in association with Third Age for 2017. The search for Ireland's mot exceptional grandparent is now open and the legendary sports star, broadcaster and grandfather of eight, is encouraging grandchildren across the country to start nominating. The aim of the Award is to celebrate the extraordinary contribution that grandparents make to the lives of their grandchildren and the community and give them the recognition that they deserve.
Subscribe to The42 podcasts here: